Walk through a typical street in Bangalore and one in every ten buildings you see is most likely an eatery. And this is in no way an overstatement! From food trucks and street stalls to budget restaurants and fine dining places, the city has got it all. With several outlets dishing out healthy eats to king-size meals, you will stumble upon something innovative and worthwhile at every corner of this magnificent city. Yet, some restaurants in Bangalore stand out from the rest due to their food, ambiance, spread, iconic status, or for some other reason. Here's an ultimate guide to exploring the culinary wonders Bangalore has in store for you.
Must-try Buffet Restaurants in Bangalore
If buffet is a synonym for happiness, Bangalore is where your search for happiness ends. Here's a list of the best buffet restaurants in Bangalore that serve up some of the best (and the longest) spreads down in the South.
Barbeque Nation
Established in 2006, Barbeque Nation set the standards for a live, unlimited, grill-style dining experience. This amazing crowd-puller serves both vegetarian and non-vegetarian dishes to tickle your taste buds. The entrees are served first on a grill with skewers at your table followed by an array of delicacies at the buffet spread. An amalgamation of North Indian, European, Caribbean, Mediterranean, Chinese, and Arabic cuisines is a part of the elaborate menu in the right proportions.
Location: JP Nagar, Indiranagar, Rajajinagar, Koramangala, MG Road, Bellandur, Whitefield, Electronic City, and Kalyan Nagar
Timings: 12:00 pm to 03:30 pm and 06:30 pm to 10:30 pm; every day
Must-try Items: Mutton Curry, Mutton Seekh Kebab, Prawns, Cajun Potatoes, Kulfi, Kheer
Approximate Cost for Two: ₹ 1600
Punjab Grill
You will be transported to the splendor of the Indian North-Western frontiers with the authentic preparations served at Punjab Grill. This cozy and well-decked up place invites foodies with the appetite of a lion, which apparently is the logo of the establishment. The flavors of pind enhance your savoir-faire with amazing gourmet items like tikkas, butter chicken, dal makhani, lassi, paneer, desserts, and much more. Lo and behold the twist in the culinary formula of Punjab at the buffet table in Punjab Grill. You can gulp down some chilled beer or a concoction of your choice along with the scrumptious food which is excluded from the buffet menu.
Location: Malleswaram
Timings: 12:00 pm to 04:00 pm; every day
Must-try Items: Veg Platter, Chicken Malai Tikka, Paneer Tikka
Approximate Cost for Two: ₹ 2000
BonSouth
An exquisite dining ambiance with an open kitchen with chefs whipping up some stupendous southern fare will never disappoint you. Serving up Chettinad, Kerala, Tamilian, and Andhra cuisines through the buffet menu, BonSouth is one of the best places to taste a fusion of flavors from the South. The unlimited mocktails and cocktails options with the buffet are refreshing and well-deserved. What's more? While dining here, you can switch from rasam and sambars to mutton Chettinad and nadan kozhi curry with ultimate ease and experience food from the coastal areas to mainland south.
Location: Koramangala
Timings: 12:00 pm to 03:30 pm and 07:00 pm to 11:00 pm; every day
Must-try Items: Nadan Kozhi Curry, Seafood, Tender Coconut Payasam, Mysore Masala Dosa
Approximate Cost for Two: ₹ 1500 
Chutney Chang
This name may sound like the love child of Indian and Chinese cuisines, which is exactly what this place is about. Chutney Chang serves the right alchemy of both styles at its buffet counters. Tangy, tantalizing, and elevating to the taste buds, the food served here is affordable and competitive with other buffet restaurants. With more than fifty-four delicacies, Chutney Chang takes fusion food to a whole new level. The spread with vegetarian and non-vegetarian starters, grills, live-counter preparations, and main courses will delight you and give better bang for the bucks you spend.
Location: Jayanagar, Church Street, and Museum Road
Timings: 12:00 pm to 03:30 pm and 07:00 pm to 11.00 pm; every day
Must-try Items: Chaat, Dimsums, Chocolate Wonton, Raj Kachori, Pasta, Chicken curry, Rice Items
Approximate Cost for Two: ₹ 1500
The Fisherman's Wharf
This place dishes out Goan specialties and world food on its platters that are savored by seafood lovers around Bangalore. Alfresco dining set up with a bar sounds good? The dimly-lit outdoorsy dining area with live music notches up the vivacity of the ambiance. The extravagance of the brunch and lunch buffets and unlimited cocktails with one free round of beer is enough to keep the dining experience alive. The coastal décor and the impeccable hospitality make this place a must-visit when in Bangalore.
Location: Sarjapur Road
Timings: 12:30 pm to 03:30 pm; every day
Must-try Items: Sea Food, Cocktails, Jumbo Prawns, Curry Crab, Jalebi, Goan Fish Curry, Bebinca
Approximate Cost for Two: ₹ 1800
Must-try Budget Restaurants and Cafés in Bangalore
The best thing about living in Bangalore is that you are always spoilt for choice, especially when it comes to food. The city's budget restaurants and cafes are places where you can indulge in guilt-free binging without burning a hole in your pocket. Here's a handpicked list of the best budget eateries in Bangalore.
Nagarjuna
Offering a contemporary take on Andhra cuisine, Nagarjuna has managed to keep its spice-loving diners on their toes. The non-vegetarian options at this place are sensational which is why you find a Nagarjuna in every corner of Bangalore. Pocket-friendly and fresh flavors make for a great combination that bingers would truly cherish.
Location: Residency Road, Koramangala, Bannerghatta Main Road, Indiranagar
Timings: 12:00 pm to 03:45 pm and 06:45 pm to 10:45 pm; every day
Must-try Items: Hyderabadi Biryani, Andhra Meals, Kebabs
Approximate Cost for Two: ₹ 800 
Empire
Best known for its succulent kebabs, shawarmas, biryani, and much more from the Mughlai and Arabian kitchens, Empire is one of the best non-veg restaurants in Bangalore. The food is within the budget and carnivores can feast in on the grills while quenching on the chills from the juice corner as well. If you are looking for some late-night bites, then this is where the fun and the food never end till 2:30 in the morning.
Location: Church Street
Timings: 12:30 pm to 02.30 am; every day
Must-try Items: Paneer Tikka, Bheja Fry, Ghee Rice, Jumbo Shawarma, Chicken Masala
Approximate Cost for Two: ₹ 750 
Onesta
If Italian food is on your mind, Onesta is going to galvanize your senses. The place offers a great combo of unlimited vegetarian or non-vegetarian pizzas, desserts, and a beverage. The exotic toppings and authentic Italian ingredients make Onesta a one-of-a-kind place. The Short Eats served here, like Bruschetta and Jalapeno Cheese Balls with Italian starters have the power to cheer someone up emphatically with some soul food.
Location: Indiranagar, HSR, Koramangala, Banashankari, Gandhi Bazaar
Timings: 12:30 pm to 11:00 pm; every day
Must-try Items: Berryblast, Bacon Pizza, Gourmet Pizza, Ravioli, Mocktails, Pasta, Short Eats
Approximate Cost for Two: ₹ 600
Truffles
Thinking of taking your 'special someone' to a special place without breaking the bank? Head to Truffles, where upbeat ambiance, fast service, and a great menu come together to offer you the best dining experience. Anything from burgers and sandwiches to sizzlers and American bites is served here with your choice of beverage in an uber-cool environment. One of the best restaurants in Bangalore for couples, Truffles will keep you coming back for more.
Location: Koramangala, Indiranagar, BEL Road, Kalyan Nagar, St. Marks Road
Timings: 11.00 am to 11.00 pm; every day (may vary for different outlets)
Must-Try Items: Burgers Pasta, Ferrero Rocher Shake, Ferrero Rocher Cold Coffee, Peri Peri Burger
Approximate Cost for Two: ₹ 800 
Kanua
Bringing in a new dimension to the coastal cuisine from Mangalore and the Konkan coast is Kanua, a classic coastal affair in Bangalore. Food served up here in the open-air space with a romantic roof-top setting will take you to a seaside fantasy in a jiffy. Indigenous ingredients and fresh catch from the regions have been specially procured to satiate the seafood fanatics of the city.
Location: Sarjapur Road
Timings: 12:00 pm to 03:00 pm and 07:00 pm to 11:00 pm; every day
Must-try Items: Neer Dosa, Murgh Ghee Roast, Sea Food, Biskoot Roti, Prawn Dishes
Approximate Cost for Two: ₹ 1400
Must-try Iconic Restaurants in Bangalore
Certain things and places are iconic to Bangalore, such as Lal Bagh, Cubbon Park, Commercial Street, Ulsoor Lake, and the like. There are such iconic places – the old and the favorite – for food lovers as well. Don't leave the city without visiting one or all of the below listed places.  
Koshy's
If you are around St. Mark's Road then Koshy's is definitely going to catch your eye around the corner. Established in 1940 by the Koshy's family, this little eatery is the perfect place for a sumptuous English Breakfast. A perfect British set-up of the 1940s is what is reflected in Koshy's, starting from the table linen to the cutlery. The Fish and Chips and other English fares are as authentic as they can get. The menu has been redesigned to include contemporary Indian and Chinese food as well.
Location: St. Mark's Road
Timings: 09:00 am to 11:30 pm; every day
Must-try Items: Beef Steak, Chocolate Shake, Beer, Sandwiches, Omelette, Fish and Chips, Bombay Toast
Approximate Cost for Two: ₹ 800 
The Only Place
Looking for an all-American mainstay with some Continental choices as well? The Only Place is the only place where you get authentic steaks, burgers, apple pie, and sandwiches. The fresh ingredients and herbs used here for the signature dishes render soulful indulgence to the diners. The commodious ambiance contributes to this buzzing old-timer with the typical American tablecloth and wooden chairs giving a comfortable dining experience to American food lovers.
Location: Museum Road
Timings: 12:00 pm to 03:00 pm and 07:00 pm to 11:00 pm; every day
Must-try Items: Steak, Burgers, Meatballs, Apple Pie, Salads, Bruschettas, Chicken Sizzler
Approximate Cost for Two: ₹ 1000
Vidyarthi Bhavan
This restaurant is an iconic spot in Basavangudi's main shopping street. With its presence for more than seventy-five years, you will always find people of all ages including veterans, binging away to glory on the Benne Masala Dosa (Butter Masala Dosa) that is served with creamy Coconut Chutney and Sambar and other delicacies. The regulars here have an emotional connection with this place and the wafting aroma that passes through the long queues waiting at the front.
Location: Basavangudi
Timings:
          06:30 am to 11:30 am and 02:00 pm to 08:00 pm; Monday to Thursday
          06:30 am to 12:00 pm and 02:30 pm to 08:00 pm; Saturday to Sunday
          Closed on Fridays
Must-try Items: Filter Coffee, Ghee Masala Dosa, Benne Masala Dosa, Crispy Masala Dosa
Approximate Cost for Two: ₹ 150
Rogue Elephant Café
Rogue Elephant Café, a garden restaurant in the City of Gardens, serves delicious sandwiches, salads, fruit pannacotta, and pasta to tickle your taste buds. The Zucchini Fritters served here are bang on while the hummus is a staple and the freshly-made Ice Tea is the elixir of the Twenty-First century. The chilled out outdoor ambiance is what increases the appetite of food lovers at this café.
Location: Basavangudi
Timings: 11:30 am to 09:00 pm; every day
Must-try Items: Masala Chai, Brownie, Wine Sauteed Mushrooms, Salad, Apple Pie, Pasta Alfredo
Approximate Cost for Two: ₹ 1000 
Airlines Hotel
An old-time, all-time favorite of Bangalore foodies, this outdoor restaurant serves South Indian and North Indian classics at its best. People come down and eat at the trunk of their cars here. A typical Bangalorean's day does not start without their breakfast binge from Airlines. After a long walk at Cubbon Park, this is where Bangaloreans have been energizing for ages.
Location: Lavelle Road
Timings: 07:00 am to 10:00 pm; every day
Must-try Items: Chole, Tea, Filter Coffee, Upma, Vada, Idli, Masala Dosa
Approximate Cost for Two: ₹ 400
Must-try Theme Restaurants in Bangalore
Bored of dining at your regular restaurants and cafes and rooftops? How about trying something different, like a theme restaurant? Here are some of the best theme restaurants in Bangalore.
Black Pearl
This Pirates-of-the-Caribbean themed eatery has been the buzz of the town since its inception. With the interiors set akin to a pirate ship, the skeletons, ropes, barrels, swords, etc., give a mysterious charm to this place. This restaurant gives its patrons a brief experience of the life on a pirate ship with grills, thrills, and fine dining in an awe-inspiring set-up that calls out 'Ahoy Matey' to its diners.
Location: Koramangala and Marathahalli
Timings: 12:00 pm to 04.00 pm and 06:00 pm to 12:00 am; every day
Must-try Items: Chicken Grill, Paan Ice Cream, Chocolate Sandwich, Mutton Curry, Mocktails, Cocktails, BBQ Chicken
Approximate Cost for Two: ₹ 1500 
Ruh
Themed in pink, red, yellow, blue, and white interiors with designer mirrors on the brick walls and illuminating designer light fittings, this place is a selective combination of the cabaret set up in Moulin Rouge, Paris and the Arabian Nights atmosphere. The food is inspired from Arabian, Mediterranean, and North-Indian cuisines. The bright dining areas outside perfectly complement leisurely business dinners, while the dim-lighting sets the mood right for the romantic in you.
Location: Bellandur
Timings: 12:00 pm to 01:00 am; every day
Must-try Items: Mutton Roganjosh, Mutton Biryani, Tawa Chicken, Murgh Makhani, Cocktails
Approximate Cost for Two: ₹ 1000 
Gufha
This cave-themed restaurant and bar have dim lighting with large windows that give a scenic view of the city. The jungle theme also throws in dense tree-covered (artificial) dining sections with wooden furniture to give an authentic wild dining experience. The faux tiger-skin upholstery on the chairs makes you feel like you are going to share a warm meal with Tarzan and Mowgli. Serving North-Indian, Peshawari, Afghani, and Mughlai cuisines, your family, especially your children are going to like everything about Gufha.
Location: Jayanagar 3rd Block
Timings: 12:00 pm to 03:30 pm and 07.00 to 11.00 pm; every day
Must-try Items: Paneer Tikka, Rabri, Sea Food Platter, Vegetable Biryani
Approximate Cost for Two: ₹ 1200 
Cable Car
Giving the SFO vibes to Bangalorean diners is this cable car-themed vegetarian eatery. Offering à la carte as well as buffet options, the beach wood interiors and elegant private seating of the casual diner make it one of the best restaurants in Bangalore for dinner. Serving Italian and Indian cuisines, a tram-themed seating area is the main attraction in this outlet.
Location: Jayanagar 5th Block
Timings: 12:00 pm to 03:30 pm and 07:00 pm to 11:00 pm; every day
Must-try Items: Pasta, Veg Buffet, Biryani, Roti, Falafel Platter
Approximate Cost for Two: ₹ 1000 
Central Jail
Would you be interested in having a lavish meal in central jail? Fear not! We are talking about an innovative prison-themed restaurant in South Bangalore serving delectable food from Andhra, North Indian, Chinese, and Coastal kitchens. This is your prison break that guarantees a lip-smacking experience behind bars. The Instagram-worthy interiors and décor are spine-chilling, while the waiters in their convict's costumes are friendly and prompt with the manager in the jailor's attire monitoring the dining captives.
Location: Jayanagar 4th Block
Timings: 11:30 am to 03:30 pm and 07:00 pm to 10:30 pm; every day
Must-try Items: Biryani, Lemon Chicken, Chicken Kolhapuri
Approximate Cost for Two: ₹ 700 
Must-try Fine Dining and Luxury Restaurants in Bangalore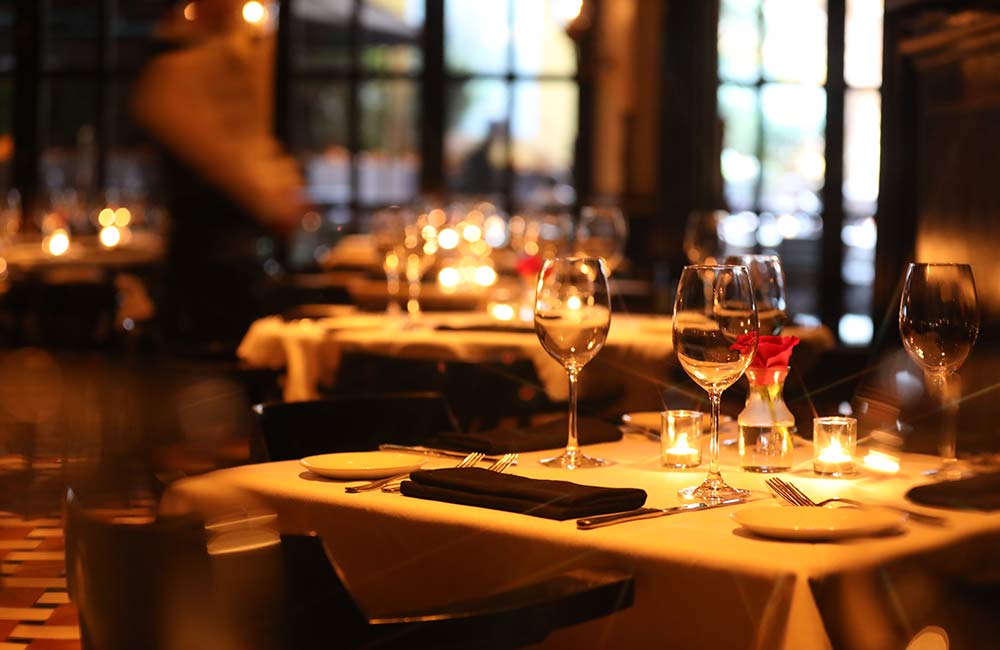 Bangalore's culinary culture is not just about pocket-friendly brunches at cafes or binge-eating at buffet restaurants. It's also about luxury dining at some of the finest restaurants in the country. Here is a list of places you should try.
Karavalli, Gateway Hotel
Get a full dose of Kerala's luxury dining experience at Karavalli housed in the Gateway Hotel. Set with the filmy interiors of Malayalam cinema, this restaurant treats its patrons with a specially curated menu and delicacies from Mangalore, Coorg, Calicut, and Syrian picks from Travancore. Here you can experience grills in a tiffin carrier, plus coastal curries, seafood, and wood-fired dishes on Banana leaves. Awesome, isn't it?
Location: Ashok Nagar
Timings: 12:30 pm to 03:00 pm and 07:00 pm to 11:30 pm; every day
Must-try Items: Avial, Appam, Sea Food, Mutton Curry, Mutton Stew, Cocktails
Approximate Cost for Two: ₹ 3500
Grasshopper
A Farmhouse converted to a restaurant, this place dishes out gourmet European meals in innovative ways. The five-star hospitality and flawless seven-course meals with great concoctions are sure to give you supreme gastronomic ecstasy. On the ambiance front, the candle-lit tables, fresh-cut flowers, Al-fresco elements, poolside et al catalyze a tryst with luxury.
Location: Bannerghatta
Timings:
          07:30 pm to 11:30 pm; Tuesday to Saturday
          12:00 pm to 03:00 pm; Sundays
          Closed on Mondays
Must-try Items: Lemongrass Ice Cream, Panna Cotta, Chocolate Ganache, zucchini pappardelle
Approximate Cost for Two: ₹ 5000
Alba, JW Marriot
Alba is where fantasy dining comes true. The piquant Italian spread has a magical effect on the diners with the ambiance adding to the deluxe elements at the grand venue. The palatial interiors with the pasta counter, humungous lighting centerpiece, and the marble flooring are something any hedonist should experience. The five-star services and facilities are commendable, while the well-managed bar surprises you with the best concoctions in Bangalore.
Location: Vittal Mallya Road
Timings: 12:30 pm to 03:00 pm and 07:00 pm to 11:00 pm; every day
Must-try Items: Tiramisu, Pasta, Primavera Pizza, Panna Cotta, Cocktails, Calamari
Approximate Cost for Two: ₹ 4000 
Rim Naam, The Oberoi
Set in the middle of a verdant ambiance of bamboo and frangipani groves with a lily pond, Rim Naam is where authentic Thai food tops the charts. Amazing hospitality, luxe lighting, and imported ingredients like pea aubergines, galangal, and kaffir lime set this place apart. The mains like coriander prawns, crab cakes, Pandanus chicken, etc. rounded off with the Lemongrass & Pandanus Coconut Custard will give you a deep glimpse into Thai flavors. Ranked top among the fine dining restaurants in MG Road, Bangalore, Rim Naam refines luxury.
Location: MG Road
Timings: 12:30 pm to 03:00 pm and 07:00 pm to 11:00 pm; every day
Must-try Items: Mocktails, Jasmine Rice, Thai Red Curry, Steamed Fish, Pandanus Chicken
Approximate Cost for Two: ₹ 3000
Raj Pavilion, ITC Windsor
Specializing in North-Indian, Continental, and Asian cuisines is this plush restaurant located in one of the premium hotels in Bangalore. This place has great food, amazing ambiance, and the most accommodating staff to make your soirees and business meetings memorable. The menu and cocktails add to the experience of premium dining, twenty-four hours a day.
Location: Sankey Road
Timings: 24×7; every day
Must-try Items: Biryani, cocktails, Buffet Breakfast, Hot Chocolate, Chocolate Cake
Approximate Cost for Two: ₹ 2400
The list mentioned above should give you enough reasons to explore the culinary charms of Bangalore based on different dining budgets and themes each day. So get ready for a gastronomic tour and lose yourself to fantastic flavors.