Search
Destinations, property name
Why Us?
Best reviewed hotel chain.

Most centrally located.
Most value for money
Stay Fab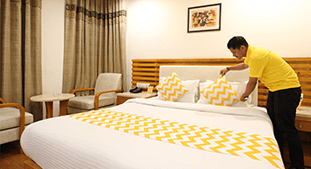 Our staff get trained by the best in hospitality business.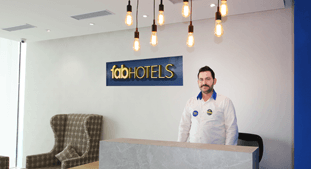 We are always available to serve you, 24x7, for a fab stay.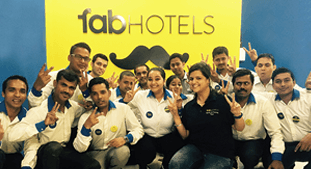 Our Quality team inspects and ensures consistent standards in every room.
Hotels in OMR: 14 FabHotels
Budget Hotels in OMR

Old Mahabalipuram Road, also known as Rajiv Gandhi Salai, is the portion of Tamil Nadu State Highway 49A, passing through the city of Chennai. It has many commercial and residential localities; hence, loads of people come here on a regular basis. There are several budget hotels near OMR like FabHotel Cinemascope Palavakkam, FabHotel Sharon Residency, FabHotel Evlewt and FabHotel Haku Residency Perungudi. One can also look for budget hotels in Thoraipakkam, one of the localities through which OMR passes. FabHotel Venture Park and FabHotel Joe Grande is one of the popular hotels in Thoraipakkam.

About OMR Chennai
Beginning from Madhya Kailash Temple, OMR connects Chennai to Mahabalipuram – a UNESCO World Heritage Site. The OMR corridor is steadily mushrooming into a major IT and ITES hub in Chennai. Significant business centers along the road are SP Infocity, Doxa Business Centre, Ramanujan IT City, ASV Chandilya Towers, Dr. Vikram Sarabhai Industrial Estate, TVH Agnitio Park, Prince Info City, Bahwan CyberTek Pvt. Ltd, Software Technology Park of India, TECCI Park, Futura Tech Park, Pacifica Tech Park, Alpha City (SSPDL) and SIPCOT Industrial Park. IT companies on this stretch include Aricent, Automotive Robotics India Private Limited, Aspire Systems, TVS Infotech Limited, Hexaware Technologies, Cognizant, Wipro, Infosys, HCL, Tech Mahindra and TCS. In addition, The Times of India also has its regional office on this road.

OMR is also home to reputed educational institutions, such as IIT Madras, Dr CL Metha Sishya OMR School, Al-Fajr International School, Mohamed Sathak College Of Arts And Science, Sathyabama University, Mohamed Sathak A.J. College of Engineering, Chennai Mathematical Institute, Hindustan University and Prof Dhanapalan College Of Arts & Science. Leading hospitals here include Nanthini Hospitals, Apollo Speciality Hospital and Apollo Cradle.

Shopping and Dining near OMR Chennai
Nearby shopping centers that offer a variety of branded products include BMR Mall and Vivira Mall. Top dining venues along the road are Hotel Saravana Bhavan, Mirchi Cuisine, That Madras Place, Café Coffee Day, Food-Out, Subway, Waffles Through The Day, Paradise Food Court, Petuk Kandanchavdi, Moonlight, Hot Pot China, Urban Desi House, Pind, Sangeetha Veg, Barbeque Nation, OMR Food Street, KFC, Evoke Bistro Bar & Grill, Sigree Global Grill, Domino's Pizza, Cream Stone, Anjappar Chettinad Restaurant, Sachin Ka Dhaba, Dindigul Thalappakatti Restaurant and Ibaco. Other popular options are Pizza Hut, Amaravathi Restaurant, The Pasta Land, Rasavid Multi Cuisine Restaurant, Ponnusamy Hotel, Bindaas Rasoi, Madurai Mundasukatti Biryani, The Farm, McDonald's, Digital Bar, The Old Madras Café, Cheesy Juice Burgers, Gem Express and London Grill N' Shake. You can also try Gazebo, KKR, Gold Dragon, Hotel Raja Kaveri and MGM Idli Dosa.

Attractions near OMR Chennai
OMR offers good connectivity to several tourist attractions. These include the following:

• Santhome Basilica (5.4 km)
• Madras Crocodile Bank (11.6 km)
• OMR Sun Aquarium (18.8 km)
• Guindy National Park (9.1 km)
• Government Museum (9.4 km)

How to Reach OMR Chennai
Chennai Central Railway Station is around 12.3 km away from OMR. Among the places with direct rail connectivity to the station is Coimbatore, an important hub for the manufacturing industry. There are several budget hotels in Coimbatore, such as FabHotel Royal Castle Gandhipuram and FabHotel Thaai Railway Station. Chennai International Airport, about 32.8 km away, can be reached easily by buses and taxis.
Frequently Asked Questions
What is the process to find hotels in OMR?

There are hordes of hotels near OMR as a large number of business parks and IT campuses are located along it. To find the best hotels near OMR, you can enter the locality name in the Let's Get Started section / Booking form on our homepage - https://www.fabhotels.com/.

Which are the top tourist attractions in Chennai?

Chennai is visited for its seaside beauty, magnificent temples, grand churches and informative museums. The top tourist attractions in Chennai are Marina Beach, Arignar Anna Zoological Park, Kapaleeswarar Temple, Government Museum, Elliot's Beach, Fort St George, Guindy National Park, Thousand Lights Mosque, Santhome Cathedral Basilica and Saint Thomas Mount.

How long does it take to reach the city business hub from the Chennai Domestic Airport?

OMR, short for Old Mahabalipuram Road, is the city business hub of Chennai, and it is approximately 16 km from Chennai domestic airport. You can reach OMR from the Chennai airport in 35 minutes.

Which are the recommended family hotels in OMR?

The hotels in OMR offer a comfortable stay to travelers with their family. FabHotel Evlewt and FabHotel Sharon Residency are the recommended family hotels near OMR.

Which are the authentic cuisine to be tried and tasted in Chennai?

Tamil Nadu is renowned for its two distinct cuisines: the simple, vegetarian Brahman cuisine and the spicy, meat-dominated Chettinad cuisine, making Chennai a paradise for gourmands. Meen Kuzhambu, Milagu Pongal, Urlai Roast, Chicken Chettinad, Arachuvitta Sambar, Poriyal, Mulligatawny Soup, Medu Vada, Arisi Thengai Payasam, Murungai Keerai Soup, Kootu, Godhumai Appam, Puliyogare, Sesame Rice, Lemon Rice, Karuveppelai Sadam, Banana Bonda, Rasam, Avial, Chettinad Fish Fry, Palkatti Chettinadu, Sambal, Ishtu and Aatukkari Kuzhambu are the must-try dishes when in Chennai.