Search
Destinations, property name
Why Us?
Best reviewed hotel chain.

Most centrally located.
Most value for money
Stay Fab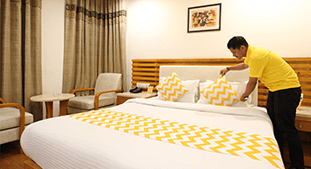 Our staff get trained by the best in hospitality business.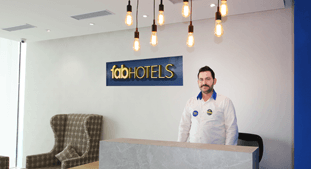 We are always available to serve you, 24x7, for a fab stay.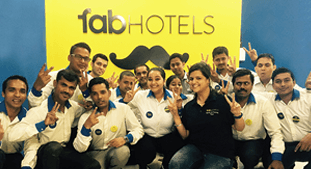 Our Quality team inspects and ensures consistent standards in every room.
Hotels near DLF Cybercity: 25 FabHotels
Budget Hotels near DLF Cybercity

DLF Cybercity in Gurgaon is one of the largest hubs of IT activity in the Delhi-NCR region. You can find accommodation near DLF Cybercity that caters to the various needs of a modern-day traveler. For businesspersons who want to stay near this hub, there are several pocket-friendly options. FabHotel Regalia, FabHotel Hill View Suites DLF Phase 2, and FabHotel Oasis DLF Phase 3 are good choices of budget hotels in and around DLF Cybercity. You can expect all essential amenities and prompt service in these hotels. In addition to the economy hotels in DLF Cybercity, FabHotels has other accommodation choices spread across Gurgaon and Delhi. FabHotel Star Delhi Airport and FabHotel Pallvi New Delhi Station are preferred hotels in NCR close to the IGI Airport and New Delhi Railway Station, respectively.

About DLF Cybercity
Termed as a futuristic commercial hub, DLF Cybercity is a modern corporate park in Gurgaon. It houses some of the top Fortune 500 and IT companies operating in India. The park has 18 million sq. ft. office space. Among the big names that have offices here are Ericsson, Pepsi, Nokia, Hewlett-Packard, IBM, Phillips, E&Y, Samsung, Deloitte, Google, Accenture, and Oracle Corporation. Apart from being a center of business activities, the park's connectivity to NH-8 and MG Road adds to its popularity as a preferred location for business travelers seeking to stay at hotels in Gurgaon. You can expect to get great hotel deals in DLF Cybercity if you book hotel online. The neighborhood is dotted with many banks, schools, ATMs, and hospitals as well.

Shopping and Dining in DLF Cybercity
DLF Cybercity can be rightly called a shopper's paradise. There are no less than 26 shopping malls in its vicinity. A number of luxury shops selling merchandise of international brands such as Louis Vuitton and Chanel surround the park. CyberHub is a huge eating area located in Cybercity. There is no dearth of restaurants and pubs here. Food lovers can have a great time at dine-out places like Yum Yum Cha, Punjab Grill, Olive Bistro, Social, Circus, and Indigo Delicatessen, among others. If you want a quick bite, Tikka Town, Pita Pit, Taco Bell, Instapizza, and Kebab Express are a few good options to try out. Pubs and bars like Pier 38, Hard Rock Café, Knight Rider, Wine Company, Twist, and Quaff Microbrewery are worth checking out too.

Attractions around DLF Cybercity
Opting to stay in a budget hotel in DLF Cybercity, Gurgaon has another advantage. You will be able to explore some of the popular tourist attractions that can be easily reached from the neighborhood, including:

• Kingdom of Dreams (6 km)
• Qutub Minar (14.1 km)
• Hauz Khas Village (19.2 km)
• Connaught Place (23 km)
• India Gate (23 km)

How to Reach DLF Cybercity
The best way to reach DLF Cybercity is by air. The IGI Airport is less than 10 km away and it would take around 20 minutes to reach the destination. The railway stations in New Delhi and Old Delhi are located at a distance of 25 km and 34.8 km, respectively. You can opt for the Rapid Metro Rail Gurgaon that connects the corporate park to Delhi Metro for a hassle-free commute.
Frequently Asked Questions
Which are the hotels in Gurgaon near to DLF Cybercity?

Cyber City is one of the largest and most significant business hubs in India; hence, there are loads of hotels near it. The good hotels near Cyber City are FabHotel Oasis and FabHotel Hill View Suites.

How long does it take to reach Cyber City from IGI Airport?

Cyber City is 11 km from the airport, and the distance can be covered in around 25 minutes.

How long does it take to reach Cyber City from Huda City Centre Metro Station?

Cyber City and HUDA City Centre are around 7 km apart. It takes 15 minutes to reach DLF Cyber City from HUDA City Centre Metro Station.