Coupon STAYFAB applied on all FabHotels. Discount up to 45% OFF! Best price guaranteed!
Search
Destinations, property name
Why Us?
Best reviewed hotel chain.

Most centrally located.
Most value for money
Stay Fab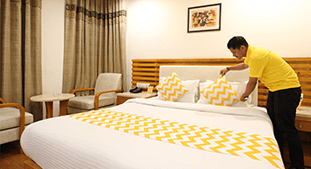 Our staff gets trained by the best in hospitality business.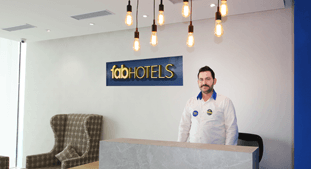 We are always available to serve you, 24x7, for a fab stay.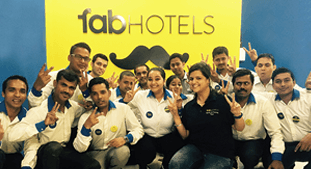 Our Quality team inspects and ensures consistent standards in every room.
Hotels in Mysore: 2 FabHotels
Mysore Junction Railway Station

Mysore Junction Railway Station

Booked Yesterday

Budget Hotels in Mysore

Among the largest cities in the state of Karnataka, Mysore is known for its intriguing blend of Hindu, Islamic, and Rajput cultures. First rising to prominence in the post-Mughal era under Hyder Ali and Tipu Sultan of the Wodeyar dynasty, it quickly became the Cultural Capital of Karnataka. In the present time, it is thronged for its architectural marvels and performing art centers. The city is also gaining commercial significance with the setting up of offices of many Indian and international giants. Mysore also serves as a gateway for people going to places in the Western Ghats like Coorg. As the area around Mysore is hilly, lots of treks are organized here, with Mysore acting as the base. All this has led to a steep increase in the number of hotels in Mysore that provide accommodation to travelers all-round the year. There are luxury as well as pocket-friendly hotels in Mysore that you can choose as per your budget.

FabHotels is the best bet, if you are looking for budget hotels in Mysore. The popular tourist attractions, prominent commercial districts and transit hubs are all easily accessible from FabHotels owing to their central location. Guests enjoy a comfortable stay in clean rooms, equipped with all necessary amenities. Furthermore, daily breakfast and Wi-Fi access are available on a complimentary basis for a hassle-free stay. Hebbal Industrial Area is the most significant financial pocket of the city, housing companies like Infosys, Kluber Lubrication India Pvt. Ltd., Sudarshan Telecom, Ganapathy Weaving, Hindustan Petroleum, Mitsubishi Heavy industries, Preethi Granite, Kaynes Technology India Pvt. Ltd., GRS Engineering Pvt. Ltd., JK Tyre, Siderforgerossi India Private Limited, MGM Forgings, VST Tillers Tractors, Dunlop Polymers, Brindavan Roller Flour Mills Private Limited, Crystal Blue India Pvt. Ltd, Wipro, and Sangam Mechanical Engineering Works. If you are coming here for work, then there are loads of economy hotels in Hebbal Industrial Area you can stay at, including FabHotel Stay By The Way.

Tourist Attractions in Mysore
Architectural masterpieces and urban gardens are the major attractions that draw hundreds of travelers from around the city and country on a daily basis. Listed below are the most popular places of tourist interest in Mysore:

- Mysore Palace
- Jaganmohan Palace
- Mysore Zoo
- Brindavan Gardens
- Chamundeshwari Temple

Apart from these, the locality of Bannimantap is also an attraction in itself as the procession of the famous Mysore Dasara culminates here. FabHotel Dawn is the best option of pocket-friendly hotels in Bannimantap that you can opt for in order to capture the colorful occasion.

Shopping and Dining in Mysore
Mysore has loads of markets and malls that offer everything you want to buy. For a variety of goods at moderate rates, you can head to Devraj Urs Road, where you can purchase prayer material. The silk sarees of Mysore are highly valued for their design, and you can buy these at KR Circle. Sayaji Rao Road is the best place to shop for products made from sandalwood. Women can shop for a range of clothes and fabrics at Meena Bazaar. Seebaiah Road can be thronged to buy snacks and musical instruments, whereas Vani Vilas Road is another retail hub known for its clothing collection.

If you are looking for gastronomy, then Mysore, with its hordes of dining venues, will not leave you disappointed. You can try Kannada dishes as well as those from North Indian, Chinese, Italian and Continental cuisines here. Among the best restaurants in Mysore are Vinayaka Mylari, Oyster Bay, Hotel RRR, Tiger Trail, Anima Madhva Bhavan, Spring, Hakka, La Petite France, Mahesh Prasad, By The Way, Sapphire, Indra Café Paras and Malgudi Café. You can also dine at the outlets of your favorite fast food chains in the city.

How to Reach Mysore
The cultural and historical significance of Mysore has resulted in it being linked to all major places within the country by road and rail. The major thoroughfares that connect Mysore to the rest of the country are National Highways 150A, 766 and 275 along with State Highway 33. You can take trains to Mysore Junction Railway Station from several cities, including Bangalore. Those, who are heading to the IT capital of India and looking for budget hotels in Bangalore, have loads of choices. Among the best ones are FabHotel Kushi Comforts J.P. Nagar and FabHotel Move Inn Bellandur. Mysore Airport has limited flights; hence, travelers can opt for a flight to Kempegowda International Airport in Bangalore.