Coupon STAYFAB applied on all FabHotels. Discount up to 45% OFF! Best price guaranteed!
Search
Destinations, property name
Why Us?
Best reviewed hotel chain.

Most centrally located.
Most value for money
Stay Fab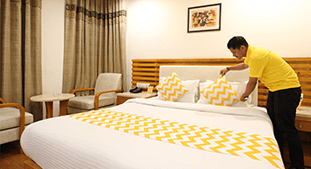 Our staff gets trained by the best in hospitality business.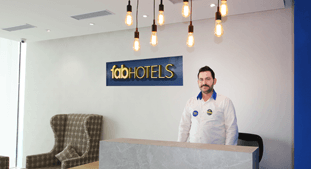 We are always available to serve you, 24x7, for a fab stay.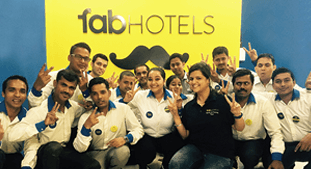 Our Quality team inspects and ensures consistent standards in every room.
Hotels in Banjara Hills, Hyderabad: 17 FabHotels
Budget Hotels in Banjara Hills, Hyderabad

Although Banjara Hills is considered as one of the most expensive places to live in Hyderabad, there are many budget hotels in Banjara Hills. FabHotel V Hotel Banjara Hills is among the most preferred ones. You can book your accommodation online to avail the best hotel deals in Banjara Hills. These hotels will charm you with their comfortable accommodation and hospitality at really affordable rates. Since, Jubilee Hills is in proximity, you can also look for hotels in Jubilee Hills. FabHotel Tanisha, FabHotel Hallmark Inn, and FabHotel Vibrant are wonderful options here. Just like Hyderabad, FabHotels has some really good economy hotels in Vijayawada as well; FabHotel Essvee is one to name.

About Banjara Hills
Banjara Hills is a commercial town in Hyderabad. The locality is a good place to stay while on a trip to Hyderabad as many business parks, banks, business institutes, schools, hospitals and government offices are located here. Vatika Business Centre, Shangrila Plaza, Hyderabad School of Business, MeeSeva Center, Anti-Corruption Bureau, ICICI Bank, and AP State Irrigation Development Corporation are to name a few.

Shopping and Dining in Banjara Hills
Many upscale shopping malls are scattered in this part of the city. GVK One, City Center, and Alcazar Plaza are only some of the places where you can shop till you drop. For foodies, places like Chinese Pavilion, Ohri's, Barbeque Nation, Fusion 9, Utupura, Kholani's, and Flying Spaghetti Monster are some really good options that offer a taste of different cuisines, including Hyderabadi specialties.

To grab a quick snack, you can visit small cafeterias like The Matter batter, Guilt Trip and Terassen Café. Places like Indulge Ice Cream, Ice Creamery, Menchie's Frozen Yogurt, Karachi Bakery, Eclaire, Apsara Ice Creams, 7Th Heaven and WOFL will suffice all your sweet cravings. Hyderabad is the land of biriyani and sweets; therefore you will find no dearth of eateries at Banjara Hills.

Attractions in and around Banjara Hills
You can find many tourist attractions within close proximity to the budget hotels in Banjara Hills, so you can access them easily. The most iconic if these tourist spots are:

• Hussain Sagar (4.8 km)
• Kasu Brahmananda Reddy National Park (4.9 km)
• Qutab Shahi Tombs (7.6 km)
• Chowmahalla Palace (9.3 km)
• Golkonda Fort (9.5 km)

Apart from these attractions, there are many amusement parks including Jalavihar Water Park (6.2 km) for you to visit with your family and peers.

How to Reach Banjara Hills
Reaching Banjara Hills is not a problem at all as it is well connected to different parts of the city via TSRTC buses and private cabs. While Rajiv Gandhi International Airport is located about 32 km away from Banjara Hills, Secunderabad Railway Station is 10.3 km away.
Frequently Asked Questions
Which are the hotels in Hyderabad near to Banjara Hills?

There are lots of hotels near Banjara Hills, owing to its commercial significance. FabHotel Tanisha and FabHotel V Hotel II are the most popular hotels near Banjara Hills.