2 Budget Hotels in Visakhapatnam
All Hotels offer free WiFi and Complimentary breakfast.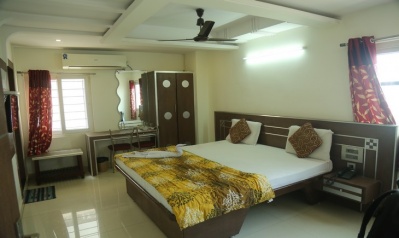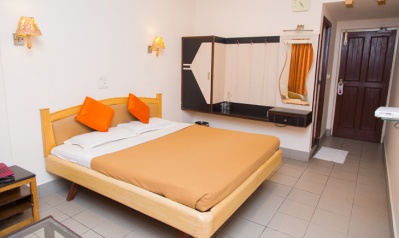 Budget Hotels in Visakhapatnam
Located on the eastern coast of India, Visakhapatnam or Vizag is among most important commercial centers of Andhra Pradesh. Dating back to the 6th century BC, this 'Jewel of the East Coast' is one of the oldest and largest fishing harbors in the country. The presence of several financial institutions, industries, ferro alloys plants, IT giants, pharma companies and colleges has brought this port city in the list of 100 fastest growing cities in the world. Thus, it is thronged by businesspersons, students and researchers alike. It is also home to the Eastern Naval Command of the Indian Navy. Besides, being surrounded by the lushness of Eastern Ghats and facing the expansive Bay of Bengal, it is popular among globetrotters as well.

Owing to the inflow of significant number of business and leisure travelers, the hotel industry in Visakhapatnam has seen a huge boost. Accommodation in Visakhapatnam is easily available in all categories and price ranges, varying from luxury seafront resorts and heritage homestays to decent budget hotels. Those looking for affordable stay in Visakhapatnam without compromising on modern facilities should look no further than FabHotels. Similar to other cities, FabHotels in Visakhapatnam boasts prime locations, photo-matched rooms and amiable hospitality. FabHotel Kinnera Comforts Daba Garden is one such hotel that ensures a value-for-money experience to guests. In order to avoid last-minute hassles, it is advisable to make advance online hotel booking in Visakhapatnam.

Tourist Attractions in Visakhapatnam
From splendid beaches to beautiful hill ranges, from caves and valleys to zoological parks, Visakhapatnam has a lot to delight the adventurous soul. Ramakrishna Beach and Dolphin's Nose are perhaps the most popular attractions in this port city. Travelers can explore these places to click nature from up-close. Rishikonda Beach, Borra Caves and Indira Gandhi Zoological Park are the other attractions that lure nature and wildlife lovers. Varaha Lakshmi Narasimha Temple, INS Kursura and Kailasagiri are also must-see tourist points of interest in Visakhapatnam.

Shopping and Dining in Visakhapatnam
Though not a shopper's paradise, Visakhapatnam has an extensive range of things to buy as keepsakes of a trip. The famous products of the city include silk sarees, Kalamkari paintings, spices, and Kondapalli wooden toys. Tourists can also splurge on jewellery, silverware, carpets, leatherwork and antiques. Jagadamba Junction, Waltair Uplands Road, Lepakshi Emporium, and CMR Central are the best places to shop these items.

Besides offering exclusive handicrafts, these marketplaces are also known for their array of eating joints, cafes and sweet shops. From South Indian and North Indian to Chinese, Continental and Italian, the city has a wide option to suffice different palates and moods. How to Reach Visakhapatnam
The coastal city of Visakhapatnam is conveniently accessible from all major cities of the country via flight, rail and road. Visakhapatnam Airport, which is around 8 km from the city center, receives regular flights from Delhi, Mumbai, Chennai and Hyderabad. The city is connected via frequent trains also that take a halt at Visakhapatnam Junction. Travelers coming from neighboring cities can opt for APSRTC bus service. Auto rickshaws and pre-paid taxis are readily available for travelers to reach their respective destination easily.