Coupon STAYFAB applied on all FabHotels. Discount up to 45% OFF! Best price guaranteed!
Search
Destinations, property name
Why Us?
Best reviewed hotel chain.

Most centrally located.
Most value for money
Stay Fab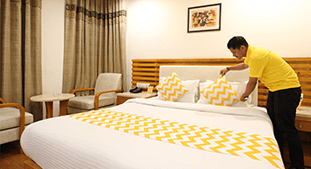 Our staff gets trained by the best in hospitality business.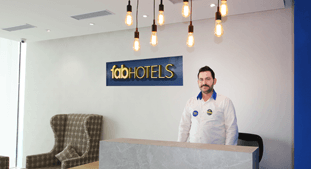 We are always available to serve you, 24x7, for a fab stay.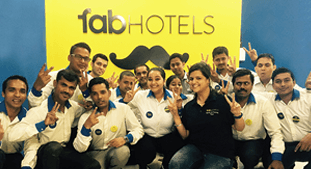 Our Quality team inspects and ensures consistent standards in every room.
Hotels near Miramar Beach, Goa: 5 FabHotels
Budget Hotels near Miramar Beach, Goa

Miramar Beach is one of the most famous seashores in the state of Goa that draws a large number of globetrotters from all parts of the world on a daily basis. This has led to a steady increase in the number of hotels near Miramar Beach that remain in business round the year. You can go for extremely lavish ones or those that do not burn a hole in your pocket, yet provide comfortable accommodation. FabHotels is the best option for those, looking for budget hotels near Miramar Beach. As an alternative measure, you can book a room at economical hotels near Calangute Beach as well. FabHotel All Seasons and FabHotel Sharanam Green Resort are the most preferred choices in this regard.

About Miramar Beach, Goa
Miramar Beach is an almost crescent seafront on the western coast of Panaji. A belt of tall, swaying palms gives way to a patch of golden sand, beyond which lies the Arabian Sea. In the background are the green hills of the Western Ghats, making the area highly photogenic. You can relax on the shore on a lounger or read a book quietly in the shade. If you are here with your partner, then taking a long walk along the coast at dawn or dusk is a must-do. Kids can mold the wet sand into the castle of their dreams, whereas the adventurous ones can go for a little swim in the ocean off the beach.

Shopping and Restaurants near Miramar Beach, Goa
There are a number of places to go shopping near Miramar Beach, including traditional street markets as well as modern malls. New Municipal Market, AJ Supermarket, Municipal Market and Caculo Mall are the most popular retail hubs near this seashore. There are loads of restaurants near Miramar Beach as well, such as D Costs Cafeteria, Café Coffee Day, Punjabi Dhaba, D'Silva Caterers & Fast Food, Carasid, Publix Bar, Temptations Bar & Restaurant, Pizza Mia, Papa Johns, Thai N Wok, Mum's Kitchen, Check Point Bar & Restaurant, Fun For All and Borkars Celebrations Bar & Restaurant.

Tourist Attractions near Miramar Beach, Goa
The most prominent attraction in the area is Panaji Kala Academy, which houses an amphitheater. To reach this place easily, you have several hotels near Miramar Amphitheater to choose from. The following are some other famous places to visit near Miramar Beach, Goa:

• Goa Science Centre and Planetarium (1.7 km)
• Church of Our Lady of Rosary (2.3 km)
• Dona Paula (3.5 km)
• Church of Our Lade of Immaculate Conception (3.6 km)
• Salim Ali Bird Sanctuary (9.8 km)

How to Reach Miramar Beach
Reaching Miramar Beach is no problem at all as it is an extremely popular tourist attraction in the state. You can take buses and taxis to come here from all parts of Goa; you can even rent bikes to reach it. Panaji Bus Station is merely 5 km from Miramar Beach, whereas Karmali Railway Station is 16.2 km away. Goa International Airport, which has flights to all around India along with some overseas destination, is at a distance of 28.9 km from this sandy shore. Mumbai is one of the cities, directly connected to Goa by road, rail and air. If you are looking for economy hotels in Mumbai too, then FabHotel Laaiba Residency and FabHotel Arton Suites are the most popular picks.