Coupon STAYFAB applied on all FabHotels. Discount up to 45% OFF! Best price guaranteed!
Search
Destinations, property name
Why Us?
Best reviewed hotel chain.

Most centrally located.
Most value for money
Stay Fab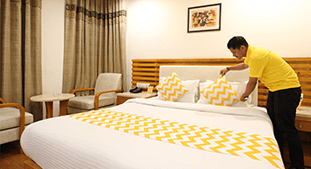 Our staff gets trained by the best in hospitality business.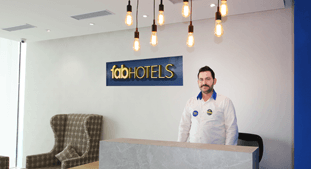 We are always available to serve you, 24x7, for a fab stay.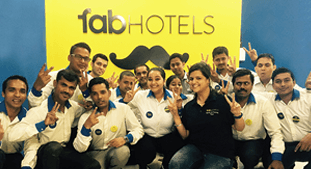 Our Quality team inspects and ensures consistent standards in every room.
Hotels near Jal Mahal, Jaipur: 4 FabHotels
Budget Hotels near Jal Mahal, Jaipur

Jal Mahal is one of the most famous tourist attractions of Jaipur city, the capital of Rajasthan. Hence, there are an array of hotels near it that offer accommodation to the large number holidaymakers coming here. Some of the budget hotels near Jal Mahal are FabHotel Dior Pink City and FabHotel Royal CM Bani Park. There are numerous budget hotels near Jawahar Circle as well like FabHotel Saneer Jaipur Airport. You can avail exciting hotel deals in Jaipur if you book your rooms online.

About Jal Mahal
Jal Mahal is built on a small islet in Man Sagar Lake. The palace was renovated by Maharaja Jai Singh II in the 18th century. It is known for its Rajput architecture with some influences and elements of Mughal architecture as well. Of the five storeys of this erstwhile royal residence, four are submerged in water when the lake is full. The highlight of the palace is the elaborate carvings that decorate its sandstone walls. To reach the palace, you have to travel on a boat, which will be an experience in itself. Lots of people spend time on the shores of the lake, especially at sunset.
Shopping and Dining near Jal Mahal
Owing to the high footfall of tourists, the area around Jal Mahal is replete with dining options. Some of these are Sikka Lounge, Cake & Pizza Hut, Kallu Hotel and Jal Mahal Restaurant. There are also a large number of shopping malls near Jal Mahal like Heritage Mall, Crystal Mall and Anchor Mall. You can also head to Aravali Bazaar, Nehru Bazaar, Johri Bazaar and Bapu Bazaar, where you can get Rajasthani handicrafts.

Attractions near Jal Mahal
Though Jal Mahal itself is a popular attraction, it alone can never make your Jaipur holiday memorable. Here are the top 5 places of interest you can easily access from the Jal Mahal area:

• Amber Fort (6.3 km)
• City Palace and Hawa Mahal (7.3 km)
• Jantar Mantar (7.5 km)
• Albert Hall Museum (9.1 km)
• Jaigarh Fort (11.2 km)

How to Reach Jal Mahal
The best way to reach Jal Mahal is through either a bus or an auto rickshaw. Jaipur Railway Station is 11.7 km away, while Jaipur International Airport is located around 19.5 km from Jal Mahal. Major cities like Delhi can be easily reached from Jaipur by flights and trains. Those, searching for budget hotels in Delhi, can go for FabHotel Tryfena East Of Kailash and FabHotel Transit Delhi Airport. Chandpole Metro Station, 9 km away, connects Jal Mahal to other parts of the Pink City.