The month of love is here. And so are the numerous ideas to make your V-Day perfect. But how do we cross out on one? Movie date? Nah! Candle-light dinner? Too conventional! So what do we exactly do to make it a special day for you both? How about taking a trip? Wouldn't it be a wonderful idea to surprise her or him with a fully planned romantic trip this Valentine's? Ah! The look on her face. Priceless.
The V-Day is falling on Tuesday but don't be disappointed as you can treat each other with a long-weekend trip. Trust us when we say this, travelling with your beloved is among the most special experiences of one's life. About time you give it a shot.
How to reach?
Our way is the highway – The best and the most romantic way to reach Jaipur from Delhi is taking the road. A romantic drive on NH8 is beautiful.

Make sure you update your playlist with some soulful songs. Or perhaps you could make her a Valentine mix. Add on the songs she loves or the ones that brought you together. Although you won't be able to watch her expressions as your eyes are going to be on the road but the aura of the whole journey is going to be more than enough. Stop by at Old Rao Dhaba for some sumptuous ghee loaded meal.
Romantic Trip to Jaipur: Day 1
• Check-in at a hotel. It's best to enjoy a breakfast in bed. There are a lot of hotels in Jaipur offering comfortable accommodation and premium services. We recommend booking a heritage haveli to take in the complete essence of the city. If you wish to book any of our properties in Jaipur, you can try FabHotel MI Road. Its exquisite decor, beautifully done rooms and rooftop restaurant make it an ultimate stopover for Valentine's.
• By 11 a.m., we suggest you head out for some sightseeing. Start off with Hawa Mahal and City Palace. Visit the Govind Devji Temple located in the City Palace Complex. Roam around in Tripolia Bazaar. While the girl indulges in shopping, what do you do? Boy, you either sympathise with rest of the men in the crowd or you actually involve yourself in the whole ordeal of selecting the best item for her. Since it's V-Day, we suggest you to do the latter. Perhaps, you could gift her a little something.
• For lunch, enjoy some street food. Nothing better than that.
• Move on to Jantar Mantar followed by a movie at Raj Cinema. If you're hungry, grab some burger from McDonalds located just next to it.
• For dinner, you have two options if you are staying at FabHotel MI Road. Either you can enjoy a romantic dinner at its rooftop restaurant or else, head to Steam at Rambagh for some Italian food. It is located about 2.7 km from Raj Cinema. The whole restaurant is inside a restored steam engine and offers a complete Victorian style decor.
Romantic Trip to Jaipur: Day 2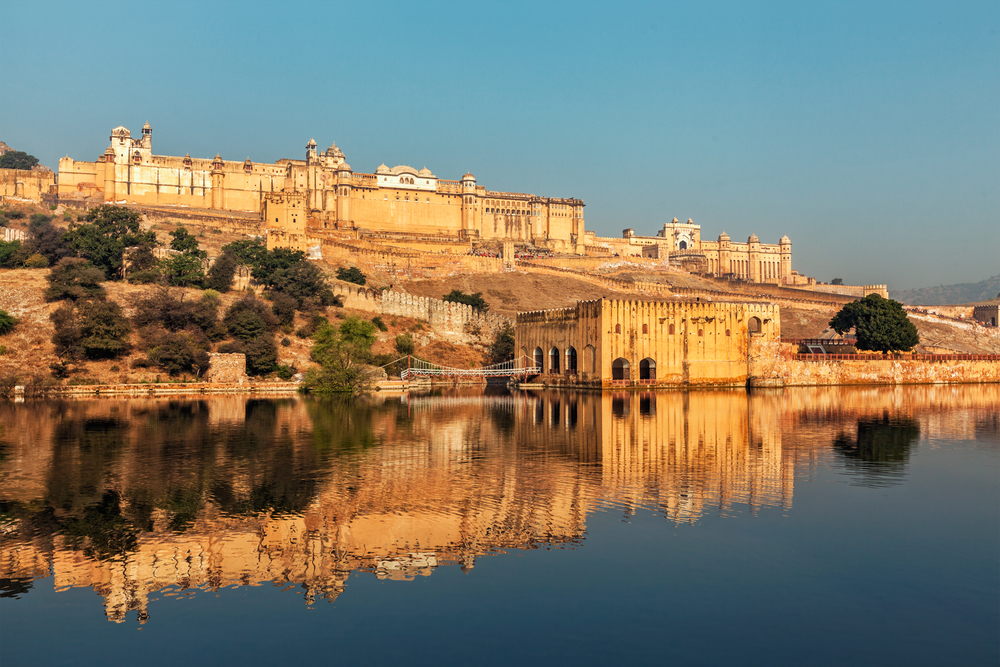 • Your Jaipur sightseeing tour is incomplete without eating Mirch ke pakode. Get up a little early, take a walk together in the local market and have some local breakfast.
• Come back, take out your car and get ready for a ride to Jaipur's most splendid location – Amer Fort. It will take you about 40 minutes to reach Amer but it's all going to be worth it. Enjoy a cup of coffee at CCD, click some beautiful views and if possible, take an elephant ride to the fort – one of the better things to do in Jaipur.
• By the time, you are done with this, it'll be time for lunch and we suggest you to head to 1135 AD. It's inside the palace and is worth every penny. It might be a little costly but boy, it's your special day. Make 14th Feb memorable for her. Relish a traditional Rajasthani meal in the style of the royals.
• The Jaigarh Fort overlooks the Amber Fort. Try taking a trip there too.
• The city is known for its forts. From there, drive towards Nahargarh Fort which is yet another architectural marvel of the city.
• For dinner, you can either try Giardino at Jai Mahal Palace or ta Blu at JLN Marg, both known for their romantic setting. Ta Blu has a rooftop restaurant and there's no doubt in the fact that meals under the starlit sky hold a special place in everyone's heart. Boy, did we just plan the whole thing for you. Happy Valentine's Day!