Steeped in history and culture with forts and palaces dotting the entire city, the Pink City of India – Jaipur has also really embraced the café culture in recent years. There is an abundance of shopping and sightseeing to do in Jaipur, however, even the most energetic visitor would need a break every so often. 
Listed below are 16 best cafes in Jaipur that have earned quite a name for themselves for their intriguing themes and menus.
Best Cafes in Jaipur under INR 1000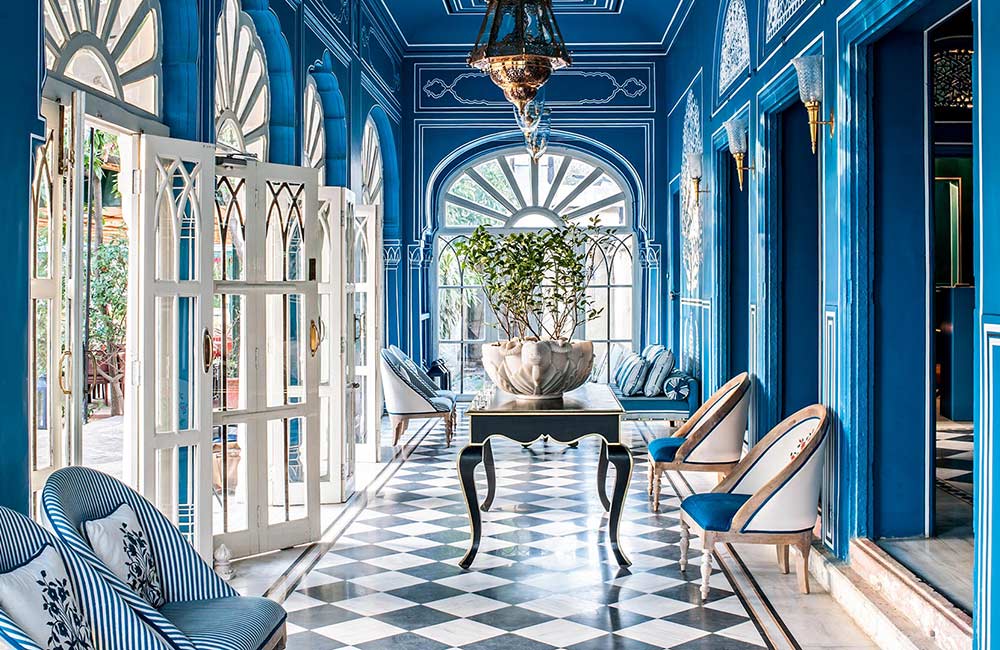 1. Brown Sugar, Jaipur
One of the classic cafes in Jaipur, Brown Sugar is a highly popular café for its varied assortment of delectable baked goods and pastries. Relax over a great meal in the comfy vintage chairs and a chilled-out ambience.
Location: Axis Mall, C-Scheme
Cost for two: INR 400
2. Rustic Spot Café, Jaipur
Pose with hip gigantic graffiti and art on the walls at this chill café in the sunshine and fresh air in the authentic rustic setting. The menu is majorly North Indian and Italian, but also includes special items like 1.5 kg parathas.
Location: Opposite Metro Yard, Mansarovar
Cost for two: INR 400
Also Read: Budget Trip to Jaipur
3. Anokhi Café, Jaipur
It is famous for its cheesecakes and food made from fresh seasonal organic produce that is grown locally at the Anokhi farm. The quaint straw blinds and comfy chairs with a boutique section that sells ethnic goods is what makes Anokhi café an awesome place to have a bite and unwind.
Location: KK Square, C Scheme
Cost for two: INR 550
4. Curious Life of Coffee Roasters, Jaipur
Seek freshly brewed coffee? Then this is the café for you. Very popular among the coffee aficionados, the Vietnamese cold brew coffee is a must-have in this chic café that is also great for couples.
Location: Ashok Nagar, C-Scheme
Cost for two: INR 600
5. Wind View Café, Jaipur
Take in the breathtaking view of the exquisite Hawa Mahal at this café located right across. You can marvel over the architecture while gorging on the food and get great memorable snaps from the vantage point this rooftop café provides.
Location: Badi Chaupar, Pink City
Cost for two: INR 700
6. Skywaltz Café, Jaipur
With artsy lanterns strewn all over the place along with bluish-green walls and cobalt blue & white tables, this café makes for some lighthearted banter over the delicious food and is a great café in Jaipur for couples.
Location: Lal Bahadur Nagar, Malviya Nagar.
Cost for two: INR 700
7. Nibs Café, Jaipur
A paradise for chocolate lovers, this café has an outdoor area with an array of funky bird cages to sit in where you can enjoy their extravagant cake and cookie shakes. Apart from desserts, the café also whips out some tasty Italian and continental savouries. 
Location: Next to MGF Mall, C-Scheme.
Cost for two: INR 750
8. Tapri Central, Jaipur
Definitely among the best cafes in Jaipur, Tapri is the go-to place for all chai/tea lovers with its charmingly rustic setting. The outdoor seating in the sunshiny breeze overlooking the city goes great with the unique menu of Tapri.
Location: Opposite Central Park, C-Scheme
Cost for two: INR 800
9. Café Lazymojo, Jaipur
Great food, peppy music, eclectic interiors and an al fresco dining area are what define this café. It also has an exclusive space for private parties and large groups. The eclectic menu includes everything from breakfast specials to Indian and Chinese mains is served.
Location: Lal Bahadur Nagar, Malviya Nagar
Cost for two: INR 800
Also Read: Places to Visit in Jaipur
Best cafes in Jaipur above INR 1000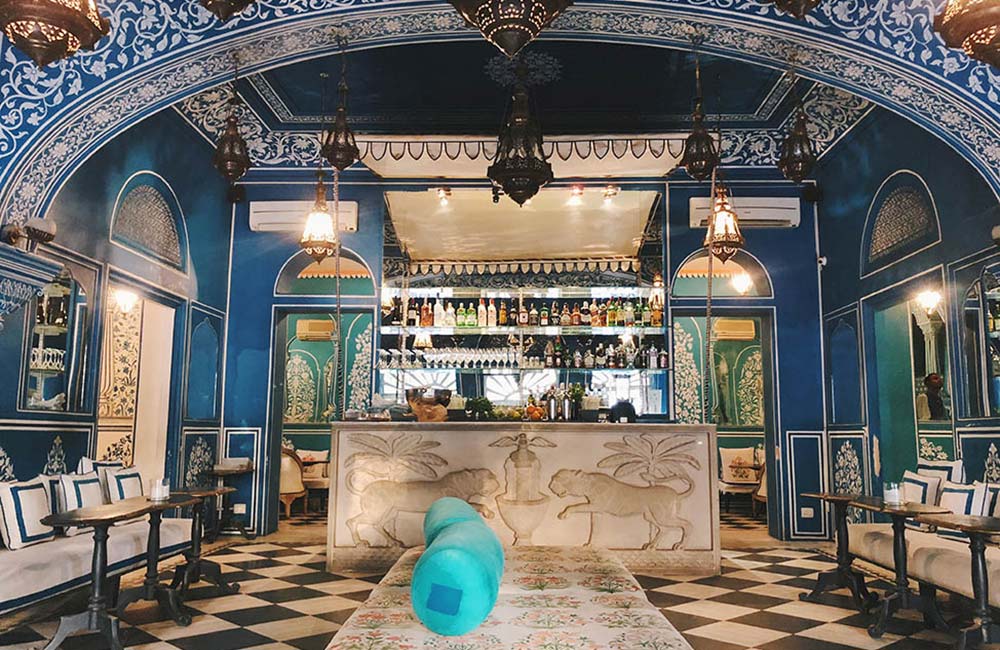 10. Home Café by Mr. Beans, Jaipur
This café's main concept is based on the idea of a classic English tearoom with vintage furnishing. Here you can enjoy a private conversation over the sumptuous sandwiches, making this a perfect café in Jaipur for couples.
Location: Sardar Patel Marg, C Scheme
Cost for two: INR 1000
11. Sultanat, Jaipur
This gorgeous café is themed with antique furniture and interiors based on the Fort Jaipur where it is situated. You can enjoy the 16th-century, old-world charm while having the signature kebabs in the huge seating area in this high-end café.
Location: Lal Bahadur Nagar, Malviya Nagar 
Cost for two: INR 1200
12. Café Bae, Jaipur
It is an upscale café with a posh ambience and checkered floors. Here you can enjoy an unobstructed view of the starry skies from the outdoor seating area. Enjoy all-day breakfast and Continental cuisine at this family-friendly space.
Location: Sehkar Marg, Bais Godam
Cost for two: INR 1200
13. Eclectica, Jaipur
A 16-page long vegetarian menu with sections dedicated to the diverse cuisines from Italian to Rajasthani await you in this popular café. It makes the list of the best cafes in Jaipur because of three reasons: tantalising dishes straight from the tandoor, serving food suitable to everyone's palate and spacious ambience with a rooftop setup.
Location: New Sanganer Road, Sodala
Cost for two: INR 1250
14. Fat Lulu's, Jaipur
With an open bar and kitchen, top-notch food presentation, and a beautiful high ceiling, this café is hands down one of the most popular cafes in Jaipur. The quaint aesthetics and the old school jazz vibe of the place get customers flocking for the mouth-watering Italian and continental food.
Location: Sardar Patel Marg, C-Scheme
Cost for two: INR 1300 (excluding alcohol)
15. On The House, Jaipur
This upscale café in Jaipur serves a variety of flavours from European to Mexican delicacies. It has a spacious and well-lit interior as well as an outdoor area where you can enjoy the breakfast specials while basking under the sun.
Location: Ramesh Marg, C-Scheme
Cost for two: INR 1500
16. Bar Palladio, Jaipur
One of the most famous cafes in Jaipur, Bar Palladio is an Italian restaurant and bar with an expansive menu. Here you can have a rich and extravagant experience in the electric blue interior décor inspired by the Mughal architecture.
Location: Kanota Bagh, Narayan Singh Road
Cost for two: INR 1800 (excluding alcohol)
These 16 best cafes in Jaipur are proof that the grandeur of Jaipur is not only limited to the impressive heritage and history of its forts and palaces. These cafes are famous and popular for a reason and ensure a relaxing and enjoyable time for all.
Also Read: Restaurants in Jaipur
With this information, it is time to start planning a café-hopping weekend getaway to Jaipur as soon as you can!