Search
Destinations, property name
Why Us?
Best reviewed hotel chain.

Most centrally located.
Most value for money
Stay Fab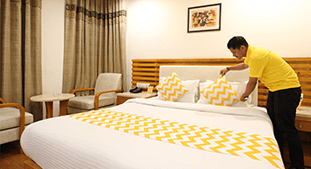 Our staff get trained by the best in hospitality business.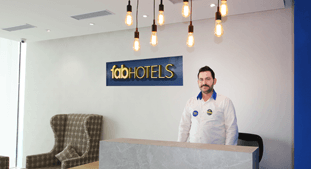 We are always available to serve you, 24x7, for a fab stay.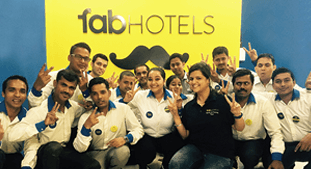 Our Quality team inspects and ensures consistent standards in every room.
Hotels in Raja Park: 6 FabHotels
Budget Hotels in Raja Park

Raja Park, a bustling shopping zone on the eastern corner of Jaipur, is a great place to stay on your visit to the Pink City. There are many options for accommodation in Raja Park that fit every budget. FabHotel Padmavati Palace and FabHotel Royal CM are the top budget hotels near Raja Park, guaranteeing a value-for-money stay. If you are looking for budget hotels near Jal Mahal, then FabHotel Dior Pink City would suit you the best. Those, searching for hotels near Sindhi Camp Bus Stand, which is around 8 km from Raja Park, can check out FabHotel Saneer Jaipur Airport and FabHotel Epic C Scheme. In case, you have plans to visit Delhi as well, then check out FabHotel Sunstar Karol Bagh and FabHotel Conclave Inn Nehru Place which are among the most preferred budget hotels in Delhi.

About Raja Park
Raja Park is a significant locality of Jaipur that is dotted with family run shops, multi-storied malls, colleges, schools and corporate offices. Regus Business Centre, PRS Associates LLP, St Edmund's School, Lal Bahadur Shastri PG College and PG School of Commerce are situated in and around the locality. The Jaipur branch of the Reserve Bank of India is just 3 km away from Raja Park.

Shopping and Dining near Raja Park
Raja Park attracts avid shoppers as stores and malls here offer everything from clothes and footwear to furniture and household items. Pink Square Mall is a place where you get the best of both worlds. Staying at Raja Park gives you the perfect opportunity to experience not only shopping but dining as well. OTR 16, Domino's, American Grill, Café Coffee Day, Tamboora and Punjabi Tadka are some preferred dining venues in Raja Park.

Attractions in and around Raja Park
If you are coming to Jaipur for the first time, you would want to see all the attractions in the city before you return. The following are the closest tourist attractions to Raja Park:
• Shaheed Bhagat Singh Park (400 m)
• Birla Mandir (2.1 km)
• Ravindra Manch (3.7 km)
• Jaipur Zoo (3.8 km)
• Jahawar Kala Kendra (4.4 km)

How to Reach Raja Park
Raja Park is well connected to the rest of the city by roads, with buses and taxis available throughout the day. Jaipur Railway Station is 7.6 km away, whereas Jaipur International Airport is only 10.2 km from Raja Park. The best way to reach Raja Park from either point is by a taxi. There are buses that ply from both these points to Raja Park too. Sindhi Camp Metro Station is approximately 8 km away from the locality.