Coupon STAYFAB applied on all FabHotels. Discount up to 45% OFF! Best price guaranteed!
Search
Destinations, property name
Why Us?
Best reviewed hotel chain.

Most centrally located.
Most value for money
Stay Fab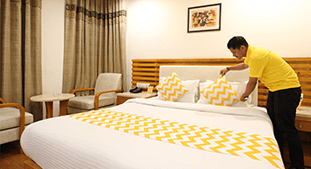 Our staff gets trained by the best in hospitality business.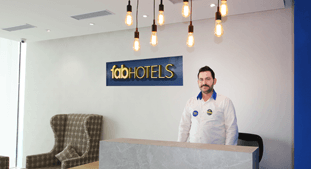 We are always available to serve you, 24x7, for a fab stay.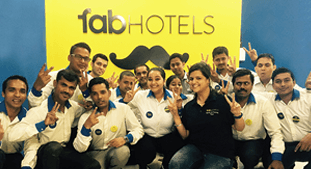 Our Quality team inspects and ensures consistent standards in every room.
Hotels in Vijayawada: 1 FabHotel
MG Road

Booked 2 hours ago

Budget Hotels in Vijayawada

Located on the banks of the Krishna River, Vijayawada is one of the oldest and most significant trading centers of Andhra Pradesh. The metropolis finds mention in history, as the famous Chinese scholar Xuanzang spent a few years here. The Land of Victory, as the city is often referred to, is home to a number of points of interest like caves, temples and the verdant lndrakeeladri Hills. It receives a horde of travelers in the month of February and December owing to the celebration of the vibrant Deccan Festival and Lumbini Festival, respectively.

Catering to a swarm of visitors are the large number of luxury hotels, budget hotels and homestays. FabHotels has some of the best budget hotels in Vijayawada for people who do not want to spend much on accommodation. FabHotels ensures a hassle-free stay, which makes it one of the most preferred economy hotel chains in India. In Vijayawada also, it has made its mark with its centrally located hotels, impeccable hospitality and comfortable rooms. Travelers can make a Fabhotel booking by calling at +91-7042424242. FabHotels in Vijayawada can also be booked online or through our user-friendly Android app. Tariff for FabHotels near Vijayawada ranges between INR 999 to 2499 only. Each FabHotel features clean, air-conditioned rooms with Wi-Fi connectivity and en-suite bathroom. Those looking for a value-for-money stay should look no further than FabHotels.

Being a hub for several businesses, Vijayawada is recognized as a 'global city of the future'. One of the places, business travelers prefer staying at is MG Road, owing to the abundance of office spaces along it. Among the best budget hotels near MG Road is FabHotel Essvee.

Tourist Attractions in Vijayawada
Vijayawada is home to some really unique and interesting attractions that lure travelers to the city. Listed below are the top 5 places to visit in Vijayawada:

• Kanaka Durga Temple
• Undavalli Caves
• Gunadala Matha Shrine
• Mogalarajapuram Caves
• Rajiv Gandhi Park

Prakasham Barrage, across the river, is also a notable attraction in the city. The one-of-a-kind place in Vijayawada is the River Valley Museum or Krishnaveni Museum, which is believed to be India's only museum dedicated to a river. Gandhi Hill is also a prominent landmark, located just behind the railway station. Here, tourists can enjoy a sound and light show or even learn about Mahatma Gandhi's life by flipping the various books kept inside the Gandhi Memorial Library. Travelers can also plan a visit to Bhavani Island, which lies in the middle of the Krishna River.

Shopping and Dining in Vijayawada
The city of Vijayawada is known for Avakai - a spicy local pickle, Kalamkari paintings and Mangalagiri sarees. Shopaholics can explore Besant Road and Kondapalli for a variety of textiles, handicrafts and other art related products. PVP Square, ICON and Trendset are the popular malls in Vijayawada.

The city has an array of options for foodies. Taste on Wheels (Sriram Nagar), Brindavan Colony Chat Corner, Minerva Coffee Shop (MG Road) and TFL (Mughal Raj Puram) are some of the best places to eat in Vijayawada. For some aromatic South Indian fare, travelers can head to Temptations (Benz Circle) and Arya Bhavan (Gandhi Nagar). Many budget hotels in Vijayawada are located close to these shopping and dining hubs, making it easier for travelers to hang-out and buy exquisite souvenirs.

How to Reach Vijayawada
Travelers can easily reach Vijayawada from other major cities of the world as it has its own international airport, known as Vijayawada International Airport (VGA). Located in the neighborhood of Gannavaram, the airport is around 18 km from the city center; therefore, reaching Vijayawada by air is not at all a daunting task. Travelers can hire a prepaid taxi or book an online cab to reach their respective destinations conveniently. For those who prefer traveling by train, Vijayawada Junction is the principal railhead, which hosts frequent trains from all parts of the country. Further, the city is well connected to neighboring cities and towns via regular buses. You can easily reach cities like Hyderabad from Vijayawada by trains, flights and buses. If you are looking for good economy hotels in Hyderabad, you can go for FabHotel Lotus Hitech City and FabHotel V Hotel Banjara Hills.