One of the biggest cities in Andhra Pradesh and also the de facto commercial headquarters of the state, Vijayawada is a blend of the contemporary and traditional. Famous for its religious sites amidst lush-green surroundings, Vijayawada will surprise you as it has loads of restaurants and attractions to visit. To those wondering about whether a small-ish city like Vijayawada has nightlife, we nod our head in a big "Hell Yeah".
Many people assume that the city might have a negligent nightlife, but this blog will hopefully change your mind and give you the nudge to go and explore the safe and fun nightlife along with the eclectic restaurants in Vijayawada.
There are various pubs in Vijayawada, but we are mostly focusing on the disco and nightclubs, where you can not only have amazing food after work hours, but also groove to the latest beats of Tollywood, Bollywood and Hollywood.
Ready for a night out with your gang?! Book hotels in Vijayawada 
Pubs in Vijayawada (List):
Neptune Bar and Lounge
G-Bar
Midtown Sports Bar
10 Downing Street
Cuba Libre
Grapevine
The League Sports Bar
1. Neptune Bar and Lounge
Ask locals about the best bars in Vijayawada, and someone is bound to mention Neptune Bar and Lounge. With its laidback and cosy ambience, the bar has established itself among the top contenders for late-night drinks or parties. Given the contemporary and absolutely relaxing environment of the bar, you can head here after work and order some and unwind from what may have been a stressful day.
The bar and lounge has earned its reputation with its selection of beers, wines and other alcoholic and non-alcoholic beverages. Try their different types of mocktails and cocktails that the in-house bartenders whip up.
In the background, you will usually find live or soothing music playing, which levels up with the evening's tempo. So, if you have been looking for a place to simply relax or treat your business partners or clients, this is it.
There is a separate smoking zone in the lounge and you can even find valet service around the corner.
Location: Fortune Murali Park, MG Road
Timings: 11 AM – 11 PM
Must try: Cocktail, mocktails, evening snacks
Cost for Two: ₹ 1500 (approx.)
2. G-Bar
One of the best night pubs in Vijayawada, G-Bar is the place for everyone who likes their drinks a little different and tailor made to their taste. Whether you have just explored the entire MG Road area or simply want to lay off some steam after a hectic work day, G-Bar has you sorted.
They have several imported brands of liquors; else, the in-house bartenders are ready to churn out your own version of the martini, or Mai Tai, if you say so. The high stools strung along the bar are ideal for people, who don't like to have company after work-hours and simply want to enjoy solitude or ponder on life and stuff.
Of course, the music playing in the background will help lighten your senses and ensure you go back with a better mood. If you do plan to come here with your group of colleagues or friends, do head to the dance floor and enjoy swaying to some foot-thumping music.
Location: The Gateway Hotel, MG Road
Timings: 11 AM – 11 PM
Must try: Wine, tailor-made cocktails and mocktails
Cost for Two: ₹ 2000 (approx)
Book Couple friendly Hotels in Vijayawada
3. Midtown Sports Bar
Some pubs in Vijayawada are not all about the dance floor; rather a sports floor. Yes, there are two bars in this city that cater to all the sports fanatics, especially who love football leagues. If you want to catch a live screening of a match between your favourite teams, this is the place to be after work
Imagine a cold beer in your hand and some spicy chilli chicken while you watch your favourite team give its best on the big screen! Sounds like your kind of night, right? If yes, then Midtown Sports Bar is where you should be. This bar in Vijayawada is not only popular for its nightlife, but also its food and the vast gaming arena. For those of you, who don't like to spend your after-work hours watching sports screenings, there is a bowling alley and other gaming tables just for you, so you can indulge in sports.
Location: Fortune Murali Road, Moghalrajapuram
Timings: 11 AM – 11 PM
Must try: Chilli chicken with cold beer
Cost for Two: ₹ 1000 (approx.)
4. 10 Downing Street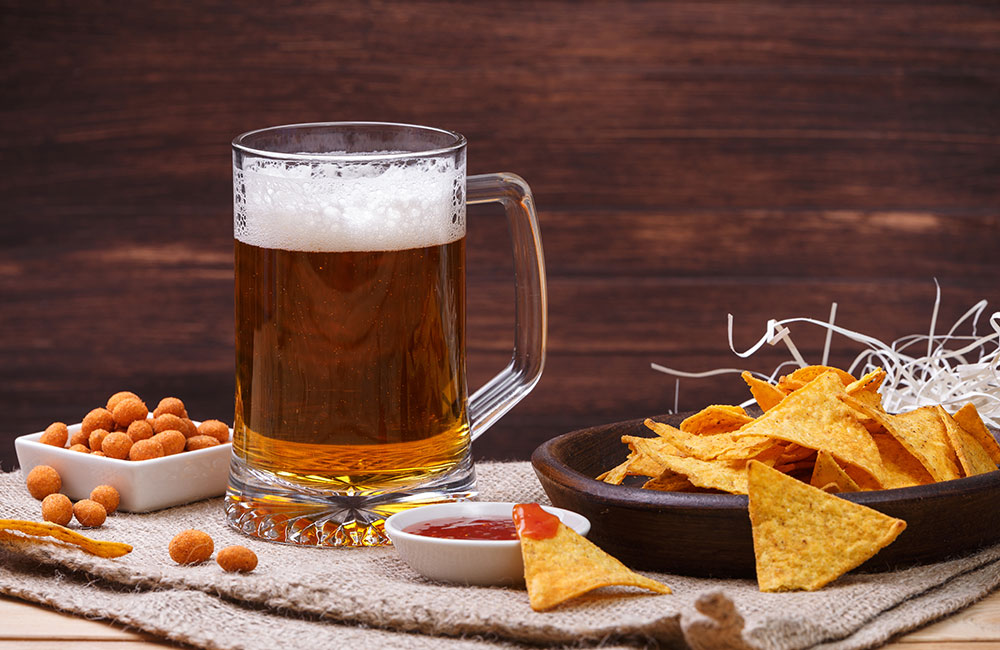 Now a well-known pub in several Indian cities, its Vijayawada outlet has a good selection of Continental, North Indian and Chinese dishes. Regulars love the place for its amazing ambience, great food and the DJ floor, where you can relieve all the stress by swaying to the hippest tunes in town.
Part of a chain of bars famous in South India, 10 Downing Street is establishing itself as one of the choicest places among professionals and college students who want to blow off some steam. Order some drinks, and if you happen to come here on weekends, your feet won't be able to stop from thumping to the beats because it literally exemplifies what 'Drink till you drop' means. So, it is safe to say that this is one of the best dance pubs in Vijayawada.
If you are still looking for food options, their lunch combos on weekdays are truly economical and perfect for a nice, hearty meal with friends or colleagues.
Location: PVP Mall, MG Road
Timing: 12 PM – 12 AM
Must try: Chicken lasagne, chilli fish, nachos, paneer tikka
Cost for Two: ₹ 1500 (approx)
You might also like our blog on the best shopping malls in Vijayawada
5. Cuba Libre
Yearning for a spot that can become your next go-to party destination in the city? Cuba Libre might just be the place for you. A Cuban-themed bar and restaurant, it has all the elements of a great party place. Super cool and contemporary interiors coupled with disco lights give you the perfect ambience to dance the night away.
Visit Cuba Libre for a night of either mellow conversation with excellent drinks or to simply groove to foot-tapping music. On weekends, be prepared to brace the crowd that throngs the pub. If you are planning to visit anytime soon, we recommend checking with the pub about different events and parties that might be planned here.
Location: Benz Circle, MG Road
Timings: 12 PM – 12 AM
Must try: Mixed seafood pizza, chicken khurchan, lamb mix grill
Cost for Two: ₹ 2000 (approx)
6. Grapevine
This nightclub in Vijayawada is visited by not only locals, but overseas travellers as well. And, they have plenty of reasons for it. This popular restro-bar is a high-end restaurant on weekdays; however on the weekends, it turns into a full-fledged dance pub.
The decor of the pub is complete with wooden flooring and large chairs, giving it the much-loved colonial theme. As you step inside, you will find a wall lined with the choicest whiskey and wine bottles, all collected and curated from different countries and times.
Given the kind of crowd that frequents the place, expect all sorts of international alcohol brands to be featured on the menu. It also has valet facility, making it easier for people who want to avoid the hassles of parking.
Location: Quality Hotel DV Manor, MG Road
Timings: 11 AM – 12 AM
Must try: Cocktails, international whiskeys
Cost for Two: ₹ 2500 (approx.)
7. The League Sports Bar
Last but certainly not the least, The League Sports Bar is one of the best pubs in Vijayawada, which you ought to visit regardless of whether you are a sports fan or not as it hosts has screenings of all football and cricket matches. Sit back and sip on a cold beer, watch the match and cheer for your favourite teams.
If beer is not your choice of drink, fret not because they also have wines, vodkas and a selection of mocktails and cocktails you can relish. Coming to the food menu, the bar serves everything from Continental to Chinese, and every dish they serve is lip-smacking.
But, if you don't happen to be a sports fan, there is something for you as well. The bar hosts DJ Nights and Ladies Nights wherein you can let your hair down.
Location: Lepl Centro Mall, MG Road
Timings: 11 AM – 11 PM
Must try: The League Spl cocktail, Goa Girl, League Spl Pizza
Cost for Two: ₹ 1000 (approx.)
So, did we solve your dilemma as to where you should head next for a night of music, drinks and merriment in Vijayawada? If there is any pub we missed out which is on your 'Favourites' list, do let us know in the comments.
On a concluding note, we would like to say that Vijayawada is one of the safest cities for a night out. Unlike most metros, you don't have to worry about any misadventure taking place. Just take the usual precautions and enjoy the night. And, when you have to head back home or to your hotel, various modes of transport are available, with Uber and Ola cabs plying here as well.
Pubs in Vijayawada Video: