Coupon STAYFAB applied on all FabHotels. Discount up to 45% OFF! Best price guaranteed!
Search
Destinations, property name
Why Us?
Best reviewed hotel chain.

Most centrally located.
Most value for money
Stay Fab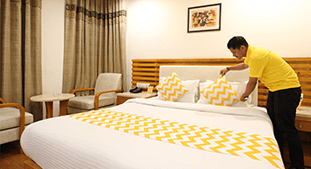 Our staff gets trained by the best in hospitality business.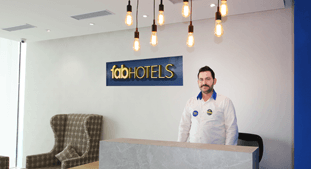 We are always available to serve you, 24x7, for a fab stay.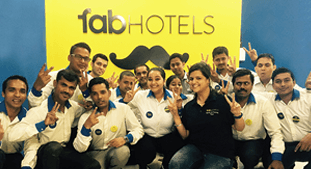 Our Quality team inspects and ensures consistent standards in every room.
Hotels in Nagpur: 2 FabHotels
Sitabuldi

Booked Yesterday

Platina Hospital Sitabuldi

Booked Yesterday

Budget Hotels in Nagpur

Once majorly known for its Oranges, Nagpur is a prominent industrial hub now with manufacturing plants of several companies set up here. Candico and Bajaj Auto are among the major ones to name. The IT industry is also growing here by leaps and bounds, with industry giant TCS setting up a huge office campus here. Hence, the demand for hotels in Nagpur has steadily increased over the years, with several Indian and international chains offering accommodation. FabHotels has a number of budget hotels in Nagpur that offer visitors a comfortable stay with modern amenities. Major transit hubs, popular attractions and prominent commercial areas are all easily accessible from all FabHotels.

One of the most significant localities of Nagpur is Sitabuldi as it is home to the offices of several government bodies. The offices of Joint Director, Higher Education; Deputy Director of Education, National Rural Health Mission, Maharashtra State Road Development Corporation (MSRDC), Nagpur Municipal Corporation, Maharashtra State Board of Secondary & Higher Secondary Education, and Maharashtra State Bureau of Textbook Production & Curriculum Research are all within or nearby Sitabuldi. In addition, Vidhan Bhavan, Collector Office and Nagpur High Court are also nearby. You can book a room at hotels in Sitabuldi, such as FabHotel Loharkar's, to reach all these places conveniently.

Tourist Attractions in Nagpur
An important historical and cultural center, Nagpur has loads of places for travelers to visit. The top 5 tourist attractions in Nagpur are:

• Sitabuldi Fort
• Central Museum
• Shukrawari Lake
• Raman Science Centre
• Maharajbagh zoo

To easily reach the waterbody, staying at hotels near Shukrawari Lake like FabHotel Orient Star is a good idea. Other popular attractions in the city are Deekshabhoomi, Futala Lake, Krazy Castle Water Park, Dragon Palace Temple, Telankhedi Garden and Narrow Gauge Rail Museum.

Shopping and Dining in Nagpur
While in Nagpur, you have ample places to shop for almost everything you want. Sitabuldi Main Road, one of the most popular retail hubs here, has shops offering a variety of stuff; the Sunday Open Market is a local favorite. Dharampeth Street is the best place in the city to buy jewelry, while the Mahal-Itwari area buzzes with shoppers during festivals. If you want to mix and match your attire, then head to Jaripatka. Sadar Bazaar is another popular shopping hub to get a range of stuff in one place. Telipura Market offers a huge variety of electronics, whereas Cotton Market, contrary to its name, is the largest farmers' market in the city. In addition, the city is also home to several modern malls like Millennium Shopping Mall, Central Mall, and Empress City Mall.

When it comes to restaurants in Nagpur, the numbers are high and the variety of cuisines these offer is also good. Nanking (Sadar), The Breakfast Story (Hingna Road), Zuree (AD Complex), The Creative Kitchen (Wardha Road), Barbeque (Sadar), The Bukhara (Sitabuldi), Fountains Sizzlers & Bistro (Dhantoli), Thaat Baat (Sitabuldi), Naivedhyam (Sitabuldi), and Veeraswami (Mohan Nagar) are the best places to eat in Nagpur.

How to Reach Nagpur
Being an important financial and political center of Maharashtra, Nagpur is well connected to the rest of the country by road, rail, and air. National Highway 44 and National Highway 47 are the primary roads connecting the city to other parts of India. Nagpur Junction Railway Station has direct trains to and from all major Indian cities, including Tirupati, Madurai, Kanyakumari, Puri, Visakhapatnam, Chennai, Kolkata, Mumbai, Pune, Coimbatore, Delhi, Dehradun, Thiruvananthapuram, Chandigarh, Hyderabad, Amritsar, Pondicherry, Bikaner, Indore, Lucknow, Mysore, Ahmedabad and Jaipur. If you are coming here by train, then you can stay at hotels near Nagpur Railway Station, such as FabHotel Orient Taibah, which is merely 2.4 km from the railhead. Dr. Babasaheb Ambedkar International Airport is the main air transit hub in the city with flights to overseas destinations like Sharjah and Doha along with several domestic ones. Many people travel between Nagpur and Indore as both are developing industrial hubs. Among the best pocket-friendly hotels in Indore are FabHotel Prime Avenue and FabHotel Bee Town.