Search
Destinations, property name
Why Us?
Best reviewed hotel chain.

Most centrally located.
Most value for money
Stay Fab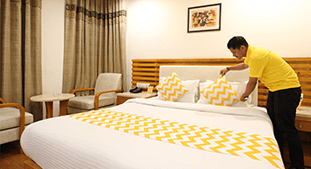 Our staff get trained by the best in hospitality business.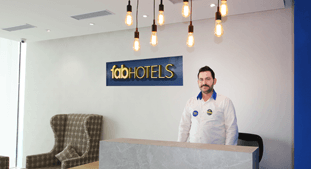 We are always available to serve you, 24x7, for a fab stay.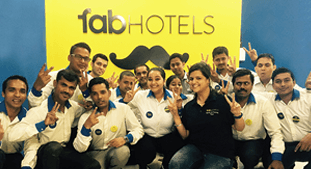 Our Quality team inspects and ensures consistent standards in every room.
Hotels in Ooty: 5 FabHotels
Budget Hotels in Ooty

Ooty, also known as Ootacamund and Udhagamandalam, is an incredibly scenic place in Tamil Nadu. Located in the Western Ghats mountain range, it is the realm of rolling hills, shimmering lakes and wide valleys. It also has a colonial charm, vested in its lush tea plantations and several buildings dating to the British time. Its altitude of around 7350 feet results in subtropical highland climate, meaning that the weather never becomes too hot here. Summer is the best time to visit Ooty owing to moderate temperature. If you want to see the hills covered in mist, then the time right after the monsoon or the winter season is perfect. The hill station is preferred by peace seekers, families, friends, solo travelers as well as honeymooners. Many people come here to experience the local culture as the hill town is home to several native tribes. As a result, there are a large number of hotels in Ooty that cater to tourists with varied budgets.

You can stay at luxury hotels as well as economy hotels in Ooty. If you are going for the latter option, then FabHotels is your best bet. Easily accessible from around the town, all FabHotels feature clean rooms with requisite amenities. Facilities like daily breakfast and Wi-Fi access are provided to all guests on a complimentary basis for a hassle-free stay. Shoram Palace Road is a good place to stay in Ooty. Among the budget hotels near Shoram Palace Road, FabHotel Khems is a preferred option. To stay in this area, you can also book a room at FabHotel Sholas Residency. For the best hotel deals in Ooty, you can consider making an online reservation.

Tourist Attractions in Ooty
Blessed with abundant natural beauty, Ooty is also home to many man-made marvels that must be explored on a trip here. The following are the top 5 places to visit in Ooty:

- Ooty Lake
- Doddabetta Peak and Tea Museum
- Government Botanical Gardens
- Nilgiri Mountain Railway
- Emerald Lake

Apart from these, the Ooty Golf Course can also be visited to admire the scenic charm of the town. To easily access it, you can go for numerous hotels near Golf Course like FabHotel Nilgiris Inn Ettines Road.

Shopping and Dining in Ooty
Though Ooty is primarily visited for its tranquil setting and scenic environs, it has loads of places to shop as well. One of the landmark markets of Ooty, Charring Cross consists of stores built all around Adam's Fountain. You can come here to buy gifts, toys, homemade chocolates and wooden items. For local handicrafts, honey, spices, cheese and paintings, you can head to Main Bazaar. A buzzing retail hub, Commercial Street has stores offering handicrafts, antiques, woolens and Ayurvedic products. Ooty Municipal Market is the place to purchase fresh fruits, vegetables and flowers in every color imaginable. You will get chocolates in a variety of flavors at Upper Bazaar Road that you can even sample before buying. If you are a tea lover, then you must explore Lower Bazaar Road. The best place to shop for woolens, such as jackets, gloves, sweaters, shawls, cardigans, pullovers, hoodies and beanies, is Tibetan Market.

Ardent foodies will not be left disappointed as there are a horde of places to eat in Ooty. The choice of cuisines that you can sample at local restaurants ranges from local, South Indian and North Indian to Continental, Chinese and Italian. Earl's Street, Willy's, Blue Mountain Restaurant, United-21 Paradise, Quality Restaurant, Big Bite, Sidewalk Café, Kabab Corner, Shinkow's Chinese Restaurant, Hotel Shri Velmurugan and Ponmari Multicuisine Restaurant are the preferred dining venues in the town. You can also head to Jain Restaurant, The Garden Café, Hyderabad Biryani House, Café Coffee Day, Savoy, Adyar Ananda Bhavan, Junior Kuppanna, Virtue Bakes, Ooty Coffee House, Kingstar Confectionery and Nahar Restaurant.

How to Reach Ooty
Owing to its popularity as a tourist destination, Ooty is well connected to the rest of the country. National Highway 181 and State Highway 15 are the major roads you can drive on to reach here. The government road transport corporations of Tamil Nadu, Karnataka and Kerala offer regular bus services to Ooty. For the ultimate experience, you must ride the Nilgiri Mountain Railway to the town from Coimbatore. The historical significance and the scenic vistas passengers get have made the railway line a UNESCO World Heritage Site. The nearest airport is in Coimbatore, at an approximate distance of 88 km. You can take a flight to Coimbatore International Airport from Delhi, Mumbai, Chennai, Bangalore, Hyderabad, Amritsar, Visakhapatnam, Ahmedabad, Bhubaneswar, and Pune. Buses and taxis are readily available at the airport to reach Ooty. If you have some work in Coimbatore, then you can go for several pocket-friendly hotels in Coimbatore, such as FabHotel Sam Residency Gandhipuram and FabHotel Royal Castle Gandhipuram.