1 Hotel in Pondicherry
All Hotels offer free WiFi and Complimentary breakfast.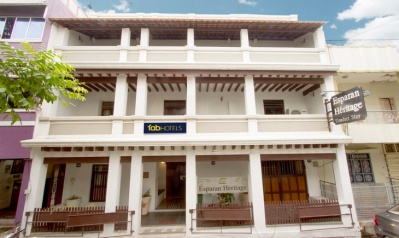 Hotels in Pondicherry

Located on the east coast of India, Pondicherry (also known as Puducherry or Pondi) is a rare combination of east meets west. The union territory is a highly popular tourist destination and offers several places of interest. The awe-inspiring French architecture portrayed via colonial villas and boutiques is a beautiful instance of the French influence in Pondi. Calm and cool beaches such as Promenade, Serenity and Paradise, and worship and meditation points like Auroville and Sri Aurobindo Ashram are among the common places to visit in Pondicherry.

Well connected by road, rail and air, the place offers various budget and luxury accommodations. Due to a strong tourism culture, Pondicherry provides stay options on a wide scale. A lot of hotels in Pondicherry are heritage properties that come with great rooms and facilities under moderate pricing include FabHotel Esparan Heritage. You can book via FabHotels website to enjoy best locations, services and deals.

Puducherry provides a great insight into the French culture while staying in India. A holiday at this quaint and peaceful place brings along experiences that last a lifetime. Things to do in Pondicherry include relishing steak and wine, taking meditation sessions at Aurobindo Ashram or simply unwinding at the beach. From spiritual seekers to photography buffs, the place is an ideal destination for all.