Puducherry, better known as Pondicherry, is a scenic and quaint town on the south-eastern part of the Indian Peninsula. With remnants of the French colonial past spread across the town's architecture and crystal clear beaches surrounding it, the city is among the most admirable destinations in South India.
A visit to Pondicherry is an experience that no seasoned vacationer would want to miss. While there are plenty of places to visit in Pondicherry in one day, a retreat to the idyllic town for 2 days is an even better choice, especially, if you wish to explore the variety of attractions that it has to offer.
Here we have made a comprehensive list of the quintessential places to discover and explore in Pondicherry, based on the number of days you have in hand:
Places to visit in Pondicherry in one day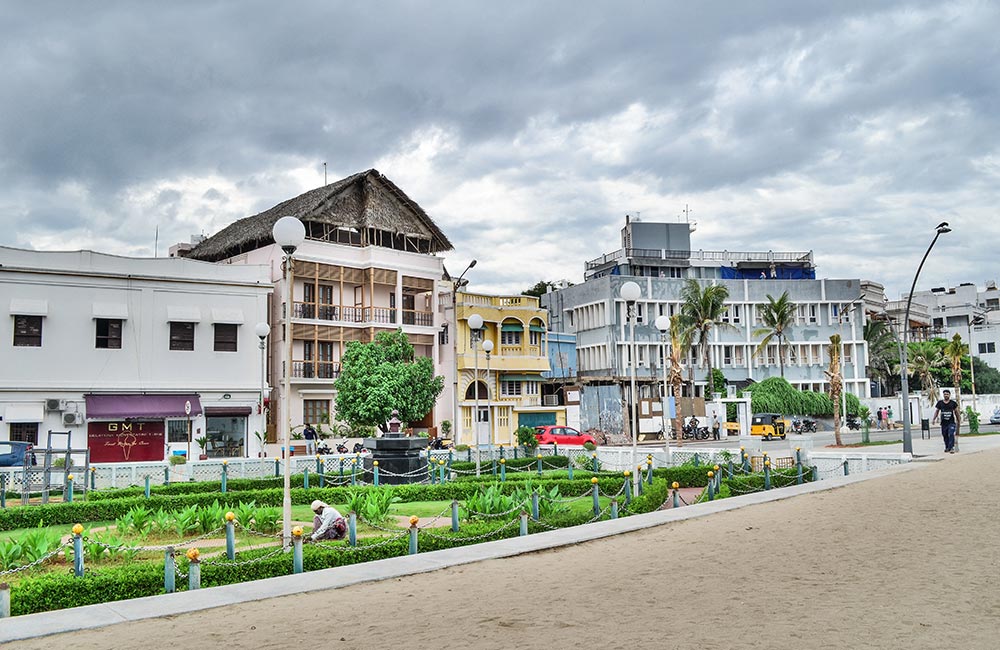 If you are here only for one day, a trip to the French Colony should definitely top the list. This part of the town has numerous attractions and delightful architecture that would indulge your senses.
The French Colony, also known as the White Town area, this two-century-old French quarter of Pondicherry is a must-visit. One can find a plethora of interesting colonial places dotting the lanes. The French influence is so great that even the streets are named in French. The grid-like patterned streets are also reflective of how the ancient planned city of Rome was built. Here are a few places to visit in the French colony of Pondicherry in a day:
La Maison Rose: La Maison Rose is an excellent example of old French colonial architecture that has been converted into three boutique shops – Domus, Oh la la and Amethyst. While here, you can shop for unique souvenirs, jewellery and clothes. The interiors of the La Maison Rose retain the vintage allure supplemented with books and paintings of the bygone era.
Location: Romain Rolland Street
Timings: 10.30 AM – 10.30 PM, all days of the week
Villa Helena: Villa Helena, a heritage hotel with a beautiful garden restaurant, is another fine example of an old colonial-style building in White Town. Vacationers can enjoy sumptuous multi-cuisine food and cocktails here, while soaking in the old-world charm of the place.
Location: Bussy Street
Timings: 12 Noon – 3 PM, 7 PM – 10 PM, all days of the week
Eglise De Notre Dame Des Anges: The Eglise De Notre Dame Des Anges is one of the oldest churches in the White Town area, built in the 18th Also known as the Church of Our Lady of Angels, this magnificent church is an architectural feat that resembles the Basilica at Lourdes in France. From the church, you can see the pristine green waters of the Bay of Bengal. Apart from a towering statue of Mother Mary holding baby Jesus, this historical site has an intricate statue of Joan of Arc. Another interesting trivia is that the only mass in Pondicherry is held here.
Location: Dumas Street and Surcoof Street
Timings: 7.00 AM – 6.30 PM
Rock Beach: It is one of the most beautiful beaches in Pondicherry, and is also known as Gandhi Beach or Promenade Beach. It stretches for about 1.5 km and offers an amazing view of the scenic landscape and the iconic landmarks that surround it.
Timings: 24 hours
Activities: Enjoy a leisurely stroll admiring the panorama

French War Memorial: If you are a history enthusiast, you must definitely visit the French War Memorial built in 1937, dedicated to the martyrs of World War I. Located near the beach, the memorial serves as the venue for Bastille Day celebrations on July 14 every year.
Location: Goubert Avenue
Timings: 10.00 AM – 5.00 PM, all days of the week.
Places to visit in Pondicherry if you have 2 days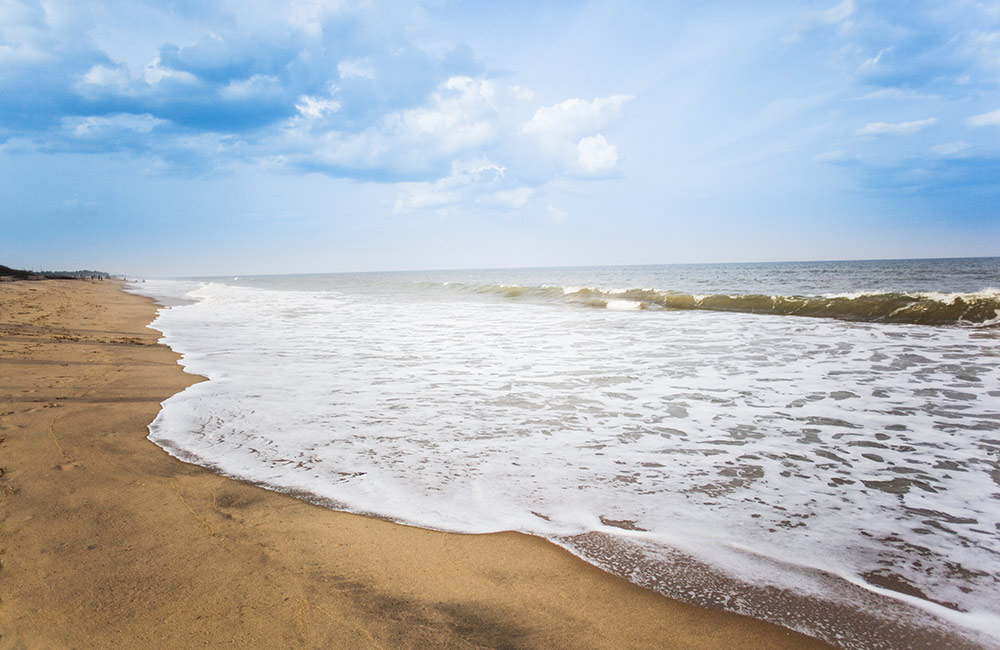 Pondicherry is a town replete with natural attractions that can only be enjoyed if you stay for more than one day. If you have an adventurous streak and are on the lookout for a good adrenaline rush, exhilarating water sports adventures at the popular beaches await you. Apart from the beaches, Pondicherry also has beautiful lakes and parks around the town.
Paradise Beach: Also known as the Plage Paradiso Beach, Paradise Beach is one of the cleanest beaches in Pondicherry, popular for its golden sands and clear waters. This beach is only accessible by a boat ride. You can enjoy sunbathing or relax under the cool shade of majestic palm trees lining the beach.
Timings: 9.00 AM – 6.00 PM, all days of the week.
Activities: A boat ride through the Chunnambar backwaters surrounded by lush mangrove forests is a unique experience in itself. You can take photographs of numerous birds and if lucky, you may even spot dolphins.  You can also indulge in a game of volleyball at the beach. The most exciting part about a trip to the Paradise Beach is that you can spend the night in a tree house, an ultimate treat for nature lovers.
Fee for Boat Rides: Motorboat rides cost approximately Rs. 50 for short trips and Rs. 100 for longer ones. Speedboat rides cost Rs. 125 for short trips and Rs. 250 for long trips. A short trip on a 2-seater Jet Ski costs Rs. 250 and a long one costs Rs. 500.
Kairakal Beach: Situated in the city of Karaikal, Kairakal Beach is another tourist hotspot for adventure lovers as well as for those seeking solitude. The spectacular view of the sunrise from this beach is simply breath-taking. If visiting Pondicherry for 2 days, this beach is a must-visit, located about three to four hours from the main town area. This beach offers the best activities for all to enjoy and spend a great time with friends and family.
Timings: 9.00 AM – 5.00 PM, all days of the week.
Activities: Kayaking, boating and canoeing are some of the activities that one can choose from at the Karaikal Beach. A volleyball match on the beach or a swim in the shallow waters are also great ideas.
Serenity Beach: Serenity Beach is a well-known beach in Pondicherry. You can spend your time leisurely on the beach while relaxing to the meditative sound of waves crashing. This beach is also quite popular among surfers who come here to catch the waves.
Timings: The beach closes at 6.30 PM, all days of the week.
Activities: You can head for a swim along the shoreline in the shallow waters. If you are more adventurous, try surfing. Also, don't forget to take pictures of the tranquil greenery surrounding the beach. Apart from boating, kayaking and canoeing, you can also shop at the Serenity Beach Bazaar open only on weekends from 10.00 AM to 5.00 PM. Also known as the Handicraft Market, it offers products that mostly come from local boutiques around town. You can also learn the art of yoga at one of the many yoga centres located here. 
Ousteri Lake: Ousteri Lake is a beautiful artificial lake built a century ago, and is one of Asia's important wetlands. Covering an area of 390 hectares, this massive lake is the largest catchment area for fresh water in Pondicherry. Over 40 species of migratory birds such as the Open-bill Stork, Golden Oriole and Painted Stork among others migrate to this lake every year.
Timings: 9.00 AM – 5.00 PM, all days of the week.
Activities: You can indulge in bird watching on a boat ride and enjoy taking photographs with your loved ones against the backdrop of the picturesque lake.
Botanical Gardens: The historical Botanical Gardens is truly a nature lover's delight. Constructed in the early 19th century by French colonists, the gardens house over 1500 species of plants covering an area of 22 hectares. The common flora seen here are the several different species of roses, along with bright orchids and jasmines. Kids would absolutely enjoy the fascinating train ride inside the Children's Park.
Timings: 10.00 AM – 5.00 PM
Entry Fee: The entry to the gardens is free. However, the fee for train ride is Rs. 10 for adults and Rs. 5 for children.
Pondicherry is an idyllic tourist haven and a quiet and peaceful retreat away from the bustling lifestyle of cities. Besides, the numerous historical landmarks and natural attractions that can be visited in a day or two, await you. From various water sports adventures around the tranquil beaches to the town's colonial heritage, vacationers can keep themselves entertained throughout and make the most of their holiday.