Coupon STAYFAB applied on all FabHotels. Discount up to 45% OFF! Best price guaranteed!
Search
Destinations, property name
Why Us?
Best reviewed hotel chain.

Most centrally located.
Most value for money
Stay Fab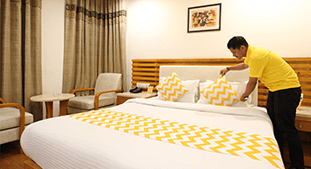 Our staff gets trained by the best in hospitality business.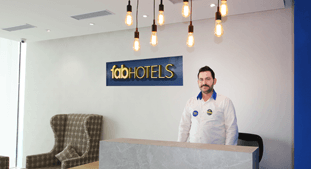 We are always available to serve you, 24x7, for a fab stay.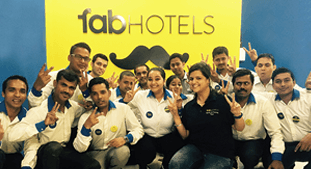 Our Quality team inspects and ensures consistent standards in every room.
Hotels in Chandigarh: 5 FabHotels
Budget Hotels in Chandigarh

Located in the northern part of the country, Chandigarh has the distinction of being the first planned city of modern India. Its wide avenues, contemporary architecture, lush greenery and scenic backdrop of the Himalayan foothills make it a preferred place among home buyers from around the country. The city is also rapidly developing as a financial center as companies like IBM, Dell, Infosys, Quark, Airtel, Tech Mahindra, Amadeus IT Group and DLF have set up offices here. Chandigarh also occupies an important political significance as it is the joint capital of the states of Haryana and Punjab. Lots of people going further to the mountains in Himachal Pradesh use Chandigarh as an intermediate halt.

All this has led to a steep rise in the number of hotels in Chandigarh that vary from economy to luxury in category. FabHotels has the best budget hotels in Chandigarh that are close to popular attractions, commercial areas, shopping complexes and transit hubs. Piccadily Chowk is one such central locality, which is reachable from all parts of Chandigarh. FabHotel Le Monarque is a good pick if you are looking for economy hotels near Piccadily Chowk.

Tourist Attractions in Chandigarh
Among the places worth exploring in Chandigarh are gardens, marvels of modern architecture and lakes. The following are the most popular tourist attractions in the city:

• Nek Chand's Rock Garden
• Zakir Hussain Rose Garden
• Sukhna Lake
• Pinjore Gardens
• Open Hand Monument

The Government Museum & Art Gallery, and ChattBir Zoo are some other places you can visit in the city.

Shopping and Dining in Chandigarh

Chandigarh is a good place for retail therapy, especially for those looking to buy funky clothes. Considered one of the fashion capitals of India, it is the place to buy clothes and explore the latest trends. You can also buy traditional dresses and handicrafts from various states here. The most visited retail hub in the city is Sector 17, where you can get whatever you wish. You can buy a range of artificial jewelry at the Shastri Market in Sector 22, whereas for furniture, you can head to Sector 34. Palika Bazaar in Sector 19 is a good place to purchase craft items. A variety of car accessories are available at Burail Market, Sector 45. The city also houses several malls that offer a combination of shopping, live entertainment and dining under roof. Elante Mall, DLF City Centre, City Emporium, Paras Down Town Square, TDI Mall, Shalimar Mall, Piccadilly Square, Central Mall and North Country Mall.

The city has hundreds of restaurants, offering North Indian, South Indian, Italian, Continental and Chinese dishes. Nik Baker's, Whistling Duck, Hops n Grains, Virgin Courtyard, Backpacker's Café, Monica's, Pal Dhaba, The Willow Café, Brooklyn Central and Swagath Restaurant & Bar are the preferred dining venues in the city. You can also head to Indian Coffee House, Oregano, Gopal's, Hibachi, Ghazal, Sai Sweets, Tehal Singh's Dhaba, Hot Millions, 20-20 Punjabi Restaurant, Shree Rathnam, Stop N' Stare Food Point, Bhoj Vegetarian Restaurant, Pinjore Gardens Restaurant and Yangtse. In addition, there are numerous outlets of popular fast food chains here too.

Upcoming Festivals and Events
If you are in Chandigarh in April, you can see Kings XI Punjab in action during the IPL at their traditional home ground, the IS Bindra (PCA) Stadium in Mohali. The team has exceptional batsmen, including David Miller, Chris Gayle, Yuvraj Singh and Aaron Finch along with Axar Patel and Ravichandran Ashwin. Apart from IPL, the city will also host the Big Chandigarh Marathon on April 1st. The event will begin from Chandigarh Club at 5:00 am. Then, on April 15th, Chandigarh Cyclothon will be organized to inspire people towards a cleaner and healthier mode of transport.

How to Reach Chandigarh
Chandigarh can be reached from around the country by road, rail and air. National Highways 5, 205, 152 and 7 are the major inter-state thoroughfares linking the city to other places within India. Buses ply to the city from numerous neighboring places, including the city of Delhi. If you have some work in the national capital, then you can look for hordes of pocket-friendly hotels in Delhi, such as FabHotel Conclave Inn Nehru Place and FabHotel Emblem New Friends Colony. Chandigarh Railway Station has trains to and from Amritsar, Delhi, Lalkuan, Lucknow, Ajmer, Indore, Kalka, Mumbai and Haridwar. Chandigarh International Airport has flights from numerous Indian cities. You can easily reach the airport by staying at hotels in Zirakpur, which is adjacent to it. The best options in this regard are FabHotel Royal Plaza and FabHotel Purple Regency.