Everything about the city of Chandigarh is intriguing and enticing, right from the fact that it serves as the capital of Haryana as well as Punjab to it being the first planned city of Independent India. The sights you see here are hard to find in any other destination in the country. This is where you can lay your eyes on a fascinating concoction of nature and modernity as the two go hand in hand, adding to the charm of the city.
For a long time, Chandigarh has been a business centre and a fantastic place to live in. It is also a gem of a destination that is just perfect to spend some time with family, friends, alone or that special someone. A host of attractions are sure to keep you hooked for a weekend or an entire week.
Here you will find a list of some of the most renowned historical places in Chandigarh that will make your Chandigarh more memorable than you imagine. Without taking any more of your time, let's begin the list.
Places to Visit in Chandigarh:
1. Nek Chand's Rock Garden, Chandigarh
No trip to Chandigarh is ever complete without a visit to the renowned Rock Garden. Whether you are in the city with family and friends or on business, take some time out and make your way to this unique place. It's a sculpture garden, where you can see tens of gorgeous figurines made of nothing but rock and stuff that we call 'waste'. Every corner of this garden is a piece of art, and whether you are an art aficionado or not, this place will turn you into one by the time you leave the site.
Timings: 9:00 am to 7:30 pm (April to September); 9:00 am to 6:00 pm (October to March)
Entry Fee: ₹ 10 (Children); ₹ 20 (Adults)
Nearest Bus Stop: Rock Garden (450 metres)
Explore recommended places to stay in Chandigarh at best price
2. Sukhna Lake, Chandigarh
Speak of lakes in Chandigarh for couples and Sukhna Lake is the first name that comes to mind. It is often described as "one of the most beautiful manmade lakes in India," and you would agree with the statement if you have had the pleasure of capturing it with your own eyes. The picturesque waterbody has been one of the most sought-after points of interest in Chandigarh ever since it was built in the year 1958. If you get the chance, then head over to Sukhna Lake during dawn or dusk, and gaze at one of the most gorgeous sunrise or sunset you will ever see. It is also a hub for numerous activities, and the one that appeases every visitor is boating. Yes, you can rent a boat here and sail on the sparkling waters.  
Boating Timings: 9:30 am to 6:00 pm
Boating Fee: ₹ 50
Nearest Bus Stop: Bus Stop Lake (350 metres) 
3. Zakir Hussain Rose Garden, Chandigarh
Zakir Hussain Rose Garden, Chandigarh Rose Garden or simply Rose Garden, you may call it whatever you want, but it is always going to be that same enchanting place that takes your senses on a heavenly ride. Located in the Sector 16 area, it sprawls across 30 acres and gives you a chance to see more than 1600 species of roses and other members of the plant kingdom. Every year, during the month of February or March, when spring has already or is preparing to take over the region, a huge celebration, called the Rose Festival, takes place here. During this event, thousands of people from near and far make their way to Chandigarh to admire the wide variety of roses showcased.
Timings: 6:00 am to 8:00 pm
Entry Fee: ₹ 50
Nearest Bus Stop: Sector 16/10 (350 metres) 
4. Chhatbir Zoo, Chandigarh
Wildlife may not be the first thing that comes to mind when you think of Chandigarh. However, keeping with the tradition of surprising all, the city is home to an incredible zoo, where you can come across numerous creatures of the wild. Also known as Mahendra Chaudhary Zoological Park, this 505-acre wildlife park is home to animals brought from different parts of the country. It is home to more than 1200 creatures that represent more than 100 species. Among the dozens of mammals you can admire here are the black buck, white buck, Indian gazelle, Indian elephant, common leopard, lion, leopard cat, Royal Bengal tiger and white tiger. Besides, the park also gives you an opportunity to behold many bird species from up-close, including falcons, doves, kalij pheasants, bar-headed geese and common quails.   
Timings: 9:00 am to 5:00 pm 

Entry Fee
Children below 3 years/differently-abled/media personnel: Free
Children 3 to 12 years (shorter than 3 feet): ₹ 25
Above 12 years (taller than 3 feet): ₹ 60 

Nearest Bus Stop: Chhatbir Zoo (900 metres) 
5. Government Museum and Art Gallery, Chandigarh
Overshadowed by the allure of other more famed points of interest on this list, the Government Museum and Art Gallery might just be the most underrated Museum in Chandigarh. The place owes its creation to the partition of India and Pakistan that took place in 1947. Most of what you see at the museum was actually held at the Central Museum in Lahore, which was the capital of Punjab. But after partition, the incredible collection was brought to India, and Government Museum and Art Gallery was established to house it. Among the most prized possessions of the museum are Gandhara sculptures and Rajasthani miniature paintings.
Timings: 10:00 am to 4:30 pm (closed on Mondays)
Entry Fee: ₹ 10
Nearest Bus Stop: Sector 9D/10C (550 metres) 
Also Read: Places to Visit in Punjab
6. International Dolls Museum, Chandigarh
If you are tired of exploring run-of-the-mill tourist hubs in Chandigarh, then make your way to International Dolls Museums and admire something new. As the name suggests, the place is dedicated to dolls and has a vast collection of hundreds of beautiful dolls and puppets. Although it is, no doubt, a hit among kids, adults too find this place quite fascinating. Several items in the museum's collection have been brought from different parts of the world, such as Denmark, Germany, Russia, Korea and Spain. 
Timings: 10:00 am to 5:00 pm
Entry Fee: Free (Children); ₹ 10 (Adults)
Nearest Bus Stop: Sector 23/16 (350 metres) 
7. Japanese Garden, Chandigarh
A recent addition to the list of popular places to visit in chandigarh with friends as well as family, Japanese Garden has already made a name for itself with its eye-pleasing architecture, undisturbed tranquillity and lush greenery. While Phase 1 of the project was inaugurated in 2014, Phase 2 was opened to public in 2016. The two are connected via an underground tunnel, which in itself is a sight to behold as it adorned with captivating Japanese paintings. It's truly magnificent, and if you are anywhere near the Sector 31 area, take some time out and spend a few relaxing moments in the garden. 
Timings: 7:30 am to 7:00 pm
Entry Fee: Free
Nearest Bus Stop: Sector 31 Market (600 metres) 
8. Nada Sahib Gurudwara, Chandigarh
Take a short drive from your hotel in Chandigarh and arrive at Nada Sahib Gurudwara, which has been the centre of religion and spirituality in Chandigarh for a long time. This is where the people of the city go to forget about the hustle and bustle of their life and spend a few moments of peace in the lap of the divine. If not for the soothing chants that fill you with new life, visit the place for its splendid architecture, which is nothing short of breath taking.
Timings: N/A
Entry Fee: Free
Nearest Bus Stop: Nada Sahib (120 metres)
9. Fun City Waterpark, Chandigarh
If you are in Chandigarh, you cannot miss the chance of having a great time at one of the biggest waterparks in North India. Fun City Waterpark is among the best places to visit in Chandigarh. It has several water slides and rides. Among the pools, you are surely going to love the massive activity pool, wave pool, splash pool and multiple landing pools. Also, there is an amusement park alongside the waterpark, where you can spend some time with fun rides and games. If you are planning to visit this exciting place, make sure you bring your family or friends along to avail incentives and discounts. There are plenty of food joints here as well, which can cater to your taste buds.
Timings: 10:00 am to 6:30 pm
Entry Fee: ₹1000 approx.
Nearest Bus Stop: Sector 17 Bus Stand (21 km)
10. Elante Mall, Chandigarh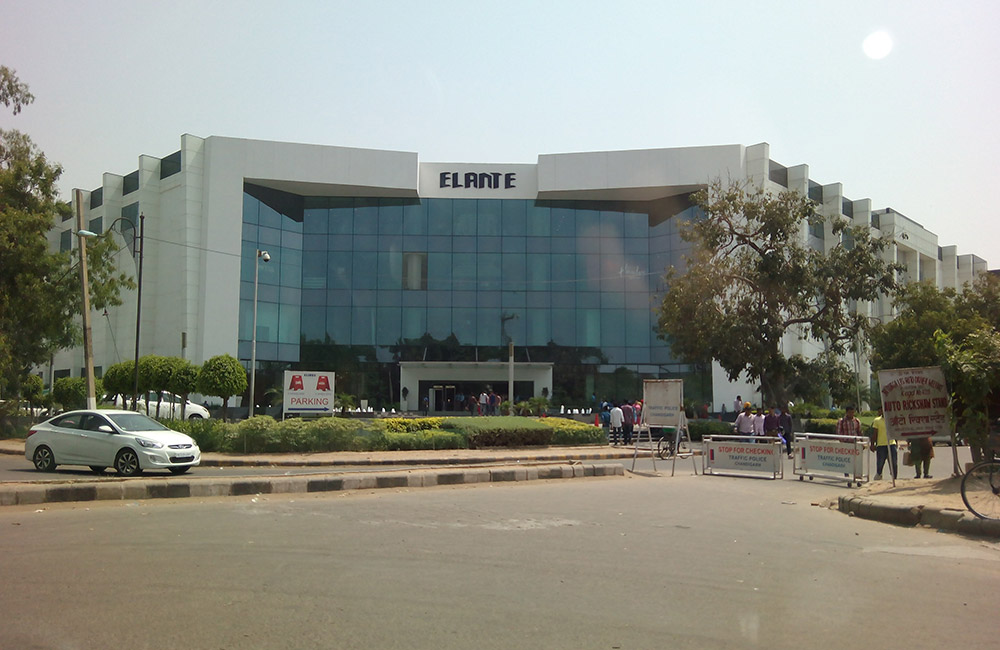 Elate mall | #10 of 16 Best Places to Visit in Chandigarh
In the mood for some retail therapy? Check out the tenth largest shopping mall in India and one of the most beautiful places in Chandigarh as well. Elante Mall is a modern, state-of-the-art affair where you can easily spend a whole day shopping, browsing and relishing good food. It has a dedicated area for kids, known as Fun City, which has several games and activities. The mall also boasts countless brands, as many as eight movie screens and a massive food court that will make you want to come back time and again. If you are not too hungry, you will also come across a range of stylish cafes, where you can sit and relax with a hot or cold beverage.
Timings: 11:00 am to 10:00 pm
Entry Fee: N/A
Nearest Bus Stop: C.T.U. 1, Dakshin Marg (450 m)
11. National Gallery of Portraits, Chandigarh
National Gallery of Portraits, although popular and well-managed, remains one of the most unexplored places in Chandigarh. If you are someone who loves museums and history, it is undoubtedly for you. You will find an amazing collection of many portraits, archives, books, sculptures and paintings related to the Independence era here. Most of the documents are quite rare and one of a kind. The museum was established in 1977 and renovated in 2007. Currently, it is being managed and curated by the State Government.
Timings: 10:00 am to 04:30 pm (Monday closed)
Entry Fee: N/A
Nearest Bus Stop:  Sector 17 Bus Stand (2 km)
12. Sector 17 Market, Chandigarh
Sector 17 market in Chandigarh is not only for those who are looking to buy something, but also for those who just want to window-shop and experience the lively bustle, especially at night. This also makes the market one of the well-known Chandigarh tourist places. You will find a range of brands, vendors and hawkers here. Spending an evening at this local market is fun as well as easy, since it's highly accessible, being close to the city centre. There are several outlets here, where you can get the best quality traditional Punjabi clothing and footwear. You will find plenty of bookshops and restaurants too. Exploring this market on foot is a piece of cake as there is hardly any vehicular traffic.
Timings: N/A
Entry Fee: N/A
Nearest Bus Stop:  Sector 17 Bus Stand (1 km)
13. Mansa Devi Temple, Chandigarh
Mansa Devi Temple in Haryana is another one of the popular places to visit in Chandigarh. It is quite close to the city, located near Bilaspur village. History buffs will be interested to know that the main structure of the temple was constructed by Maharaja Gopal Singh around the 19th century. According to some legends, it is also said that, earlier, this temple was popular as the Mata Sati temple. People had so much faith in this temple that the King of Manimajra constructed a special cave for them to reach the temple every day. Apart from the temple, you will have a great time admiring the beautiful wall paintings and architecture. Although you can visit the temple anytime during the year, the best time to experience the lively fair and events here is during the Navratri festival.
Timings: Summer (4:00 am to 10:00 pm) & Winter (5:00 am to 9:00 pm)
Entry Fee: N/A
Nearest Bus Stop: Sector 5 Bus Stand, Panchkula (6 km)
14.Open Hand Monument, Chandigarh
This exquisite monument was designed by Le Corbusier. He was the same architect who planned the entire city of Chandigarh. It is located in the Capitol Complex of Chandigarh, Sector 1, which itself is a UNESCO World Heritage Site. The open hand symbol is significant for the city of Chandigarh as it is the official emblem as well. The 50-tonne monument attracts many tourists and visitors around the year, and hence, is included among the unique and most beautiful places in Chandigarh. The core values that the hand symbol denotes are peace and happiness. It also functions as a weathercock, moving in the direction of the wind.
Timings: 9:00 am to 8:00 pm
Entry Fee: N/A
Nearest Bus Stop: Sector 17 Bus Stand (4 km)
15. Butterfly Park, Chandigarh
Managed by the Forest and Wildlife Department of Chandigarh, this park must be in your itinerary. It has more than 30 species of butterflies over an area of 7 acres. The park is carefully maintained to ensure that the breeding of butterflies can take place unhindered. Being home to countless butterflies, you will also spot many beautiful flowers here along with host plants. Among the flowers, you will find marigold, zinnia, dahlia, etc. Apart from the butterflies, there is also an aquatic plant section that attracts many tourists. If you are wondering about the best time to visit Chandigarh for this park, choose spring or late summer.
Timings: 9:00 am to 5:00 pm
Entry Fee: N/A
Nearest Bus Stop: Sector 17 Bus Stand (4.7 km)
16. Cactus Garden, Chandigarh
National Cactus and Succulent Botanical Garden and Research Centre, locally known as Cactus Garden, is situated in Panchkula, approximately 10 km from Chandigarh. Even if you are not interested in the study of plants, you will be impressed by the sheer variety of cacti here. The garden features several common as well as endangered species of plants, primarily cactus. As an estimated record, there are more than 3,000 species of plants here, including a distinctive bonsai collection. It was founded in 1987, and for several decades, has been a pride of the city. No wonder, it is one of the best places to visit in Chandigarh. Apart from the outdoor garden, there are many special glasshouses for the safety of exclusive plant species.
Timings: 8:00 am to 6:00 pm
Entry Fee: ₹ 10
Nearest Bus Stop: Sector 17 Bus Stand (11 km)
So, these are some of the most interesting places to visit in Chandigarh. A city of peace, happiness and prosperity, it is a favourite destination for many in North India. Be it the variety of food, shopping centres, cleanliness, gardens, museums or modern infrastructure, this city has a lot to offer. So, the next time you plan to visit Chandigarh, make sure to check out these amazing places!
Frequently Asked Questions About Chandigarh:
Q: What is the best time to visit Chandigarh?
A: It is best to plan a trip to Chandigarh between mid-September and mid-November or during February-March.


Q: What are the food specialities of Chandigarh?
A: You will find all typical Punjabi delicacies in Chandigarh including kadhi, punjabi chhole, lachha parantha, Amritsari fish, stuffed kulcha, makki di roti and sarson ka saag, and the most relished of all, lassi.


Q: Suggest some things to buy from Chandigarh.
A: Markets in Chandigarh like Sector 17 and Sector 22 are dotted with multiple shops selling phulkari dupattas, juttis, gota patti suits and sarees, paranda, pankhi, gur, kada, nath, etc. that you can buy as souvenirs.


Q: How to reach Chandigarh by air?
A: Chandigarh Airport serves as the main air gateway to the city. It has regular flight services to many domestic and international destinations including Delhi, Mumbai, Pune, Bangalore, Srinagar, Chennai, Sharjah and Dubai.


Q: Any suggestions for weekend getaways from Chandigarh?
A: Parwanoo, Kasauli, Solan, Nahan, Chail, Shimla, Naldehra, Narkanda, Mussoorie, Haridwar and Rishikesh and Amritsar are among the many popular places to visit near Chandigarh on a weekend trip.


Q: What are the best things to do in Chandigarh?
A: Explore Rock Garden, enjoy boating on Sukhna Lake, indulge in retail therapy at local markets, party at the city's popular nightclubs or take a cycling tour around Chandigarh to make the most of your trip.


Q: Where to go to explore the nightlife of Chandigarh?
A: Score, Paara, Hops n Grains, Wild West Bar, FLYP@MTV, The Back Room, F Bar, Peddlers, The Great Bear and Buzz Bar are some of the best pubs in Chandigarh, offering a glimpse into the city's buzzing nightlife.


Q: Which are some good places to visit in Chandigarh with family?
A: You can spend some quality time with family while picnicking at Sukhna Lake, Leisure Valley, Fun City, Japanese Garden or Zakir Hussain Rose Garden.