Search
Destinations, property name
Why Us?
Best reviewed hotel chain.

Most centrally located.
Most value for money
Stay Fab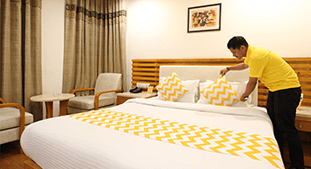 Our staff get trained by the best in hospitality business.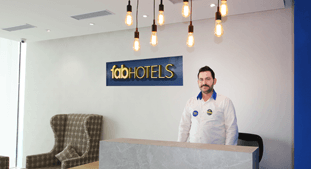 We are always available to serve you, 24x7, for a fab stay.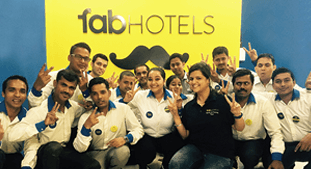 Our Quality team inspects and ensures consistent standards in every room.
Hotels in T Nagar: 20 FabHotels
Budget Hotels in T Nagar

T Nagar is a bustling locality in the western part of Chennai city, and there are loads of hotels here. If you are not looking to spend too much on accommodation, you can go for T Nagar budget hotels like FabHotel Blossoms, FabHotel Innside Serviced Apartment and FabHotel Nachiappa Park. Instead of leaving your bookings till the last minute, it will do you good to book your hotel room online if you want to avail the best hotel deals in T Nagar. FabHotel Nachiappa RA Puram can be considered if you are looking for hotels in RA Puram, an area quite close to T Nagar.

About T Nagar
Short for Thyagaraya Nagar, T Nagar is one of the most happening places in Chennai. The society of the city is multicultural as it is the residence of people from diverse ethnicities. Among the prominent business centers in the area is Shankar Business Space. In addition, several companies have their offices here, including Uniq Technologies, Arcus, Remedi Speciality Medicines LLP, VFS Global, Matrix Business Services India Private Limited, Uber India Systems Pvt. Ltd., LifeCell International Pvt. Ltd., ASE Structure Design Pvt. Ltd., RR Donnelley, Monotech Systems Limited, ACT Fibernet, Tensor Infotech Private Limited, DreamsPlus Consulting Private Limited, Link Ware Technologies Pvt. Ltd. and Dun & Bradstreet Information Services India Pvt. Ltd. Well-known hospitals in the area include Cloudnine Hospital, Bharathi Raja Specialty Hospital, Raju Hospital and Apollo Spectra Hospital.

Shopping and Dining in T Nagar
T Nagar is a retail paradise, so you will instantly fall in love with it if you are an avid shopper. There are stalls and shops lining the roads, selling everything from clothes to handicrafts. You must visit Pondy Bazaar, since it is one of the most thronged markets in the metropolis. Another popular retail hub here is Waitrose London Supermarket. To satisfy your hunger pangs, you can eat at any of the many restaurants in the area. Restaurants like Pakwan Chennai, Ambur Biriyani, Ozaann, Madurai Pandian Mess, Café Central, Cake Park, Nasi Kandar Pelita, Despiwich, Greenways, Big Bang Theory - Bar & Kitchen, Sudaka and Tranz Bar are the best places to dine here.

Attractions in and around T Nagar
Owing to its strategic location, T Nagar offers easy access to numerous places of tourist interest in Chennai, viz. the following:

• Thousand Lights Mosque (5.7 km)
• Santhome Basilica (5.9 km)
• Chetpet Eco Park (6.1 km)
• Marina Beach (7.5 km)
• Government Museum (7.6 km)

How to Reach T Nagar
T Nagar is served by Mambalam Railway Station on the Chennai Suburban railway network. Buses and taxis can conveniently take you to T Nagar from Chennai International Airport, which is 14.1 km away. About 10.4 km away, Chennai Central Railway Station has direct rail connectivity to all major Indian cities and towns. Among the places in South India you can reach from the railhead is Pondicherry, renowned for its beaches, spiritual sites and French charm. FabHotel Thaneegai Residency Muthialpet and FabHotel Esparan Heritage are the best pocket-friendly hotels in Pondicherry that offer a comfortable stay with modern amenities. The metro stations in Teynampet and Ashok Nagar provide swift connectivity between T Nagar and other parts of Chennai.