Search
Destinations, property name
Why Us?
Best reviewed hotel chain.

Most centrally located.
Most value for money
Stay Fab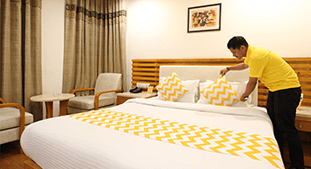 Our staff get trained by the best in hospitality business.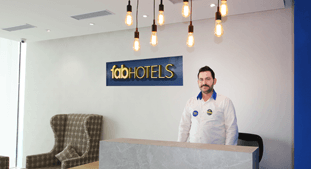 We are always available to serve you, 24x7, for a fab stay.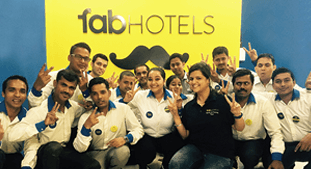 Our Quality team inspects and ensures consistent standards in every room.
Hotels in Guindy: 18 FabHotels
Budget Hotels in Guindy

Situated in the southern part of Chennai, Guindy is a significant locality in the city. There are many budget hotels in Guindy like FabHotel Grand Tiara. To stay near Guindy, you can also look for hotels in T Nagar. Preferred budget hotels in T Nagar include FabHotel Nachiappa Park and FabHotel Blossoms. People can make online hotel booking to avoid last-minute hassles and cash in on some amazing hotel deals in Chennai.

About Guindy
The primary reason for the prominence of Guindy is that it is the educational hub of Chennai. Reputed institutions like IIT Madras, The Tamil Nadu Dr MGR Medical University and Anna University are all in its vicinity. In addition to students, professionals also throng the locality in large numbers as the area around it is home to Thiru Vi Ka Industrial Estate, SIDCO Industrial Estate, and offices of major IT firms like TCS and Wipro.

Guindy also has several schools like Ashram Matriculation School and Arsha Vidya Mandir. Healthcare centers here include Sri Balaji Hospital, Sankari Clinic, Prashanth Super-specialty Hospital and KKR ENT Medical Centre. There are many commercial hubs situated in the area too like Cybex Business Centre, Executive Business Centre and SPIC Building. The primary venue for large-scale exhibitions, summits, workshops, conferences, seminars and product launches, Chennai Trade Centre is also easily reachable from Guindy.

Shopping and Dining in Guindy
There are quite a few places for tourists to go shopping, when they stay in and around Guindy. Titan Showroom in Guindy is worth checking out by those, looking to buy branded watches and accessories. Phoenix Market City offers a range of products under one roof. Popular dining venues in Guindy include Citrus Cafe Chennai, Punjabi Nation, Hotel Mass, Hajeera's Kitchen, Sukku Bhai Biryani and Dindigul Thalappakatti Restaurant.

Attractions in and around Guindy
Home to spotted deer, blackbucks and jackals, Guindy National Park is situated in the locality, making it a paradise for wildlife lovers. Guindy also offers easy access to many popular tourist attractions, including the following:

• St Thomas Mount (4.2 km)
• Madhya Kailash Temple (6.2 km)
• Birla Planetarium (6.3 km)
• Kapaleeswarar Temple (7.7 km)
• Marina Beach (13.5 km)

How to Reach Guindy
Guindy has its own metro station, connecting it to all parts of Chennai. You can easily take taxis and buses to reach Guindy from Chennai International Airport, about 10 km away from here. About 17 km from Guindy, Chennai Central Railway Station has trains to and from several cities and towns across India. Among the destinations you can reach from Chennai Central Railway Station is Coimbatore, an important industrial hub of Tamil Nadu. There are many budget hotels in Coimbatore as well, such as FabHotel Royal Castle Gandhipuram and FabHotel Sam Residency Gandhipuram.
Frequently Asked Questions
I am looking for family hotels near Guindy.

Guindy has numerous hotels, where visitors can stay with their family. FabHotel Nachiappa Park and FabHotel Grand Tiara are the popular family hotels near Gundy.

Are there FabHotels hotels nearby Guindy in Chennai?

Guindy is the higher education hub of Chennai; hence, lots of people come here. FabHotel Rithikha Inn and FabHotel Grand Tiara are the popular FabHotels nearby Guindy in Chennai.