Search
Destinations, property name
Why Us?
Best reviewed hotel chain.

Most centrally located.
Most value for money
Stay Fab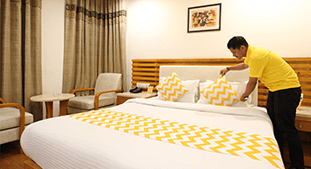 Our staff get trained by the best in hospitality business.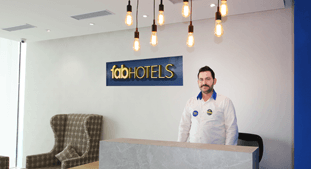 We are always available to serve you, 24x7, for a fab stay.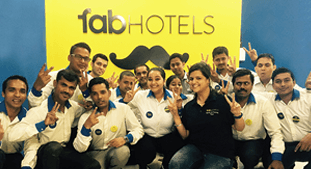 Our Quality team inspects and ensures consistent standards in every room.
Hotels near Iffco Chowk: 24 FabHotels
Budget Hotels near Iffco Chowk

IFFCO Chowk stands as a prominent landmark in Gurgaon. For business travelers who do not want to spend much on accommodation, the options of budget hotels near IFFCO Chowk are many. If you are looking for pocket-friendly accommodation near IFFCO Chowk that does not compromise on amenities and service, you can pick FabHotel Raj Darbar IFFCO, one of the most preferred budget hotels in Gurgaon. In addition, FabHotels has hotels near Cyber Park and HUDA Metro station as well. FabHotel Signature and FabHotel First Star are some such options.

About IFFCO Chowk
Situated in Sector 29, IFFCO Chowk is a well-established part of Gurgaon. The area is home to several landmarks and residential complexes. Top MNCs and national companies like Honeywell International India, Bacardi Martini India, Siemens, Ikea India, South African Breweries India, and Lloyds Ventures have offices in the vicinity of IFFCO Chowk. Further, it stands close to IFFCO Chowk Metro Station, MG Road Metro Station, NH 8, and NH 48. One can find buses plying to different parts of the state from this point. Due to all these factors, business travelers often prefer to stay at hotels near IFFCO Chowk.

Shopping and Dining near IFFCO Chowk
A stay in an IFFCO Chowk budget hotel will enable you to explore the many shopping destinations and food joints that lie in the vicinity. Ambiance Mall, DLF Mega Mall, MFG Megacity Mall, and Plaza Mall are just a few of the places where you can spend the day shopping for merchandise offered by top international and national brands. When you want to grab a bite, there are plenty of eateries and restaurants to satisfy your hunger. Some of the popular restaurants in the area include The California Boulevard, Seasonal Tastes, Mint Leaf, Kashmiri Kitchen, and EEST – The Westin Gurgaon. If you have a sweet tooth, you won't be short of options either. Places like Fumo Creams and Dunkin' Donuts are worth checking out.

Attractions near IFFCO Chowk
While staying at a hotel in IFFCO Chowk, Gurgaon, you shouldn't miss visiting some of the attractions that surround the area. These include the following:

• Kingdom of Dreams (1 km)
• Appu Ghar Gurgaon (2 km)
• Leisure Valley Park (2.1 km)
• Aravalli Biodiversity Park (5.4 km)
• Museum of Folk and Tribal Art (8.4 km)

How to Reach IFFCO Chowk
IFFCO Chowk is easily accessible by air, rail, or road. The IGI Airport is 13.6 km away from the locality, while Gurgaon Railway Station is 8.9 km away. The best way to reach IFFCO Chowk from the airport or the railway station is to opt for a cab. While commuting within the city, the metro network acts as a fast and smooth means to reach IFFCO Chowk. Buses and other transportation facilities are also easily available in this part of Gurgaon. The national capital is also connected via metro and road. Those, who want to stay near the airport, FabHotel Star Delhi Airport is a good option. It is considered as one of the best economy hotels in New Delhi.
Frequently Asked Questions
I am looking for family hotels near Iffco Chowk.

There are several hotels near IFFCO Chowk that ensure guests have a comfortable stay with their family. FabHotel HKS Residency and FabHotel Signature are the best family hotels near IFFCO Chowk.

What are the things to buy in the local markets in Gurgaon?

At the local markets of Gurgaon, shoppers can purchase latest clothes, apparel, accessories, cosmetics and electronics.