Search
Destinations, property name
Why Us?
Best reviewed hotel chain.

Most centrally located.
Most value for money
Stay Fab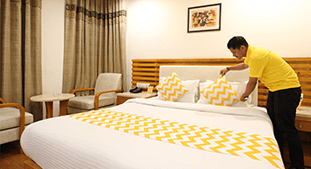 Our staff get trained by the best in hospitality business.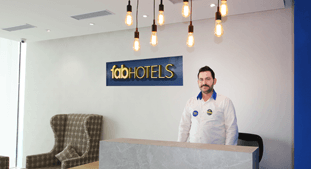 We are always available to serve you, 24x7, for a fab stay.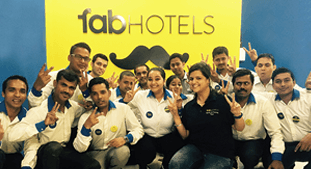 Our Quality team inspects and ensures consistent standards in every room.
Hotels in Sector 45: 24 FabHotels
Budget Hotels in Sector 45

Sector 45 Gurgaon is a highly sought-after locality in the city. If you are seeking accommodation in Sector 45, you can check out Sector 45 budget hotels like FabHotel Daffodil. FabHotel The Pearl and FabHotel Infinity Nest are the best options of economy hotels in Sushant Lok, a nearby locality. Other preferred hotels near Sector 45 are FabHotel First Star HUDA Metro and FabHotel Signature Cyber Park.

About Sector 45
Sector 45 is a well-known locality of the Gurgaon, noted as a commercial and industrial hub of NCR. Some prominent office spaces in the area are MphRx, Global Business Square, Delhivery New HQ and Chimes. Clues Network Private Limited, Mettl, Encore Capital Group, Estel Technologies, Johnson & Johnson Pvt. Ltd., Netscribes (India) Pvt Ltd., Nohmi Bosai India Pvt. Ltd., RJ Corp, Apollo International Limited, ARM Worldwide, Varun Beverages Limited, Cinepolis India, Berry Developers & Infrastructure Private Limited, and Dhani Info Solutions Pvt. Ltd. all have offices here.

Other firms that operate in Sector 45 are Nimai Developers Pvt. Ltd., Godrej Properties, Milliman India Pvt. Ltd., United Spirits, Sehgal Foundation, Aditya Birla Group, MTG Learning Media Pvt. Ltd., LIC, Vivo Healthcare, Thomas Cook, Whirlpool, Bestech India Pvt. Ltd., CJ Darcl Logistics Ltd., Marvel Tea, SLV Group, Giesecke & Devrient India Private Limited, 74 BC Technologies, JBM Group, Siddhartha Group and Satya Group. Max Hospital and Fortis Memorial Research Institute provide a wide range of healthcare services in the area.

Shopping and Dining in Sector 45
Ardee Mall, HUDA City Centre, MGF Metropolitan Mall, Gurgaon Central and Ambience Mall are the best shopping centers near Sector 45. Leading fast food brands like Café Coffee Day, Subway, Domino's and KFC have their outlets in these malls. Barbeque Nation, Dine-Esty and Burger BC are the popular places eat near Sector 45 Gurgaon. The preferred nightlife spots in the area are Downtown Diners & Fresh Beer Café, Ministry of Beer, Boombox Brewstreet, Walking Street by Soi 7, Lord of the Drinks, Brew Buddy, Adda by Striker, Brix Street Bar & Rock Café, Bronx Bar Exchange & Brewery, Molecule Air Bar, Kara Bar & Lounge, Batli 29, St Martin's Brew Pub and Vapour Bar Exchange.

Attractions in and around Sector 45
By staying at hotels in Sector 45, you can access a number of tourist attractions conveniently. The major places of interest nearby are listed below:-

• Appu Ghar (3.8 km)
• Leisure Valley Park (4.3 km)
• Kingdom of Dreams (4.5 km)
• Qutub Minar (17.2 km)
• Sultanpur National Park (21.5 km)

How to Reach Sector 45
Delhi Metro is the best mode of public transport to reach Sector 45 as the HUDA City Centre station on the Yellow Line is just 2.7 km away. Gurgaon Railway Station is 10.4 km away, whereas New Delhi Railway Station is 31.9 km from Sector 45 Gurgaon. Indira Gandhi International Airport is located 16.2 km away from this area. All these mass transit hubs are easily accessible via buses, taxis and auto-rickshaws from around NCR. FabHotel Sage and FabHotel Anutham are the best pocket-friendly hotels in Delhi that are well connected to Sector 45 Gurgaon by public transport.
Frequently Asked Questions
Which are the recommended family hotels in Sector 45 Gurgaon?

There are several hotels in Sector 45 Gurgaon, where travelers can stay with their family. The best among these are FabHotel Daffodils and FabHotel Pearl Villas.