Coupon STAYFAB applied on all FabHotels. Discount up to 45% OFF! Best price guaranteed!
Search
Destinations, property name
Why Us?
Best reviewed hotel chain.

Most centrally located.
Most value for money
Stay Fab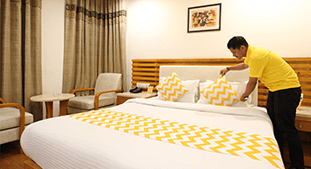 Our staff gets trained by the best in hospitality business.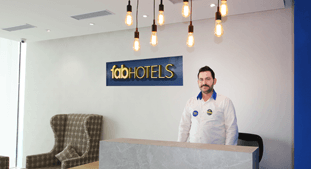 We are always available to serve you, 24x7, for a fab stay.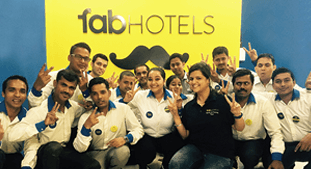 Our Quality team inspects and ensures consistent standards in every room.
Hotels in Gurgaon: 25 FabHotels
Budget Hotels in Gurgaon

Once a rural outback in Haryana, Gurgaon has now appeared as the city with the third highest per capita income in India. Popularly known as the 'Millennium City', Gurgaon is a leading industrial and financial hub in the National Capital Region (NCR) of India. It is home to several MNCs, national giants, start-ups, and shopping malls, thus calls hordes of businesspersons every day. Cyber City, Unitech, Vatika, Global, Spaze i-Tech Park, and Universal are the prominent business parks in the city.

Gurgaon is also dotted with many luxury, mid-range and budget hotels that can be found in and around its wide-spread sectors. Budget hotels in Gurgaon are a huge relief for business and corporate visitors as these come with all essential amenities that a modern-day traveler looks for. FabHotels in Gurgaon strive to offer the most affordable stays at the most strategic locations without compromising on quality and comfort. Freshly prepared breakfast and high-speed Wi-Fi are the complimentary amenities offered by all FabHotels. Visitors looking for an accommodation near DLF Cyber City can choose to stay at FabHotel Windsor Castle DLF Phase 2 or FabHotel Regalia Cyber City. Further, FabHotel iStay Serenity Manesar and FabHotel Goodcare Residency Manesar are some of the most preferred budget hotels in Manesar – an emerging industrial town in the Gurgaon district of Haryana.

All FabHotels in Gurgaon are located close to prominent business parks, corporate offices, transit points and prime shopping centers. These are also well reviewed across various online customer portals and offers easy online booking.

Tourist Attractions in Gurgaon
Apart from being a hub of business and commerce, Gurgaon is also emerging as a popular getaway for party lovers. With world-class infrastructure, the city also offers a wide range of places to hang out and things to do in spare time. Some of the popular spots in Gurgaon include:
- CyberHub
- Kingdom of Dreams
- Damdama Lake
- Leisure Valley Park
- Sultanpur National Park

In addition, visitors can have some fun-filled refreshing hours at Appu Ghar - Oysters Beach and Fun N Food Village after a tiring week at work. FabHotel First Star Huda Metro and FabHotel The Residency DLF Galleria are some of the best budget hotels near these attractions.

While there are a lot of things to do in Gurgaon, travelers cannot miss visiting the famous games and entertainment centers in the city including iSKATE, Mystery Rooms and Escape Rooms.

Shopping and Dining in Gurgaon
Gurgaon probably has the highest density of shopping malls and local breweries among all major Indian cities. It is truly a shopper's paradise as it provides both expensive and cheap options to shop from. From exclusive malls to economical marketplaces, Gurgaon never fails to cater the shopping needs and desires of visitors. Ambience Mall, Star Mall, Galleria Market, MGF Metropolitan Mall, Ansal Plaza and Sahara Mall are some of the most preferred retail places.

On a visit to Gurgaon, travelers are sure to have an ultimate dining experience. From casual restaurants to fine dine offering local and international cuisines and family restaurants to eclectic cafes and fast food joints, Gurgaon has it all. Also, DLF Cyber Hub, Sector 29 Market and Golf Course Road are the city's major hotspots for all the food lovers. Gurgaon is also known for its nightlife as it houses some of the best pubs including Downtown Diners and Fresh Beer Cafe, Farzi Café, The Wine Company, Hard Rock Café and Vapour Bar Exchange.

Visitors who have an extra day in hand can head to the charming Old Delhi, known for its street food and wholesale shopping options.

How to Reach Gurgaon
Gurgaon consists of three major corridors including Mehrauli-Gurgaon Road, Golf Course Road and Sohna Road. Many travelers prefer to stay at hotels near MG Road for easy connectivity. Further, NH-8 passes through the city connecting the national capital to Jaipur. Also, Indira Gandhi International Airport is a short drive away.

Well connected to New Delhi through the Delhi Metro, Gurgaon is also supported by a good public transport system. Its Rapid Metro has eleven stations covering Phase 2 Gurgaon, Cyber City, Sector 42-43 and Sector 55-56 among others.

FabHotels has many budget hotels in Delhi that are a few minutes drive from Gurgaon. FabHotel Star Delhi Airport and FabHotel Transit Delhi Airport are to name a few.
Frequently Asked Questions
Which are the must see places to visit in Gurgaon?

The must-see places to visit in Gurgaon are Kingdom of Dreams, Cyber Hub, Appu Ghar, Fun N Food Village and Sultanpur National Park.

How can I avail best discounted prices on hotels in Gurgaon?

How can I avail best discounted prices on hotels in Gurgaon? A: FabHotels offers rooms in an expensive city like Gurgaon within your budget. To avail the best discounted prices on hotels in Gurgaon, you can go to https://www.fabhotels.com/deals/fab-grab-flat-20-percent-off.

Can unmarried couples stay in hotels in Gurgaon?

There are different policies, regarding check-in to unmarried couples, at different hotels in Gurgaon. You can read details by clicking https://www.fabhotels.com/terms-conditions.

Which are the top night clubs in Gurgaon?

Gurgaon is renowned across the country for its buzzing nightlife. Vapour Pub & Brewery, Striker Pub & Brewery, Soi 7 Pub & Brewery, 7 Degrees Brauhaus, Playboy, Social, Prankster, Molecule, Downtown, Factory by Sutra, Sutra Gastropub, Imperfecto, Bronx, Hard Rock Café, After Story, MOB, Jungle Jamboree, Tease, Speakeasy Cocktails & Dreams, Batli 29, Clock Tower, Bunker and Outback are the top nightclubs in Gurgaon.

Which are the things to do in Gurgaon?

While in Gurgaon, travelers can have fun at amusement parks, shop at malls, taste dishes from across the globe, and enjoy the nightlife.

What are the modes of local transport in Gurgaon?

Gurgaon is a significant financial, which is why the transport system here is quite well developed. Metro, buses and cabs are the various modes of local transport in Gurgaon.

How can I get best deals on online hotel booking for Gurgaon?

You can save considerably on accommodation by making an online hotel booking with FabHotels. To get the best deals on hotels in Gurgaon, you can simply go to https://www.fabhotels.com/deals/fab-grab-rs-400-off.

Which are the most popular eating joints/restaurants in Gurgaon?

Di Ghent Café, Farzi Café, The Monk, Dhaba By Claridges, Crusty Gourmet Pizzas & More, The Pasta Bowl Company, Indique, KOA - Kitchens of Asia, NYC.Pie, Prego, Amaranta, Wild Fire, Gung The Palace, Pintxo, Bernardo's, Another Fine Day, 21 Gun Salute, Coriander Leaf, Raj Mahal Deluxe, Café Wanderlust, Sardar Jalebi Wala, Bombay Best Pav Bhaji, Om Sweets, Singh Chicken Corner and Something Saucy are the most popular eating joints/restaurants in Gurgaon.

Which are the short trip destinations from Gurgaon?

There are several destinations where a short trip can be planned from Gurgaon. Neemrana, Agra, Mathura, Alwar, Vrindavan and Keoladeo National Park are the good options in this regard.

Do hotels in Gurgaon provide complimentary breakfast?

We, at FabHotels, take utmost care to make the stay of guests a pleasant one; hence, complimentary breakfast is served at all hotels in Gurgaon.