Coupon STAYFAB applied on all FabHotels. Discount up to 45% OFF! Best price guaranteed!
Search
Destinations, property name
Why Us?
Best reviewed hotel chain.

Most centrally located.
Most value for money
Stay Fab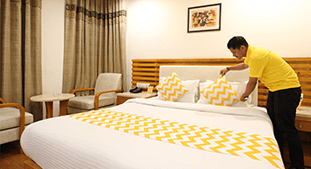 Our staff gets trained by the best in hospitality business.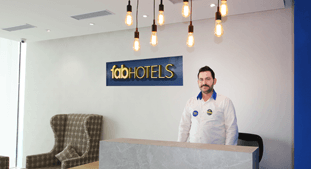 We are always available to serve you, 24x7, for a fab stay.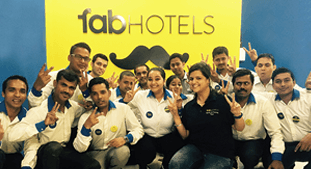 Our Quality team inspects and ensures consistent standards in every room.
Hotels in Majestic, Bangalore: 24 FabHotels
Budget Hotels in Majestic, Bangalore

Majestic is among the busiest areas of Bangalore, owing to the presence of a major transit hub. Situated in the heart of the city, this bustling locality is a good staying option for both business and leisure travelers. Hence, one can easily find an array of luxury, 3 star and budget hotels in Majestic. For those, who don't want to burn a hole in their pocket can look out for FabHotels which is one of the most preferred brands when it comes to comfortable stay at affordable prices.

FabHotel Arafa Inn is among the best low cost hotels in Bangalore close to the bus stand, city junction, metro station, several corporate offices and banks.

To stay in proximity to Majestic, you can also search for hotels in Gandhinagar like FabHotel Hiland Suites. You can postpone your departure from Karnataka by spending a few days in Mysore as well. Among the well-known budget hotels in Mysore is FabHotel Dawn, for which you can make online hotel booking.

About Majestic, Bangalore
Located in the vicinity of the main city railway station, Majestic is a major road transit hub. The Majestic area also has some prominent business centers, and offices of State Bank of India, Karnataka State Administrative Tribunals, Syndicate Bank, Central Bank of India, TCS, and Tamil Nadu Tourism. The area is also dotted with many restaurants, cafes, religious places, and entertainment venues.

Shopping and Restaurants in Majestic
The Grand Majestic Mall and City Centre are two of the most frequented shopping destinations in and around the Majestic area. Those, looking to pick up apparels, can make their way to Bombay Fashion's Uniforms. When it comes to dining options, Empire Restaurant is worth a visit. For travelers, who are strictly vegetarian, dining at Priyadarshini Restaurant is a good idea. Other options include Status Bar and Restaurant, Blue Heaven Bar & Restaurant, Sanchez, Sudha Restaurants and The Biere Club.

Tourist Attractions near Majestic, Bangalore
The 'Garden City of India' has many places of tourist interest and staying in Majestic offers quick access to several of these. Top 5 attractions near Majestic include:
• Cubbon Park (3.5 km)
• Tipu Sultan's Summer Palace (4 km)
• Bangalore Palace (4 km)
• UB City (4.1 km)
• Lalbagh Botanical Gardens (4.5 km)

How to Reach Majestic, Bangalore
The area is home to Majestic Bus Stand, where buses from all parts of the country arrive on a daily basis. Bangalore City Railway Station, also called as Majestic Railway Station, with trains to and from major cities like Delhi, Mumbai, Kolkata, Chennai and Hyderabad, is also situated in this buzzing locality. Kempegowda International Airport is approximately 35 km from Majestic. The namesake metro station connects locals and travelers to several important destinations in the city of Bangalore.