Coupon STAYFAB applied on all FabHotels. Discount up to 45% OFF! Best price guaranteed!
Search
Destinations, property name
Why Us?
Best reviewed hotel chain.

Most centrally located.
Most value for money
Stay Fab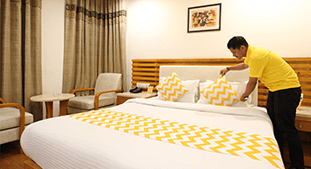 Our staff gets trained by the best in hospitality business.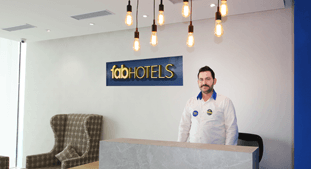 We are always available to serve you, 24x7, for a fab stay.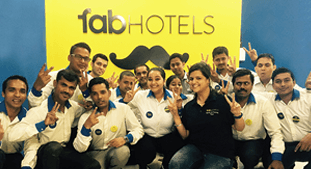 Our Quality team inspects and ensures consistent standards in every room.
Hotels near Nimhans Convention Centre, Bangalore: 29 FabHotels
Budget Hotels near Nimhans Convention Centre, Bangalore

Being a prominent landmark with high footfall, there are several hotels near NIMHANS, Bangalore. Depending on how much you want to spend on accommodation, you can stay at luxury or budget hotels near NIMHANS. FabHotels has numerous budget hotels in the area with all modern amenities for a pleasant stay. You can also go for pocket-friendly hotels in Jayanagar as well like FabHotel Barons Inn to be within easy reach of NIMHANS.

About NIMHANS Convention Centre, Bangalore
The convention center is located within the premises of NIMHANS, short for National Institute of Mental Health and Neurosciences. It hosts regular seminars, conferences, lectures and workshops on various subjects associated with the field. As a large number of people come to attend such events from around the country, the number of hotels near NIMHANS Convention Centre is quite high. The convention center consists of three auditoria that can seat gatherings, ranging from 150 to 800 in number.

Shopping and Restaurants near NIMHANS Convention Centre, Bangalore
While staying at upscale as well as cheap hotels near NIMHANS Hospital, you can go shopping at numerous places. Among the most frequented retail hubs in the area are Star Bazaar, Spar Hypermarket and Corporation Bazaar. There is no dearth of good places to eat in the area either, with options ranging from fine-dining restaurants to casual establishments. Chef Bakers, Cool Joint, 1947, Maiyas Beverages And Foods Private Limited, La Casa, KFC, Eshanya, Central Jail Restaurant, Meghana Foods, Pizza Hut, Rajathadri Food Fort, Nagarjuna Chimney and Chutney Chang are some of the most popular restaurants near NIMHANS Convention Centre, Bangalore.

Tourist Attractions near NIMHANS Convention Centre, Bangalore
There are numerous attractions to visit near National Institute of Mental Health and Neurosciences Convention Centre, such as:
• NIMHANS Heritage Museum (650 m)
• NIMHANS Brain Museum (850 m)
• Lalbagh Botanical Gardens (2.2 km)
• Kempegowda Tower (3.5 km)
• Cubbon Park (5.6 km)

How to Reach NIMHANS Convention Centre, Bangalore
Reaching NIMHANS is no problem at all as it is a well-known landmark in the city. Taxis and buses can be taken from all parts of Bangalore to come here. South End Circle, 3.4 km away, is the nearest Namma Metro station. Bangalore City Railway Station is at a distance of 8.7 km from here; Kempegowda Bus Station, also known as Majestic Bus Station, is right across the railhead. Kempegowda International Airport is 40.7 km away. From all these mass transit hubs, you can travel to places like Mysore. If you are looking for budget hotels in Mysore as well, then you can pick FabHotel Dawn or FabHotel Le Citi Inn.