Coupon STAYFAB applied on all FabHotels. Discount up to 45% OFF! Best price guaranteed!
Search
Destinations, property name
Why Us?
Best reviewed hotel chain.

Most centrally located.
Most value for money
Stay Fab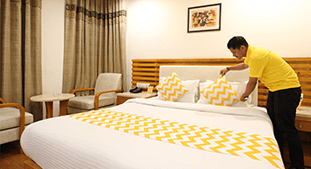 Our staff gets trained by the best in hospitality business.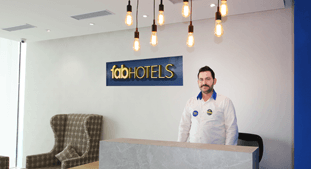 We are always available to serve you, 24x7, for a fab stay.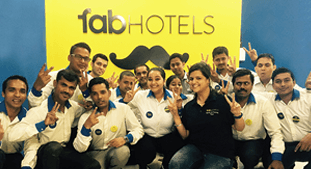 Our Quality team inspects and ensures consistent standards in every room.
Hotels in Whitefield, Bangalore: 4 FabHotels
Budget Hotels in Whitefield, Bangalore

Whitefield is a suburb of Bangalore, the commercial and residential significance of which is quite high. The steady increase in the footfall of business travelers here has resulted in a rise in the number of hotels near Whitefield Bangalore as well. There are luxury hotels and those that offer accommodation within budget in the area. Those, who are looking for cheap hotels in Whitefield Bangalore, can book a room with FabHotels. All our hotels come with warm hospitality and modern amenities for a pleasant stay. Another good area to stay near Whitefield is Marathahalli. The best budget hotels in Marathahalli include FabHotel Scarlet and FabHotel Krishna Boutique.

About Whitefield, Bangalore
Whitefield is one of the easternmost localities of the city of Bangalore. A rapidly developing area, it already consists of hordes of residential pockets and commercial hubs. Kalyani Tech Park Private Limited, Qualcomm Tower, International Tech Park, Shailendra Tech Park, Akshay Tech Park, SJR I Park, GR Tech Park, Mind comp Tech Park, SECON Tech Park, Brigade Tech Park and Sigma Soft Tech Business Park are among the corporate spaces in Whitefield.

The companies with offices in the area include Capgemini Technology Services India Ltd, Accenture, Huawei, Tesco, Mercedes-Benz, UTC Aerospace Systems, Hewlett-Packard, Pratian Technologies, Wissen Infotech, Infinite Computer Solutions, Aptiv Automotive, Underwriters Laboratories, Manhattan Associates, Dell, Sienna ECAD, AvioHeliTronics InfoSystems Pvt. Ltd, SAP Labs, TEK Systems, Graphite India and Novo Nordisk Global.

Aegis, LTI, CIGNEX Datamatics, Tata consultancy Services, Alshaya Outsourcing Company India, Infinite Systems, Unisys, DXC Technology, Makino, Jayem, Rangsons Electronics Solutions Private Limited, General Motors, General Electric, Photon InfoTech, Mu Sigma, IDrive Software India Private Limited and Goldman Sachs also have offices in the Whitefield area.

Shopping and Restaurants in Whitefield
Whitefield is home to several large malls, giving visitors a wide array of options in terms of shopping areas. These include DMart, The Forum Neighbourhood Mall, Park Square Mall, Hypercity Market and Inorbit Mall. In terms of restaurants, Whitefield has countless options, ranging from street side stalls and cafes to family outlets and fine-dining venues. Kapoor's Café, Windmill Craftworks, Mad Over Donuts, 153 Biere Street, Absolute Barbecue, Tabla, Nandhini Palace, KFC, Bites, Café Coffee Day, Chaat Bazaar, Cinnabon, Domino's Pizza, Kalmane Koffees, Madhuloka, Marhaba, McDonald's, Rajdhani, Tandooriwala, A-One, Punjabi By Nature, Green Hyderabad Biryani House and Therpup Dog Café are the most popular restaurants in Whitefield Bangalore.

Tourists Attractions near Whitefield
Whether you are staying at luxury or 3 star hotels in Whitefield Bangalore, you can reach the following tourist attractions conveniently:

• Varthur Lake (4.2 km)
• HAL Aerospace Museum (8.3 km)
• Bangalore Palace (21.1 km)
• Lalbagh (21.9 km)
• Tipu Sultan's Summer Palace (22.3 km)

How to Reach Whitefield
Whitefield can be reached from all parts of the city as it is a prominent business hub of Bangalore. Bangalore Junction Railway Station and Majestic Bus Station are both around 24 km from Whitefield, whereas Kempegowda International Airport is around 37.5 km from the locality. All these transit hubs are connected to places like Mysore. If you are heading further to this culturally rich city, then you can go for pocket friendly hotels in Mysore, such as FabHotel Dawn and FabHotel Le Citi Inn.