Coupon STAYFAB applied on all FabHotels. Discount up to 45% OFF! Best price guaranteed!
Search
Destinations, property name
Why Us?
Best reviewed hotel chain.

Most centrally located.
Most value for money
Stay Fab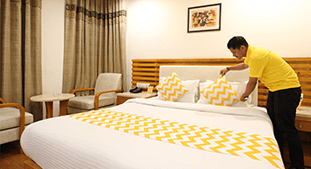 Our staff gets trained by the best in hospitality business.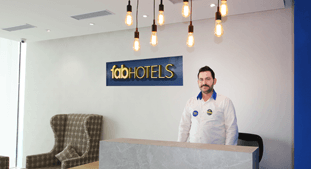 We are always available to serve you, 24x7, for a fab stay.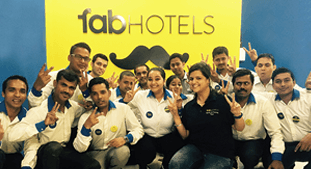 Our Quality team inspects and ensures consistent standards in every room.
Hotels near Christ University, Bangalore: 28 FabHotels
Budget Hotels near Christ University, Bangalore

There are numerus hotels near Christ University, Bangalore in all categories as it is a prominent landmark. You can pick luxury as well as budget hotels near Christ University as per your preference. Those considering going for the latter option, can book a room with FabHotels. As an alternative to staying near Christ University, you can also seek accommodation in Koramangala, a nearby locality. The best hotels in Koramangala include FabHotel GS Suites and FabHotel Amazing Inn.

About Christ University, Bangalore
A private higher educational institution in the Bhavani Nagar neighborhood of Bangalore, Christ University was founded in 1969. Its governing body, Carmelites of Mary Immaculate, via its parent religious faction, Syro Malabar Catholic Church, is directly associated with the Pope. The university currently has more than 18500 students, who are taught by over 950 teachers. Undergraduate and postgraduate programs are currently available here in fields like social sciences, science, engineering, law, education, business management and languages.

Shopping and Restaurants near Christ University, Bangalore
Travelers staying at hotels around Christ University are in close proximity to several shopping hubs. The best places in the area to indulge in retail therapy are Spar Hypermarket, Star Bazaar and Corporation Bazaar. There are hordes of restaurants near Christ University, where people can taste a variety of dishes. These include Punjabi by Nature, Malabar Bay, Domino's Pizza, KFC, Little Italy, The Biryani Pedia, Dadi's Kitchen, Mad Over Donuts, Fenny's Lounge & Kitchen, Mudpipe Café, Om, Punjabi Grill, Truffle, Gilly's Resto Bar, Sultans of Spice, Happy Brew, Adyar Ananda Bhavan and The Black Pearl. In addition, the areas near Christ College Bangalore, such as Koramangala, have an even greater number of restaurants, cafes and bars.

Tourist Attractions near Christ University, Bangalore
All high-end and cheap hotels near Christ University provide easy access to the popular tourist attractions of Bangalore, including:
• NIMHANS Museum of Brain (2.2 km)
• Lalbagh (3.9 km)
• BTM Lake (4.4 km)
• Bangalore Fort (6.1 km)
• Tipu Sultan's Summer Palace (6.9 km)

How to Reach Christ University, Bangalore
Reaching Christ University is easy as it is a major educational institution in the city. Buses and taxis are available from around Bangalore to come here. The nearest metro station is Jayanagar on the Green Line, 4.8 km away. Bangalore City Railway Station and Majestic Bus Terminal are within 11 km, while Kempegowda International Airport is 41.1 km from the university. All these mass transit hubs connect you to nearby cities like Mysore. Two of the most booked pocket-friendly hotels in Mysore are FabHotel Le Citi Inn and FabHotel Dawn.