Search
Destinations, property name
Why Us?
Best reviewed hotel chain.

Most centrally located.
Most value for money
Stay Fab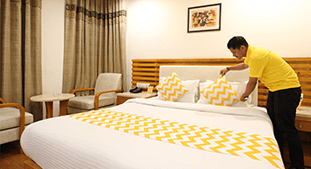 Our staff get trained by the best in hospitality business.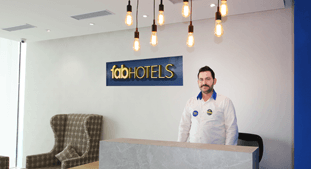 We are always available to serve you, 24x7, for a fab stay.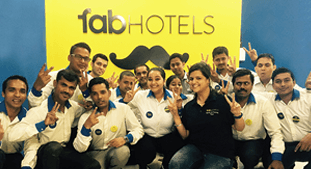 Our Quality team inspects and ensures consistent standards in every room.
Hotels in Jaipur: 8 FabHotels
Budget Hotels in Jaipur

The capital of Rajasthan, Jaipur is one of the most loved destinations among domestic and international tourists alike. The Pink City, as it is fondly called, was founded in 1727 by the Rajput ruler Jai Singh II to accommodate the increasing population. Today, the city is known for its sheer grandeur, narrow bazaars oozing out vibrant colors, and folk performances that together give a glimpse into the lifestyle of the royalties. To capture such splendid sights, every year a swarm of tourists comes here. November to February is the best time to visit Jaipur as summers are extremely hot. The city also calls businesspersons for it offers some rare handicrafts, fabrics and other stuff which is hard to find in other parts of the country. To meet the need for these leisure and business travelers, there are a number of heritage and modern accommodation options including luxury and budget hotels. Like other 20+ cities pan-India, FabHotels has several hotels in Jaipur as well.

Travelers can easily find FabHotels in city's prime locations such as C Scheme and Nirman Nagar. Of these, FabHotel Epic C Scheme and FabHotel Padmavati Palace Mansarovar are counted among the most sought-after budget hotels in Jaipur. Those looking for premium hotels in Bani Park, FabHotel Royal CM Bani Park make for a good choice. Offering traditional Rajasthani hospitality, this pocket-friendly hotel does not compromise on comfort and contemporary amenities thus ensure a hassle-free experience. From crisp linen, free Wi-Fi, TV with satellite connection, and clean bathroom, every need of a modern traveler is taken into account. For those who want to be assured of the hotel rooms and facilities before making a reservation, online hotel booking is a good idea. With this, one can also check out latest discounts and deals on Jaipur hotels.

Tourist Attractions in Jaipur
When it comes to places to visit in Jaipur, there is no dearth of man-made marvels. The Pink City has some of the best-preserved heritage sites that have since time immemorial enticed travelers to traverse it. From the iconic Hawa Mahal and City Palace to Birla Mandir, visitors have a lot to explore in Jaipur. Other most thronged attractions in Jaipur are:

- Amer Fort
- Jantar Mantar
- Nahargarh Fort
- Albert Hall Museum
- Jaigarh Fort

While there is a lot to see in Jaipur, tourists should also go a little adventurous and try hot air ballooning. A day at Chokhi Dhani will also add to the fun quotient that one can experience.

Shopping and Dining in Jaipur
Besides its magnificent forts and opulent palaces, Jaipur is also popular for its beautifully done handicrafts and lip-smacking food. The Pink City sways millions of hearts away with its exquisite collection of bandhej sarees, jutis or mojaris, Thewa and Kundan jewelry, camel leather items and other artifacts. The bustling streets of Johari Bazaar, Tripolia Bazaar, Kishanpol Bazaar, Bapu Bazaar and Sireh Deori will be paradise for shoppers who want to try their luck on haggling.

Jaipur bazaars also brim with vendors that offer aromatic, ghee-laced food that melt in the mouth. Everything from dal bati churma, kachoris, laal maas, and ghevar will steal the heart. In addition to street vendors, there are many charming restaurants that serve these and many more local favorites. Natraj in Bapu Bazaar, 1135 AD on Jaleb Chowk, Lassiwala on MI Road, Laxmi Mishtan Bhandar in Johari Bazaar, and Rawat Mishtan Bhandar in Sindhi Camp. Jaipur also has a good number of cafes where can be relished international delicacies. Anokhi Café, Tapri Central and Brown Sugar in C Scheme, and Dragon House on MI Road are to name a few.

Upcoming Festivals and Events in Jaipur
Jaipur is host to several colorful festivals owing to the rich Rajasthani culture. The major event in March will be the festival of Gangaur. Beginning on 2nd March, it will stretch for 18 days, ending on 20th March. On this day, women dress in their best clothes and adorn themselves with jewelry. They carry earthen pots on their head and travel through the city as part of processions. Its primary highlight is the grand procession, which starts from Zanani-Deodhi of City Palace. From here, it goes through major landmarks of Jaipur like Tripolia Bazaar, Gangauri Bazaar, Chhoti Chaupar and Chaugan Stadium before finally ending at Talkatora. It features richly decorated animals, colorful palanquins, bullock carts, chariots, and people singing and marching along.

How to Reach Jaipur
Jaipur is well connected via all modes of transport. Jaipur International Airport in Sanganer hosts flights from all major Indian and international cities, including New Delhi, Mumbai, Bangalore, Bangkok, Dubai and Kuala Lumpur. Jaipur Junction Railway Station that also serves as the headquarters of the North Western Railway zone connects the city to all neighboring and far-off destinations. Cabs and autos are easily available from the airport, railway station, bus stand and all important landmarks. In addition, the state capital has a smoothly operated metro rail network that further makes it convenient for travelers to commute within the city. By road, Jaipur is approximately 270 km from New Delhi and can be reached via NH48.

Those who have a plan to explore the national capital can drive to Delhi which is around 272 km from Jaipur. Being a favorite among tourists, there are many hotels in Delhi that offer a comfortable stay at affordable price. FabHotel Marble Arch Karol Bagh is one such budget hotel in Delhi that one can consider.
Frequently Asked Questions