Search
Destinations, property name
Why Us?
Best reviewed hotel chain.

Most centrally located.
Most value for money
Stay Fab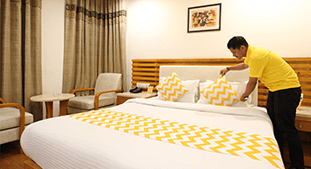 Our staff get trained by the best in hospitality business.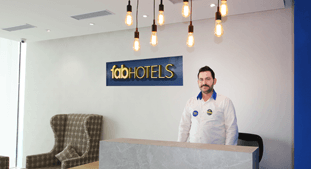 We are always available to serve you, 24x7, for a fab stay.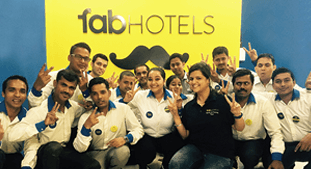 Our Quality team inspects and ensures consistent standards in every room.
Hotels in Goregaon: 23 FabHotels
Budget Hotels in Goregaon

Goregaon in Mumbai is a place characterized by rich natural beauty; hence, is a preferred location among tourists to stay in when they come to the city. There are lots of budget hotels in Goregaon that travelers could check out. Another prominent locality nearby is Andheri, known for its commercial significance. Some of the well-known budget hotels in Andheri East locality include FabHotel Galaxy Comforts and FabHotel Adlon. One can find several budget hotels in Pune as well like FabHotel Gandharva Shivajinagar and FabHotel Blossoms Pune Airport (Viman Nagar).

About Goregaon
Goregaon is an incredibly scenic locality as a minor range of the Western Ghats is situated to its northeast. There are some important business centers in the Goregaon area like Lotus Corporate Park, NESCO IT Park, Rocky Industrial Estate, Nirlon Knowledge Park, Pravasi Industrial Estate, Virwani Industrial Estate, Cama Industrial Estate, Vakratunda Corporate Park, Oberoi Business Centre and R Tech Park. In addition, the gigantic IFAT Exhibition Centre is also located here, drawing a large number of business travelers.

Shopping and Dining in Goregaon
Goregaon in Mumbai is home to some high-end shopping malls like Oberoi Mall, K Lounge and Red Moments. Inorbit Mall is another place, which travelers can visit when staying in the Goregaon area. There are many restaurants in the locality that serve delicious food at affordable prices; examples are Golden Chariot and Aarey Garden Restaurant. Those, looking for a pure-vegetarian fare, can make their way to Balaji Pure Veg. Other popular dining venues in Goregaon are Udipi Vihar, Holachef, Wok Express, Sweet Bengal, Burgundy Box, Mizo Lounge and Eatery, Café Urbana, Olive Bistro, Fleur – The Fern, 9 Wings, Chili Chili, Golden Chariot and Kareem's.

Attractions in and around Goregaon
There are various attractions in and around Goregaon. Travelers can check out the following nearby attractions.
• Chota Kashmir (1.4 km)
• Jogeshwari Caves (5.4 km)
• Mahakali Caves (10.8 km)
• Powai Lake (11.6 km)
• Kanheri Caves (16.6 km)

How to Reach Goregaon
Goregaon Bus Station West and Goregaon Bus Station East are two places, from where buses ply regularly to and from other parts of Mumbai. People can take buses from Chhatrapati Shivaji International Airport and Mumbai Central Railway Station, roughly 8 km and 27 km away from the locality, respectively. Goregaon also has its own railway station on the Mumbai Suburban railway network, connecting it to the main Central Railways and Western Railways lines.