Search
Destinations, property name
Why Us?
Best reviewed hotel chain.

Most centrally located.
Most value for money
Stay Fab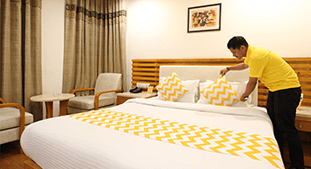 Our staff get trained by the best in hospitality business.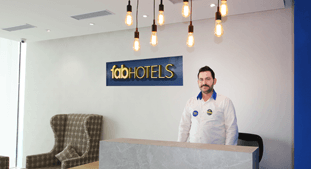 We are always available to serve you, 24x7, for a fab stay.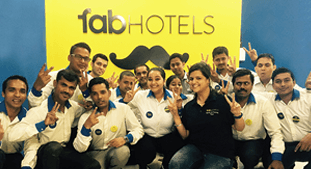 Our Quality team inspects and ensures consistent standards in every room.
Hotels in Santacruz: 23 FabHotels
Budget Hotels in Santacruz

Despite being a posh residential area in Mumbai, Santacruz has a variety of budget hotels for travelers to choose from. FabHotel Embassy Park BKC, located in the eastern part of the locality, is one of the best hotels in Santacruz that offer comfort and convenience at reasonable price. FabHotel Atlas Plaza and FabHotel Adlon, both situated in the nearby suburb of Andheri, are preferred hotels near Santacruz.

If you are looking for Santacruz budget hotels near the Mumbai Airport, FabHotel Midaas Comfort and FabHotel Hill Park Mumbai Airport are two of the best choices.

About Santacruz
Santacruz is a western suburb of Mumbai, bordered by notable areas such as Vile Parle, Bandra, and Andheri. Divided by the western railway line, Santacruz West is a more affluent area than Santacruz East, where the land mainly belongs to the Airport Authority of India. Santacruz East is also home to many corporate offices and business parks such as Kalpataru Inspire and RNA Corporate Park.

Trivia: The term, "Santacruz" means the "Holy Cross" in Portuguese.

Shopping and dining in Santacruz
Santacruz West offers a variety of shopping options, starting from the Santacruz market near Santacruz Railway Station to street shopping on the Linking road. If you are looking for branded clothing, Forever New and Tommy Hilfiger outlets in Santacruz west would be a good choice.

Besides shopping, Santacruz west also offers a wide range of dining options to food lovers. Popular restaurants in this suburb include Joss, known for its Oriental cuisine, and Tequila Sunrise popular for its Wild West theme. Mayur vegetarian restaurant and Hotel National Restaurant and Bar are other options in the area.

Santacruz has a happening nightlife with several pubs and bars, including the 'Three Wise Men' offering exciting deals on cocktails and other drinks. The Arks bar and the Shooters bar are also popular among locals and visitors staying in Santacruz.

Attractions in and around Santacruz
Some of the tourist attractions one can visit from Santacruz are:
• Lions Juhu Children's Municipal Park or Juhu Garden (200 m) • Muktananda Park (700 m) • Rotary Park (1.3 km) • Juhu Beach (2.8 km) • ISKCON Temple (4.4 km) • Our Lady of Egypt Church (5.5 km) Theatre lovers can also visit the old Prithvi theatre in Juhu, which is around 3.4 km from Santacruz. How to reach Santacruz Santacruz is conveniently located close to the Mumbai Airport. The best way to reach Santacruz is either by taxi, auto rickshaw, or by the local Western railway line. There are plenty of hotels in Mumbai to choose from, but staying at a budget hotel in Santacruz is a good choice if you're looking for affordable accommodation near Mumbai Airport.
Frequently Asked Questions
Which are the hotels in Mumbai near to Santacruz?

Santacruz is a popular place to stay in Mumbai owing to its coastal location and scenic views. FabHotel Atlas Plaza, Andheri East and FabHotel Embassy Park, BKC are the best budget hotels near Santacruz.