Search
Destinations, property name
Why Us?
Best reviewed hotel chain.

Most centrally located.
Most value for money
Stay Fab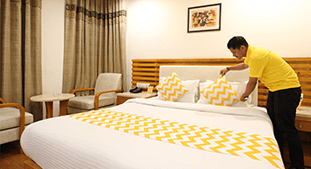 Our staff get trained by the best in hospitality business.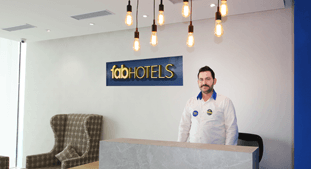 We are always available to serve you, 24x7, for a fab stay.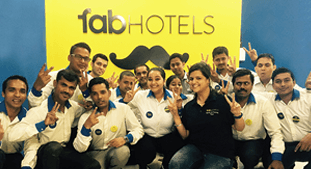 Our Quality team inspects and ensures consistent standards in every room.
Hotels in Bandra: 20 FabHotels
Budget Hotels in Bandra

Located on the Arabian Sea coast, Bandra is one of the liveliest parts of the Indian city of Mumbai owing to its commercial and residential significance. There are loads of budget hotels near Bandra that tourists can put up at, including FabHotel Le Western Andheri, FabHotel Elite 59 Andheri East, FabHotel Amour Andheri East and FabHotel Savoy Suites Mumbai Airport. Apart from accommodation in clean rooms, all FabHotels offer complimentary facilities like daily breakfast and Wi-Fi access.

About Bandra
A posh residential and business area in Mumbai, Bandra is the home of numerous celebrities, politicians and businesspersons. There are several business centers in Bandra, such as Business World Centre, Star Business Centre and Laxmi Business Centre. Prominent schools in Bandra are St Andrews School and St Theresa's Boys High School. RD National College, St Andrews College and Rizvi College of Engineering are the prominent institutions for higher education in the area.

Shopping and Dining in Bandra

Those looking to go shopping in Bandra can check out places like Linking Road Shopping Mall, Kenilworth Shopping Arcade, Bandra Town Market and Bombay General Stores. Bandra is home to a number of dining venues like Persian Darbar Restaurant, 5 Spice, Pali Village Café, Tavaa, Indigo Delicatessen, Eat Around the Corner, Candies, The Bagel Shop, The Bad Café, Barista and Brooke Bond Taj Mahal Tea House. Other good options are Door No. 1, Doolally Taproom, Imbiss Meating Joint, Elco, Salt Water Café, Café Coffee Day, Being Hungry, Guilt Trip, Olive Bar & Kitchen, Radio Bar and Coffee by Di Bella.
Attractions in and around Bandra
There are quite a few attractions in Bandra, including Bandra Fort and Basilica of Our Lady of the Mount. Apart from those, you can reach the following points of interest easily:

• Mahim Fort (2.3 km)
• Juhu Beach (5.2 km)
• Versova Beach (8.9 km)
• Snow World (9.5 km)
• Haji Ali Dargah (11.5 km)

How to Reach Bandra
Being an important locality, Bandra is well connected to other parts of Mumbai with buses and taxis. The distance of Chhatrapati Shivaji International Airport to Bandra is around 6.1 km. Bandra has two railway stations: Bandra Railway Station for intra-city travel and Bandra Terminus for inter-city travel. Public transport is available from around the city to access Bandra and vice versa. You can also take buses and taxis to other cities in Maharashtra like Pune that have direct road connectivity to Mumbai. If you are looking for hotels in Pune as well, then FabHotel Blossoms Pune Airport (Viman Nagar) and FabHotel Gandharva Shivajinagar are the ones to go for.