Coupon STAYFAB applied on all FabHotels. Discount up to 45% OFF! Best price guaranteed!
Search
Destinations, property name
Why Us?
Best reviewed hotel chain.

Most centrally located.
Most value for money
Stay Fab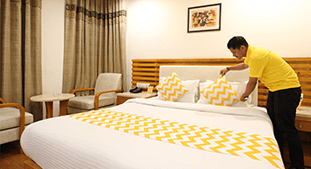 Our staff gets trained by the best in hospitality business.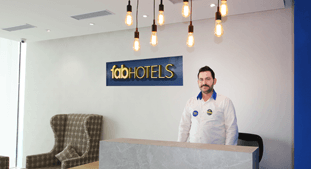 We are always available to serve you, 24x7, for a fab stay.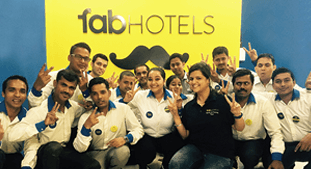 Our Quality team inspects and ensures consistent standards in every room.
Hotels in Powai, Mumbai: 26 FabHotels
Budget Hotels in Powai, Mumbai

Earlier a small village, Powai is now a well-established residential and commercial neighborhood in the north-eastern region of Mumbai. There are many budget hotels in Powai that you can browse online if you are looking for accommodation here. FabHotel Aksa International and FabHotel Askot International Powai are some of the best choices. If you are looking for hotels near Hiranandani Gardens, which is a plush township in Powai, you can check out FabHotel Savoy Suites Hiranandani Gardens. You can find some of the most exciting hotel deals in Powai by booking online. Powai budget hotels enjoy proximity to many major attractions of Mumbai and will provide you with all the modern amenities needed for a comfortable stay.

About Powai Powai has emerged as an upscale locality which is dotted with many business giants such as L&T Realty, Amazon, Sanofi, FIS, Prudential Plc, Credit Suisse, TCS and more. The neighborhood also houses many noteworthy educational institutions such as the reputed Indian Institute of Technology, Bombay, National Institute of Industrial Engineering, Bombay Scottish School, etc. Some of the well-known start-ups in this region are Tiny Owl and Logic Roots.

Shopping and Dining in Powai
Powai can rightly be called a foodie's paradise owing to the huge number of restaurants located here. To name a few are Madeira & Mime, Chili's American Grill and Bar, Red Olives, and The Fatty Bao. Powai also has an array of ice cream parlors such as Haute Artisan Creations, Apsara Ice Creams, Love and Cheesecake, Theobroma, etc. Apart from the various casual and fine dining restaurants, Powai is known for its shopping malls, such as Galleria Mall, Haiko Mall, Phoenix Market City Mall, R City Mall, and Huma Mall.

Attractions in and around Powai
Picking budget hotels in Powai is advantageous because of the great connectivity and proximity to the major attractions of the city. A few must-explore places on your visit to Powai include:

• Powai Lake (1.8 km)
• Mahakali Caves (4.5 km)
• Red Carpet Wax Museum (5.2 km)
• Flight 4 Fantasy (7.3 km)
• Happy Planet (7.4 km)

Other attractions near Powai are Mahim Fort and Bandra Fort, located at a distance of 18 km and located 22 km, respectively.

How to Reach Powai
The best way to reach Powai is by means of the railway network. If you are coming by Western Railway, it is best to get off at the Andheri Station (10.3 km) and take an auto or BEST Bus. The nearest airport to Powai is Chhatrapati Shivaji International Airport, at a distance of 7.5 km.

Those planning to head to Pune for another meeting can book a stay at FabHotel Blossoms Pune Airport, which is among the most preferred budget hotels in Pune.
Frequently Asked Questions
What is the process to find hotels in Powai Mumbai?

To find hotels in Powai, you can go to our homepage - https://www.fabhotels.com/ and type Powai in the Let's Get Started Search Box section.