Coupon STAYFAB applied on all FabHotels. Discount up to 45% OFF! Best price guaranteed!
Search
Destinations, property name
Why Us?
Best reviewed hotel chain.

Most centrally located.
Most value for money
Stay Fab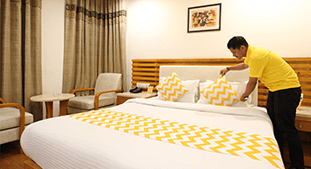 Our staff gets trained by the best in hospitality business.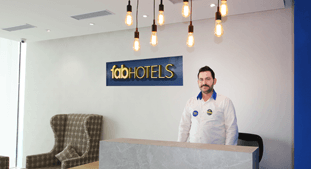 We are always available to serve you, 24x7, for a fab stay.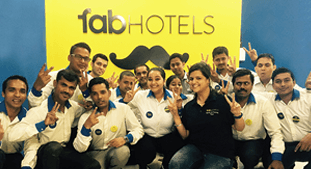 Our Quality team inspects and ensures consistent standards in every room.
Hotels in Amritsar: 7 FabHotels
Budget Hotels in Amritsar

Amritsar is one of the most spiritually significant cities in India. After its settlement in 1574, it became the religious center for the Sikh community across the globe, and later attracted freedom fighters in large numbers during the British Raj. But, the spiritual vibe and history are not the only reasons Amritsar is a prime choice among travelers. In the recent time, Amritsar has also emerged as an educational hub; the Indian Institute of Management is the most prestigious higher-education institution here. Businesspersons are also attracted to the city regularly as it is home to many textile, machinery, printing and chemical industries.

All this has led to a steady increase in the number of people coming here, who have loads of hotels in Amritsar to choose from. They can pick 5-star properties or even budget hotels in Amritsar for a comfortable stay. Those, who are not looking to spend much on accommodation, yet do not want to compromise on modern amenities, can opt for FabHotel KK Continental. You can easily make an online hotel booking for it and be assured of the available facilities.

Tourist Attractions in Amritsar
There are numerous places to visit in Amritsar, ranging from sites of religious importance to those with an interesting past. Listed below are the top 5 attractions in Amritsar that travelers must not miss out on visiting:

- Harmandir Sahib
- Jalliawala Bagh
- Durgiana Temple
- Attari-Wagah Border
- Maharaja Ranjit Singh Museum

For a glimpse into the local history, tourists can also visit the Partition Museum, dedicated to one of the most important events in post-Independence India. Similarly, the Central Sikh Museum depicts photos and paintings glorifying the history and culture of the world's newest religion. Gurdwara Baba Atal and Hall Gate Circle are other great places to explore in Amritsar.

Upcoming Festivals and Events in Amritsar
If you happen to be in Amritsar on April 14th, then do not forget to attend the celebrations of Baisakhi, one of the biggest Punjabi festivals. Baisakhi has a twofold significance: it symbolizes the start of the Punjabi New Year and regional harvest season, and it was also the day when the 10th Sikh guru, Gobind Singh founded Khalsa, the sacred Sikh military order. During the festival, the entire city is drenched in a joyful spirit. People sing folk songs and dance the vibrant Bhangra in colorful attire. The celebrations are especially grand at Harmandir Sahib, where milk and water are poured on the Guru Granth Sahib as part of a ceremonial bath. Karah Prasad is then distributed, after which the Langar is served.

Shopping and Dining in Amritsar
Apart from a pilgrimage destination, Amritsar is a paradise for avid shoppers. It is home to both street markets that remind people of the olden days as well as humongous malls that make for a more contemporary experience. From colorful juttis and attire with intricate Phulkari work to jewelry and local snacks, the variety of goods available in the city is staggering. Guru Bazaar is renowned for its large number of shops dealing exclusively in locally made jewelry in gold and silver. Hall Bazaar is the place to shop for Phulkari fabrics, carpets and shawls with incredible embroidery, as well as lamps. Punjabi culture can be taken along by purchasing the famous Patiala salwar at Kapda Bazaar. Other popular places to shop in Amritsar are Old City Bazaar, Katra Jaimal Singh Market, Papad Warian Bazaar and Lawrence Road.

Among the essential things to do in Amritsar is tasting the local dishes. Full of flavor and color, Punjabi cuisine is among the most popular in the country as well as overseas. Local meat preparations like tandoori chicken and butter chicken have already taken the global culinary scene by storm. Some of the most popular vegetarian dishes originating in Punjab are kadhai paneer, shahi paneer and dal makhani. However, a staple in the rural area around Amritsar is the humble, yet superb makke di roti and sarson da saag (maize flat bread with a preparation of mustard leaves). Another Punjabi essential is the lassi, which is an especially effective way to cool off during the summer season.

Bharawan Da Dhaba (Town Hall), Pal Da Dhaba (Hathi Gate), Beera Chicken Corner (Sehaj Avenue), Ahuja Milk Bhandar (Dhab Khatikan), Kulcha Land (Ranjit Avenue) and Kesar Da Dhaba (Chowk Passion) are among the most popular places to eat in Amritsar.

How to Reach Amritsar
Being a major city and pilgrimage center, Amritsar is well connected to the rest of India by road, rail and air. One of the most important highways in the entire Asian continent, the Grand Trunk Road passes through the city, linking it directly with the national capital, New Delhi. Punjab Roadways, the state-owned transport authority, runs regular buses to Amritsar from Delhi, Jaipur, Chandigarh, Haridwar and Jammu.

Amritsar Railway Station is the main rail transit point in the city with daily trains from all major cities and towns. Those, looking for budget hotels near Amritsar Railway Station, can stay at FabHotel Aay Kay Model Town.

The primary air transit hub in the city is Sri Guru Ram Dass Jee International Airport. It has direct flights to and from Delhi, Dubai, Birmingham, Mumbai, Jammu and many other cities.

Travelers, who want to explore the national capital on an extended stay or are using it as an intermediate stop, have loads of economy hotels in Delhi to choose from. FabHotel Pallvi New Delhi Station and FabHotel Sunstar Karol Bagh are some preferred options in New Delhi.