Coupon STAYFAB applied on all FabHotels. Discount up to 45% OFF! Best price guaranteed!
Search
Destinations, property name
Why Us?
Best reviewed hotel chain.

Most centrally located.
Most value for money
Stay Fab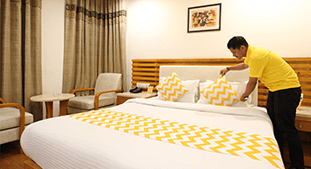 Our staff gets trained by the best in hospitality business.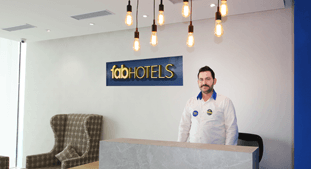 We are always available to serve you, 24x7, for a fab stay.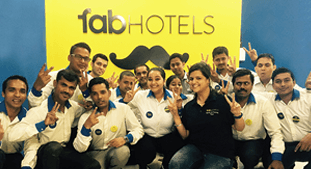 Our Quality team inspects and ensures consistent standards in every room.
Hotels near Bangalore City Railway Station, Bangalore: 20 FabHotels
Budget Hotels near Bangalore City Railway Station, Bangalore

There are many budget hotels near Bangalore City Railway Station that are known for their prompt service and comfortable accommodation. One of the most preferred ones is FabHotel Arafa Inn Gandhinagar.

For those looking to stay near the popular locality of M.G. Road, FabHotel Oriental Suites and FabHotel 29th Church Inn are good options.

One can take an informed decision by going through the hotel photos and hotel deals in Bangalore, before choosing their accommodation.

About Bangalore City Railway Station
Bangalore City Railway Station is a major transport hub of the city. The locality has several eateries, family restaurants, nick-nack shops and shopping centers.

There are quite a few companies and business parks near Bangalore City Railway Station such as Khykha Business Park and Rajajinagar IT Park. Staying at hotels near Bangalore City Railway Station gives corporate visitors easy access to these places.

Trivia: Bangalore City Railway Station is also referred to as Krantivira Sangolli Rayanna railway station. This is how they will announce it on the Bangalore Metro.

Shopping and Dining in Bangalore City Railway Station
Those looking to shop can always visit the close by malls and shopping plazas, such as Alankar Pearl Plaza and City Centre, where can be bought a wide range of men's, women's and children's clothing, accessories and footwear. The famed National Market is also in proximity for people looking for electronic items.

Some of the popular restaurants around include Kava, which serves pure vegetarian dishes, and Sukh Sagar for aromatic South Indian meals. Other nearby restaurants are Empire Restaurant, Amulya Veg Restaurant and Risalo Grill House.

Staying at Bangalore City Railway Station budget hotels also gives guests access to a variety of bars and pubs. Sagar Pub and Dhruva Bar are good budget options, while Sutra - The Lounge offers a luxury ambiance. Two of the famous lounges in Bangalore that are not too far from railway station are Skyye and High Ultra Lounge.

Attractions near Bangalore City Railway Station
Some of the prime attractions near Bangalore City Railway Station are:
• Tipu Sultan's Summer Palace (3.4 km)
• Cubbon Park (3.8 km)
• Jawaharlal Nehru Planetarium (2.9 km)
• ISKCON Temple (5.4 km)
• Ranadheera Kanteerava Park (8.1 km)

These places can easily be accessed from your accommodation near Bangalore City Railway Station.

How to Reach Bangalore City Railway Station
Bangalore City Railway Station is opposite Kempegowda Bus Stop, from where you can access inter-city and inter-state buses. There is also an underground metro station that connects it to the purple line of Namma Metro, with an interchange to access various parts of the city. Kempegowda International Airport is around 35 km away from the busy railway station. Rented cars, local taxis, and autos are the preferred means of commuting within the city.

Budget hotels in Mysore like FabHotel Dawn Mysore and FabHotel Olive Comforts are also easily available for those looking to travel to this royal city from Bangalore.
Frequently Asked Questions
Which are the hotels in Bangalore near to the railway station?

There are lots of hotels near Bangalore Railway Station, where transit travelers can stay. These include FabHotel Rekha Residency and FabHotel Arafa Inn.

How long does it take to reach the city business hub from the Bangalore Railway station?

The business hub of the city is Commercial Street, which is 5.4 km from Bangalore Railway Station. It takes 30 minutes to cover this distance.