Coupon STAYFAB applied on all FabHotels. Discount up to 45% OFF! Best price guaranteed!
Search
Destinations, property name
Why Us?
Best reviewed hotel chain.

Most centrally located.
Most value for money
Stay Fab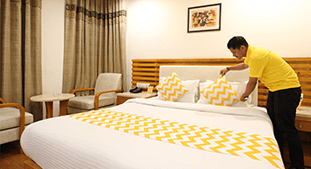 Our staff gets trained by the best in hospitality business.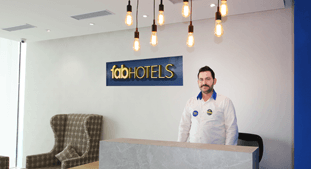 We are always available to serve you, 24x7, for a fab stay.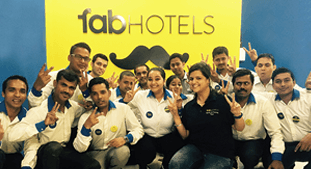 Our Quality team inspects and ensures consistent standards in every room.
Hotels in Shivaji Nagar, Pune: 10 FabHotels
Budget Hotels in Shivaji Nagar, Pune

Situated in the heart of Pune, Shivajinagar is one of the most important localities of this city. Travelers can easily find several hotels in Shivajinagar, Pune, ranging from budget to luxury categories. Budget hotels in Shivajinagar attract maximum visitors as it makes for an affordable trip. Like other parts of Pune, including Baner, FC Road and Hinjewadi, FabHotels has its imprints on this part of the city as well. Travelers can choose to stay at FabHotel Gandharva, which is known for its traditional Indian hospitality and modern amenities. All FabHotels boast photo-matched rooms, landmark locations and value for money services.

About Shivajinagar
Shivajinagar is the cultural and educational centre of Pune. The locality is home to significant offices and colleges, including Pune's Session Court, Pune College of Engineering, Deccan Education Society and Pune Agricultural College. Offices of TCS, All India Radio, LIC Mutual Fund, Accel Frontline and L&T Infotech are also located here. Besides, Shivajinagar is home to several schools, private banks, hospitals and local attractions.

Shopping and Dining in Shivajinagar
Shopaholics are in for a treat as Shivajinagar has a plethora of retail destinations. Pune Central Mall, SGS Mall, Kakade Center Port, Nucleus Mall and Ashoka Mall are to name a few. From high-street apparel brands to entertainment zones, restaurants and multiplexes, these malls cater to the diverse needs and moods of visitors. For a true flavor of Pune's local shopping scene, travelers can head to the buzzing Tulshibaug, Laxmi Road and M.G. Road (Camp). In these hot spots, one can buy gift articles, traditional Maharashtrian vessels and fashionable clothing among others.

Furthermore, Shivajinagar has a range of family restaurants, cafes and bars for visitors to have a memorable culinary treat. Restaurants like Fountain Family Rest O Bar, Olio, Bamboo House, Southindies and J1-???? are some favorite places among denizens. The people of Shivajinagar also love to hang-out at Pink Butter, Tales & Spirits and The Cafe Corner.

Attractions in and around Shivajinagar
Major points of interest in Shivajinagar are Pataleshwar Cave Temple and Mahatma Phule Museum. While the former gives an insight into the 8th century traditions, the latter is known for hosting talks and academic gatherings on various scientific methods. Darshan Museum, Sarasbaug Ganpati Temple, Raja Dinkar Kelkar Museum and National War Memorial Southern Command are the other popular attractions that visitors can explore while staying at hotels near Shivajinagar.

How to reach Shivajinagar
Shivajinagar is a well-connected area to not only the other parts of Pune but also the state. Apart from local PMPML buses that are available to and from Shivajinagar Bus Stand, many auto rickshaws and taxis also run in this part of the city. The locality has Shivajinagar Railway Station, where trains operating between Mumbai and Pune Junction halt. Pune Airport is just 20 minutes' drive from this bustling locality.