Coupon STAYFAB applied on all FabHotels. Discount up to 45% OFF! Best price guaranteed!
Search
Destinations, property name
Why Us?
Best reviewed hotel chain.

Most centrally located.
Most value for money
Stay Fab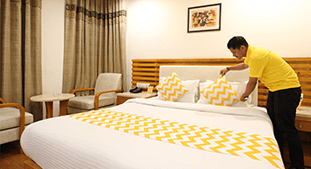 Our staff gets trained by the best in hospitality business.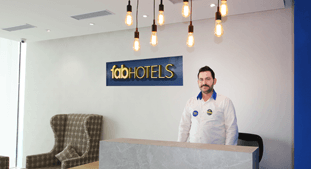 We are always available to serve you, 24x7, for a fab stay.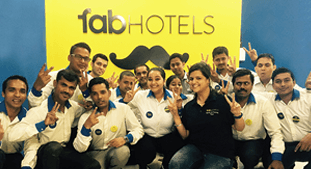 Our Quality team inspects and ensures consistent standards in every room.
Hotels near Deccan Gymkhana, Pune: 4 FabHotels
Budget Hotels near Deccan Gymkhana, Pune

Deccan Gymkhana is an affluent area in the city of Pune, which is a preferred place to stay among locals and travelers alike. This is why hotels in Deccan Gymkhana Pune are numerous, with their number increasing at a steady pace. You can take your pick from lavish hotels or economical ones. FabHotels has several budget hotels in Deccan Gymkhana that boast warm hospitality and modern amenities. You can stay at hotels near FC Road as well if you want to easily reach Deccan Gymkhana. FabHotel Lakme Executive is the best choice in this regard.

About Deccan Gymkhana, Pune
Close to the city center, Deccan Gymkhana is home to Deccan Gymkhana Sports Club, one of the most elite such institutions in the country. The area has another such club, PYC Hindu Gymkhana, which further makes the locality significant among the rich and famous. In addition, several companies have their offices here as well, such as Laxmii Forex, Tata AIG, Smartalyse Technologies Pvt. Ltd., Prima IT Solutions Pvt. Ltd., Synerfac Resources, Sharada Alliance Promoters & Builders, Dimakh Consultants Pvt. Ltd., Seed Infotech, Nexus Energytech Pvt. Ltd., Design Directions Pvt. Ltd., VL Jain & Co., Softenger, Golden Sparrow Publishing, Samtec Tools & Accessories Pvt. Ltd. and Tomato Architectural Solutions Pvt. Ltd.

Further, Veracity Landmark Promoters Pvt. Ltd., Ronald Mixers, PCSoft ERP Solutions, Kaushal Solar, Paranjape Constructions, Dhanajaya Datar and Associates, Kanix Infotech Pvt. Ltd., Kan Biosys Pvt. Ltd., Doodle Designs Pvt. Ltd., Maximus Global Corporate Solutions, Career Zone LLP., MDC Corporation (India) Pvt. Ltd., Arich Infotech Pvt. Ltd., Replete Business Solutions Pvt. Ltd., Anomaly Solutions Pvt. Ltd., SMCP & Associates, Anviksh Testing Labs Pvt. Ltd., e-Biz India Org Pvt. Ltd. and Rohit Labhade & Company also have offices here. Higher education institutions like Film & Television Institute of India, ILS Law College and Brihan Maharashtra College of Commerce are also in the area.

Shopping and Restaurants near Deccan Gymkhana, Pune
Those staying at luxury or cheap hotels near Deccan Gymkhana on Apte Road can go shopping at numerous stores. They can buy everything from groceries and electronics to clothes and accessories in the locality. Equally wide are the variety travelers get in terms of places to eat; the cuisine options include North Indian, local, Chinese, Italian, American and South Indian. The most popular restaurants in Deccan Gymkhana Pune are Le Plaisir, Café Coffee Day, Katakirrr, Café Goodluck, Sukanta, Wadeshwar, Roopali Hotel, McDonald's, Vaishali, Burger King, Starbucks, Aasing's Burger House, Kollage Food Court, German Bakery Wunderbar, Sadguru Snacks, Café H2O, Joshi Wadewale, Opera, Supremo Corner, Cream California, Chocolate Room, Horn OK Please, Asha Dining Hall, Sarovar Restaurant & Bar, Spring Onion, Panchavati Gaurav and Curry on the Roof.

Tourists Attractions near Deccan Gymkhana, Pune
Being in a central location, all lavish and pocket-friendly hotels in Deccan Gymkhana are close to the popular attractions in Pune, including the following:

• Mahatma Phule Museum (1.4 km)
• Raja Dinkar Kelkar Museum (2 km)
• Shaniwar Wada (2.5 km)
• Peshwa Museum (2.7 km)
• Ohel David Synagogue (4.3 km)

How to Reach Deccan Gymkhana, Pune
You can take taxis and buses from all around the city to reach Deccan Gymkhana, due to its prominence as an upscale neighborhood and commercial center. Pune Junction Railway Station is 5.2 km away, whereas Pune airport is 11.7 km from the area. You can take trains and flights form Pune to all major destinations in the country, including the beach paradise of Goa. If you are looking for budget hotels in Goa as well, then you can go for FabHotel Sovi Studios or FabHotel Arabian Sands Beach Resort.