Coupon STAYFAB applied on all FabHotels. Discount up to 45% OFF! Best price guaranteed!
Search
Destinations, property name
Why Us?
Best reviewed hotel chain.

Most centrally located.
Most value for money
Stay Fab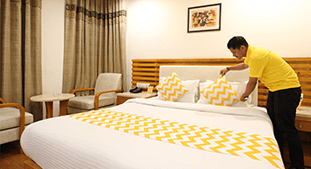 Our staff gets trained by the best in hospitality business.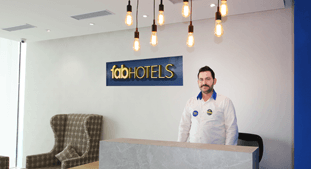 We are always available to serve you, 24x7, for a fab stay.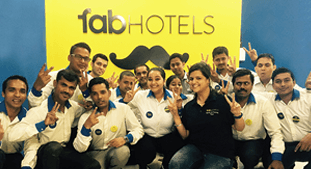 Our Quality team inspects and ensures consistent standards in every room.
Hotels in Kothrud, Pune: 6 FabHotels
Budget Hotels in Kothrud, Pune

Kothrud is an important locality of Pune from the point of trade and finance; therefore, there are loads of hotels in Kothrud Pune. The options at the disposal of visitors range from upscale hotels to those that offer an economical stay. For budget hotels in Kothrud, FabHotels is your best bet. All our hotels have contemporary rooms equipped with modern amenities for a comfortable stay. To be within easy reach of Kothrud, you can also go for economy hotels near FC Road, such as FabHotel Lakme Executive.

About Kothrud, Pune
Located in the western part of Pune, Kothrud is significant because of its association with the IT industry. Several companies have their offices in the area, including Sunfire Technologies Pvt. Ltd., Vspace Software, Precision Technical Analysis Pvt. Ltd., Bell Engineering Software Technologists Limited, Xtensible Software Technologies Private Limited, Three MediaTech Co. Pvt. Ltd., Peocit Technologies Private Limited, KCPL InfraTech, Primus Techsystems Pvt. Ltd., V-Smart Thermotech Pvt. Ltd., Cummins India Limited, Zeal Manufacturing Company, CADCAMGURU Solutions Pvt. Ltd., Unisoft Technologies, Krixi Ideas and Technology Solutions Pvt. Ltd., Persistent Systems Ltd., SEED Infotech, Nixie Engineers Pvt. Ltd., Arun Infotech, Matrix Zero One Systems, Harbinger Group, Invitra Technologies Private Limited, Xtensible Software Technologies Private Limited, Advanto Software and Torque Systems. In addition, Maharashtra Institute of Technology is also located here that attracts hundreds of students every year. Travelers coming here for admissions or meeting loved ones studying at the institute can stay at hotels near MIT College Kothrud Pune that exist in large numbers.

Shopping and Restaurants near Kothrud, Pune
There are several shopping hubs in Kothrud like Bhaji Mandai and Mini Market, Aditya Garden Shopping Complex, Hari Om Supermarket, Geetanjali Supermarket, Big Bazaar and Reliance Fresh. Visitors also get quite a variety in terms of places to eat in the area, and they can pick from non-veg and veg restaurants in Kothrud Pune as per their dietary preference. Pizza Hut, McDonald's, Hidden Place, Spice Garden, Wood Fire Grill, FRNDS Café, MetroMix, Garden Court, Café Coffee Day, Oasis, Seven-11, Cheesiano Pizza, Banjara Hills, Apache Fluid Lounge, Sharao, Café Durga, Chaitanya Paranthas, Waari Book Café, Yolkshire, Subway, Venky's Xprs, Hotel Shabri, Chinese Room Oriental, Rudra, Hotel Shraddha and Mirch Masala are the most popular dining venues in Kothrud.

Tourists Attractions near Kothrud, Pune
Luxury as well as economy hotels in Kothrud provide guests with easy access to the following places of interest in Pune:

• Maharshi Karve Museum (2.8 km)
• Peshwa Museum (4.7 km)
• Mahatma Phule Museum (5.5 km)
• Raja Dinkar Kelkar Museum (5.9 km)
• Shaniwar Wada (6.6 km)

How to Reach Kothrud, Pune

Reaching Kothrud is extremely easy as it is situated right on National Highway 48 (Delhi-Gurgaon-Jaipur-Mumbai-Pune-Bangalore-Chennai). Taxis and buses are available from around the city as Kothrud has immense financial significance. You can look for hotels near Kothrud Depot if you are arriving in the area by bus. Pune airport is 15.8 km from Kothrud, while Pune Railway Station is 9.3 km away. Both these mass transit hubs connect you to places like Mumbai. Among the best pocket-friendly hotels in Mumbai are FabHotel Panchvati Residency and FabHotel Elite 59.