Search
Destinations, property name
Why Us?
Best reviewed hotel chain.

Most centrally located.
Most value for money
Stay Fab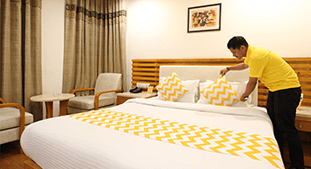 Our staff get trained by the best in hospitality business.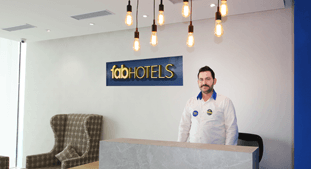 We are always available to serve you, 24x7, for a fab stay.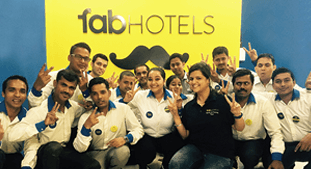 Our Quality team inspects and ensures consistent standards in every room.
Hotels in Baner: 9 FabHotels
Budget Hotels in Baner

Baner, being a commercial center, is one of the popular suburbs of Pune. Facilities of accommodation in Baner are huge and you can easily find a hotel to suit any pocket. If you are looking for budget hotels in Baner, then FabHotel Imperio Baner and FabHotel Sumati Baner are good options. You can easily strike good hotel deals in Baner online. Those looking for budget hotels in Hinjewadi, can opt for FabHotel Arya Hinjewadi. You get to enjoy every facility in these hotels and can also expect greater savings. In addition to the popular localities of Pune, FabHotels has aplenty hotels in Mumbai as well. FabHotel Hill Park is a good option for staying close to the Mumbai Airport.

About Baner
Baner in Pune has a strategic location and is both an industrial and residential neighborhood of the city. You get to see many sparkling festivals celebrated here. This place is also quite popular for the Varkari parampara. Several IT companies surround the Baner region. Some of the most important ones are the Prescient Technologies Pvt. Ltd., Enzigma Software Private Limited and the Exceptionaire Technologies Pvt. Ltd. The development of the IT and ITeS sectors has opened several employment opportunities for professionals here. Some reputed hospitals nearby include the Nucare Hospital, Vitalife Clinic, Jupiter Hospital, etc.

Shopping and dining in Baner
The lovely malls in Baner attract shoppers a lot. Starting from garments to accessories, you can get everything in these malls. Suyash Mall, Atria Mall, and the Primrose are some of the most popular shopping hubs in Baner. The place also has some yummy eateries for the food lovers. Desi Chulha is a great place for kebabs and biriyani. Malaka Spice is a good place where you can enjoy the best buffet in Baner. Some of the pocket-friendly eateries include Golden Chopstick X and Chennaii menu. The place has several cafes and ice-cream parlours where you can satisfy your cravings for sweets.

Attractions in and around Baner
There are many well-known attractions here that attract tourists from all corners of the country. Some of them are:
• Laxmi Mata Temple (2.4 km)
• Pashan Lake (6.2 km)
• Sri Chaturshringi Temple (7.7 km)
• Shaniwar Wada Fort (11.8 km)
• Koregaon Park (15.6km)

How to Reach Baner
The best way to reach Baner is via rail and the nearest station is the Pune railway station, about 12 km away. You can also travel by air and reach the Pune Airport which is 18 km away from Baner. The public transport service is also quite flexible in Baner. You can easily hire cabs and taxis for moving around the city. Many private buses are also available.