Search
Destinations, property name
Why Us?
Best reviewed hotel chain.

Most centrally located.
Most value for money
Stay Fab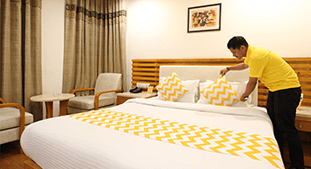 Our staff get trained by the best in hospitality business.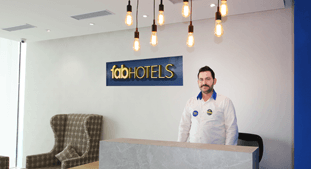 We are always available to serve you, 24x7, for a fab stay.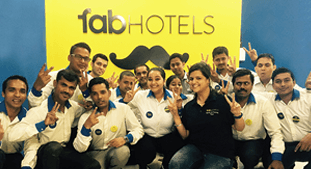 Our Quality team inspects and ensures consistent standards in every room.
Hotels in Hitech City: 24 FabHotels
Budget Hotels in Hitech City

Hyderabad Information Technology Engineering Consultancy City or HITEC City is one of the leading technology townships in the suburbs of Hyderabad. Popular among corporate executives and business travelers, it has multiple accommodation options ranging from luxury to budget hotels. For a value for money deal, travelers can choose any of the FabHotels in and around HITEC City. All FabHotels are located close to important landmarks and offer hassle-free hospitality with smile. FabHotel Prowell, FabHotel M Hotel, FabHotel KSR Park, FabHotel Pearl City and FabHotel Lotus are a few preferred options from the list. Alternatively, visitors can opt for FabHotel Eaglewood or FabHotel Spring Leaf, both situated in Gachibowli – another commercial suburb in Hyderabad, approximately 15 minutes' drive from HITEC City.

About HITEC City
HITEC City is among the largest IT parks in India, home to corporate giants from the field of IT services, ITES, Engineering, Telecom and other related domains. This state-of-the-art commercial hub has two centerpieces, Cyber Towers and Cyber Gateway besides many independent campuses. Several corporate behemoths like Google, Facebook, GE Capital, Dell, Microsoft, IBM, Oracle, Deloitte, Keane Inc., Prithvi Information Solutions and Capitol Records have their set ups here.

Shopping and Dining in HITEC City
Mainly a business hub, HITEC City has a limited number of shopping and entertainment options. The major retail destination here is Inorbit Mall, where tourists can buy products of various high-end Indian and international brands. The complex also has PVR cinemas and an expansive food court offering delectable fare from diverse cuisines. Shamrock - The Irish Bar, Little Italy, TPF The Paratha Factory, Chili's and IndiBlaze are among the most preferred eating joints in HITEC City.

Attractions in and around HITEC City
If you have some free time in hand and wondering about things to see and do than you can attend a cultural show at Shilpakala Vedika. Nature lovers can head to Kotla Vijayabhaskara Reddy Botanical Garden, known for a variety of ornamental and medicinal plants. The iconic attractions of Hyderabad, including Qutub Shahi Tombs and Golconda Fort can also be explored to get a peek into its rich past.

How to reach HITEC City
Owing to its huge significance among businesspersons, HITEC City has a well-established commuting system. Travelers can opt for taxis, cabs or bus shuttle service to reach the cyber city from the eponymous railway station, which is just 10 minutes' drive away. Hyderabad's only international airport, Rajiv Gandhi International Airport, is around a 40-minute drive from here.
Frequently Asked Questions
I am looking for family hotels near Hitech City.

Travelers can enjoy a comfortable stay with their family at numerous hotels near Hitech City. FabHotel M Hotel and FabHotel My Place are the best family hotels near Hitech City.

Which are the best budget hotel accommodations near Hitech City?

There are a large number of budget hotel accommodations near Hitech City as it is the major IT hub of Hyderabad. FabHotel Pearl City and FabHotel V Hotel I are the popular ones among these.

Which are the good budget hotels in Hyderabad with facility of air conditioner?

Considering the perpetually warm weather of Hyderabad, all hotels in the city have air conditioner. The good budget hotels in this regard include FabHotel Hallmark and FabHotel Limestone.

What are the things to buy in the local markets in Hyderabad?

When in Hyderabad, travelers must not forget a trip to its markets as there is a lot to be bought here. The must buys in Hyderabad include pearls, ittar, lac bangles, Gongura pickle, Pochampally sarees, Bidriwork articles, Kalamkari prints, Khada dupatta and Banjara embroidery.

Are there FabHotels hotels nearby Hitech City in Hyderabad?

Being the major IT center of Hyderabad, Hitech City has a large number of hotels near it. The best FabHotels nearby Hitech City in Hyderabad include FabHotel Majestica Inn and FabHotel Siri Inn.