Search
Destinations, property name
Why Us?
Best reviewed hotel chain.

Most centrally located.
Most value for money
Stay Fab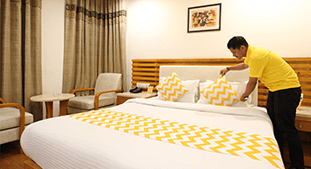 Our staff get trained by the best in hospitality business.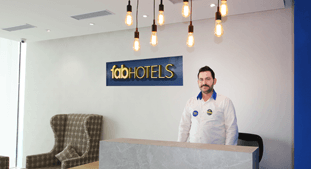 We are always available to serve you, 24x7, for a fab stay.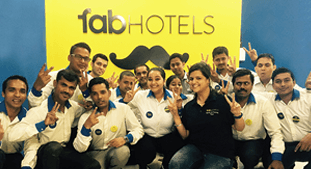 Our Quality team inspects and ensures consistent standards in every room.
Hotels in Kondapur: 23 FabHotels
Budget Hotels in Kondapur

Located in the north-western part of Hyderabad, Kondapur is a bustling locality. As a result, you have a wide array of options pertaining to accommodation in Kondapur. Among the best budget hotels in Kondapur is FabHotel Myplace Kondapur HICC. Alternatively, you can also go for hotels in Hitec City, including FabHotel Pearl City and FabHotel V Hotel. When making online reservation, you can get the best hotel deals in Hyderabad.

About Kondapur
Kondapur is adjacent to the information technology zone of Hyderabad, which is popularly known as Cyberabad. Although Kondapur lies in the outskirts of Hyderabad, it is one of the most rapidly developing areas in the city with a thriving real estate market. Kondapur attracts a huge number of IT professionals as it is near Hitec City. Students also prefer staying here as University of Hyderabad is nearby. Closeness to Hitex Exhibition Center, where large-scale events are held, further makes Kondapur popular among business travelers.

Shopping and Dining in Kondapur
You have a large number of choices if you are looking for places to shop and dine. The shopping malls in the area include Sarath's City Capital Mall, Forum Sujana Mall, Inorbit Mall, D Mart, Food Bazaar and KLM Fashion Mall. Some of the best restaurants in and around Kondapur are Blue Fox, Kolkata Food Plaza, Kolkata House, Raju Gari Ruchulu, Hotel Samskruthi, Udipi's Upahar, Holi Restaurant & Bar, F5 Drive In, Punjabi Affair, Sri Kanya and Tim Tai. The choice of cuisines available at these restaurants ranges from North Indian, South Indian and Hyderabadi to Oriental, Italian and Continental.

Attractions in and around Kondapur
There are many places near the locality to visit, so choosing hotels in Kondapur will be advantageous. Some of the must-visit places nearby are:

• Shilparamam Cultural Society (3.7 km)
• Qutb Shahi Tombs (10.1 km)
• Jagannath Temple (11.1 km)
• Osman Sagar Lake (14)
• Charminar (20 km)

How to Reach Kondapur
The best way to reach Kondapur, if you are coming from outside Hyderabad, is either by railway or by flight. The network of public transport in the city is highly developed. APSRTC (Andhra Pradesh State Road Transport Corporation) and private buses as well as taxis can be taken to reach the locality. The nearest railway stations are Secunderabad Junction and Hitec City Railway Station, while Rajiv Gandhi International Airport is located roughly 40 km from Kondapur. You can take trains or flights to numerous neighboring cities like Vijayawada. If you are looking for pocket-friendly hotels in Vijayawada, then you can check out FabHotel Essvee.