Coupon STAYFAB applied on all FabHotels. Discount up to 45% OFF! Best price guaranteed!
Search
Destinations, property name
Why Us?
Best reviewed hotel chain.

Most centrally located.
Most value for money
Stay Fab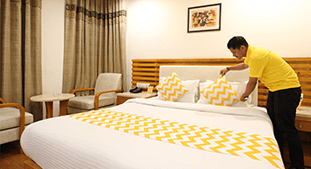 Our staff gets trained by the best in hospitality business.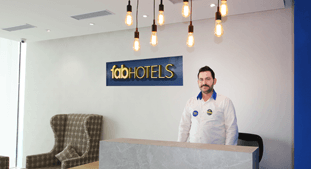 We are always available to serve you, 24x7, for a fab stay.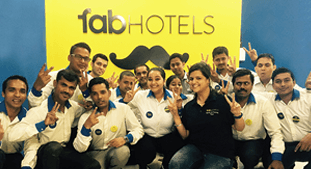 Our Quality team inspects and ensures consistent standards in every room.
Hotels near Howrah Junction Railway Station, Kolkata: 7 FabHotels
Budget Hotels near Howrah Junction Railway Station, Kolkata

Catering to thousands of passengers on a daily basis, Howrah Junction Railway Station is one of the main entry points into the City of Joy, Kolkata. Hence, it is no surprise that hotels near Howrah Junction Railway Station exist in humongous numbers. Those, whose primary idea behind picking hotels is enjoying luxury, can for hordes of upscale hotels. But, travellers, who want a comfortable stay with warm hospitality without it being heavy on their pockets, can pick from a number of budget hotels near Howrah Junction. FabHotels has hordes of economy hotels near Howrah Station that offer a host of facilities, such as free breakfast and Wi-Fi access. FabHotel Vinita is one of the best choices in this regard.

About Howrah Junction Railway Station, Kolkata

Opened in 1854, Howrah Junction is one of the oldest rail transit hubs in India. It is also among the largest in the country, with 23 platforms and 25 tracks. The station lies on the important Delhi-Kolkata, Kolkata-Mumbai and Kolkata-Chennai trunk routes, further accounting for its significance. It has played a leading role in the development of Kolkata as a major financial and commercial centre by facilitating the arrival of people from across the country, and with them, knowledge, ideas, skill and even capital. Apart from Delhi, Chennai and Mumbai, Howrah Junction has direct trains to and from Puri, Bangalore, Thiruvananthapuram, Ranchi, Hyderabad, Pune, Vijayawada, Dehradun, Haridwar, Amritsar, Bhubaneswar, Shirdi, Mysore, Kochi, Dibrugarh, Gwalior, Pondicherry and Jammu Tavi.

Shopping and Restaurants near Howrah Junction Railway Station, Kolkata

The Howrah Junction area is a paradise for shoppers as there are a lot of retail hubs here. Travellers can stuff their bags with goodies at Mangla Haat, Howrah AC Market, Main Market, Sandhya Bazar, Kalibabu Bazar, Fazir Bazar and Shreya AC Market. Gastronomes will simply love the area as there are a large number of restaurants near Howrah Junction that offer a mouth-watering concoction of Indian and international flavours. Visitors can have a memorable dining experience at KFC, Pizza Hut, Railway Restaurant and Bar, La Shivaaz, Shyam Andhra Mess, Yes!Momo and Komal Food Corner.

Tourist Attractions near Howrah Junction Railway Station, Kolkata

A big advantage of booking pocket-friendly hotels near Howrah Junction Railway Station is that these provide easy connectivity to loads of tourist attractions, including:

• Howrah Bridge (350 m)

• Railway Museum (800 m)

• Eden Gardens (3.5 km)

• Maidan (3.8 km)

• Indian Museum (4.2 km)

How to Reach Howrah Junction Railway Station, Kolkata

Being a major transit hub, Howrah Station can be reached from all parts of Kolkata by buses and cabs. You can even take a ferry from the opposite bank of the Hooghly River to Howrah Station Jetty. Netaji Subhas Chandra Bose International Airport is around 17 km away from Howrah Junction by road, and this distance can be covered in about 1 hour. If you are also looking for

hotels in Bhubaneswar

, which is well connected to Howrah Junction, you can go for FabHotel LazyStay.