Coupon STAYFAB applied on all FabHotels. Discount up to 45% OFF! Best price guaranteed!
Search
Destinations, property name
Why Us?
Best reviewed hotel chain.

Most centrally located.
Most value for money
Stay Fab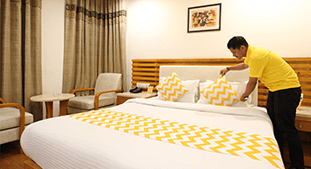 Our staff gets trained by the best in hospitality business.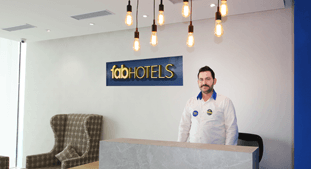 We are always available to serve you, 24x7, for a fab stay.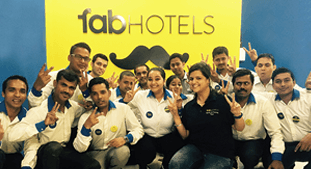 Our Quality team inspects and ensures consistent standards in every room.
Hotels near Pragati Maidan, New Delhi: 19 FabHotels
Budget Hotels near Pragati Maidan, New Delhi

Pragati Maidan is the most iconic exhibition arena in the city of New Delhi. Hordes of people come here from all across the globe to see such large-scale events or participate in it, leading to a rise in the number of hotels near Pragati Maidan Delhi. Due to its prominence, hotels in the area range from 5 star to budget ones. As an alternative to hotels around Pragati Maidan New Delhi, you can also look for those near New Delhi Railway Station as the two landmarks are quite close to each other. Among the best budget hotels near New Delhi Railway Station are FabHotel Hindustan Deluxe and FabHotel Mohan International.

About Pragati Maidan, New Delhi
Situated in Central Delhi, Pragati Maidan offers more than 60000 sq feet of exhibition area in gigantic halls and open spaces. There is also a 5-storey convention center within the premises with several meeting and conference halls. For cultural performances, Pragati Maidan houses four theatres. Some of the largest exhibitions in the country, including Book Fare, International Trade Fare and Auto Expo, are held here that draw participants and visitors in large numbers. There are several snacks outlets within the premises, the numbers of which swell during events.

Shopping and Restaurants near Pragati Maidan, New Delhi
Being in the heart of the metropolis, all hotels near Pragati Maidan Exhibition Centre provide easy access to numerous shopping hubs. The most popular retail areas near Pragati Maidan are Connaught Place, Khan Market and Janpath. All these places have a high concentration of dining venues, the number of which and the cuisine they offer are both vast. You can head to fine-dining restaurants, family outlets, street stalls, cafes and bars. North Indian, South Indian, Italian, Chinese, American, European, Spanish, Mexican, Mughlai, Japanese and Thai dishes can be gorged on along with many more.

Tourist Attractions near Pragati Maidan, New Delhi
By picking lavish or 3 star hotels near Pragati Maidan, you can access the following famous tourist attractions easily:

• National Science Centre (150 m)
• Purana Qila (1.2 km)
• Delhi Zoo (1.2 km)
• Shanti Stupa (2 km)
• Humayun's Tomb (3.8 km)

How to Reach Pragati Maidan, New Delhi
Being an important spot on the map of Delhi, Pragati Maidan is reachable from around the city by buses and taxis. The exhibition arena has its own station on the Blue Line of Delhi Metro and on the Delhi suburban system of Indian Railways. Indraprastha Depot is merely 1.7 km from Pragati Maidan, resulting in ease of access. New Delhi Railway Station is 4.9 km away, whereas Indira Gandhi International Airport is 17.1 km from the place; both are connected to it by Delhi Metro. You can take trains, buses and flight from Delhi to all major destinations in the country, including Jaipur. The most booked pocket-friendly hotels in Jaipur include FabHotel Jaipur Villa and FabHotel Dior.