Search
Destinations, property name
Why Us?
Best reviewed hotel chain.

Most centrally located.
Most value for money
Stay Fab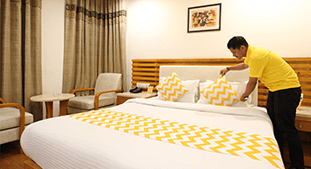 Our staff get trained by the best in hospitality business.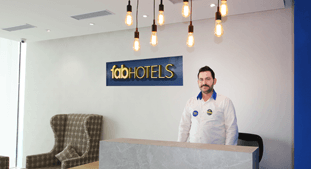 We are always available to serve you, 24x7, for a fab stay.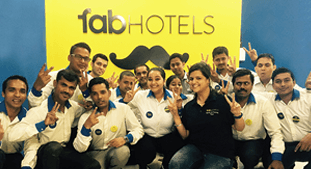 Our Quality team inspects and ensures consistent standards in every room.
Hotels in Kolkata: 13 FabHotels
Budget Hotels in Kolkata

The capital of West Bengal, Kolkata is a city with many faces. Mainly developed by the British, it has grown rapidly to become one of the four metropolises in the country. A large number of globally operating companies like ITC Group, Tata Steel, Britannia, Visa and Philips have their offices or regional headquarters here. Haldia Port on the Hooghly River makes Kolkata a busy trade center, in turn bringing lots of business travelers here. The British reign has left Kolkata with many magnificent buildings that are now important tourist attractions. In addition, the culture of West Bengal is extremely rich, and loads of people come to the city just to revel in regional traditions. Owing to all these reasons, the hospitality sector is steadily prospering in the megacity; hence, finding hotels in Kolkata is no problem at all.

Accommodation can be sought at luxury hotels as well as budget hotels in Kolkata. If you are looking for hotels in New Town, a significant IT hub, you can go for FabHotel Mishra Residency and FabHotel Paradise Inn. You can reach the offices of Wipro, TCS, DLF and Tata Group easily from these hotels. FabHotels also has numerous properties in Salt Lake City – the educational hub of Kolkata. Some of the preferred economy hotels in Salt Lake City are FabHotel Mishra Residency and FabHotel Astoria House. Among the most significant industrial centers of Kolkata is Howrah, home to manufacturing plants of several large firms. FabHotel Vinita is one of the best hotels in Howrah, for which you can make an online hotel booking.

Attractions in Kolkata

There are lots of attractions in the East Indian metropolis that give a glimpse into its glorious history and Bengali culture. Here are the top 5 places to visit in Kolkata:

- Victoria Memorial
- Indian Museum
- Marble Palace
- Indian Museum
- Dakshineswar Kali Temple

FabHotel Ratnakar Inn Ballygunge is a good choice among hotels near Victoria Memorial.

Shopping and Dining in Kolkata
Being a major city, Kolkata has no dearth of places that you can throng for retail therapy. One place that everyone should visit for shopping is New Market, characterized by its Neo-Gothic structure. You can purchase almost anything from the scores of shops here at reasonable rates. To experience its buzz, you can search for hotels near New Market like FabHotel Victorria Inn. Another great place for shopping within budget is Garihat Market. If you are looking for books or journals, then you can head to College Street. Rightly named, Flower Market is famous for the astounding variety of flowers available here at wholesale rates. Handicrafts from West Bengal and other states of India can be purchased at Dakshinapan Shopping Complex. Fashion enthusiasts can make their way to BK Market, where accessories and clothes are available at low prices. Forum Mall has shops selling a variety of branded stuff along with numerous dining options. Staying at hotels near Forum Mall like FabHotel Arya International Elgin Road helps you reach it with ease.

Ardent foodies will instantly fall in love with Kolkata, as the cuisine of West Bengal is extremely flavorful. The delightful aroma of mustard fills every corner of the City of Joy. When in the city, do not forget to sample famous sweets like sandesh and rasgulla that are bound to be in their most authentic rendition in the capital of West Bengal. Traditional Bengali food can be best sampled at Bhojohori Manna, which is nothing short of an institution in the city. You will have a wide variety of seafood dishes to choose from, as West Bengal is primarily a coastal state. Mitra Café, Mouchak, Basanta Cabin, Arsalan, Chitto Babur Dokan, Sholoana Bengali, Oh! Calcutta, 6 Ballygunge Palace, Nizam's Restaurant, Nahoum and Sons, and Bhim Ch Nag are among the best places to eat in Kolkata. In addition, popular restaurant chains like Barbeque Nation, McDonald's, Domino's, Pizza Hut, Café Coffee Day and India Coffee House also have several outlets here.

How to Reach Kolkata
Being of immense commercial, historical and cultural significance, Kolkata is well connected to the rest of India by air, road and rail. Netaji Subhas Chandra International Airport has direct flights to and from Delhi, Mumbai, Chennai, Bangalore, Hyderabad, Dimapur, Dibrugarh, Pune, Port Blair, Bagdogra, Bhubaneswar, Imphal, Ahmedabad, Lucknow, Visakhapatnam, Kochi and Nagpur. The international destinations connected to the airport by scheduled air services include Kuala Lumpur, Dhaka, Singapore, Bangkok, Paro, Denpasar, Singapore, Colombo and Yangon. Two of the largest busiest railway stations in the entire country, Howrah Junction and Sealdah Junction are also located here. Several important trains, including Rajdhani Express connect the city to the national capital, Delhi. People can also take National Highway 12, 16 or 112 to reach the megacity.

Those travelling to Delhi as well either by flight or train have loads of hotels to check out. Among the best budget hotels in Delhi are FabHotel Blueberry Hauz Khas and FabHotel Anutham Saket.
Frequently Asked Questions
Which are the must see places to visit in Kolkata?

Kolkata is thronged by tourists for its colonial heritage and Bengali culture. The must-see places to visit in Kolkata are Victoria Memorial, Dakshineswar Kali Temple, Maidan, Howrah Bridge, Science City, Indian Museum, Marble Palace, St Paul's Cathedral, Prinsep Ghat, Alipore Zoo, Shaheed Minar, Birla Planetarium, Jorasanko Thakur Bari, Fort William and Kalighat Kali Temple.

How can I avail best discounted prices on hotels in Kolkata?

FabHotels offers amazing discounts on hotel booking across India. To get the best discounted prices on hotels in Kolkata, simply go to https://www.fabhotels.com/deals/fab-grab-rs-400-off.

Which are the top night clubs in Kolkata?

The nightlife culture in Kolkata is picking up rapidly owing to the commercial significance of the city. Roxy, Someplace Else Pub, Shisha, M Bar Kitchen, The Myx, Nocturne, UG Reincarnated, Club Boudoir, Aqua, Phoenix, Tantra and Soho Kitchen Lounge & Bar are the top nightclubs in Kolkata.

Which are the short trips that can be done from Kolkata?

There are a large number of nearby places that can be visited while in the metropolis. Digha, Bakkhali, Sundarbans National Park, Santiniketan, Mandarmani and Tajpur are among the short trips that can be done from Kolkata.

Which are the best discotheques/party places in Kolkata?

Kolkata has numerous discotheques/party places, much to the delight of the youth. These include Someplace Else Pub, M Bar Kitchen, Roxy, Shisha, The Myx, Nocturne, Club Boudoir, Phoenix, UG Reincarnated, Soho Kitchen Lounge & Bar, Aqua and Tantra.

Are unmarried couples allowed stay in Kolkata hotels?

There are different policies on check-in to unmarried couples at various Kolkata hotels. For more information, you can click https://www.fabhotels.com/terms-conditions.

Which are the hotels in Kolkata with a budget of 1500 or less for double occupancy?

You can book hotel rooms within your desired budget with FabHotels. To see the prices for double occupancy, enter the destination, dates of check-in and check-out, and number of guests in the Let's Get Started section on our homepage - https://www.fabhotels.com/.

Which are the good budget hotels in Kolkata with facilities of In-house Restaurants?

Hordes of hotels in Kolkata have in-house restaurants so guests don't have to go anywhere for a delicious meal. FabHotel Pawan Putra and FabHotel Vinita are the good budget hotels in Kolkata with facilities of in-house restaurants.

Which are the things to do in Kolkata?

Kolkata is a popular holiday destination with loads of things to do here. Visitors can visit its famous monuments, shop at local markets, try Bengali dishes, party at pubs and attend Durga Puja celebrations during Navratri.

How long does it take to reach the city business hub from the Kolkata Domestic Airport?

Salt Lake City is the city business hub of Kolkata, and it is 13 km from Kolkata domestic airport. You can reach Salt Lake City from Netaji Subhas Chandra Bose International Airport in 30 minutes.