Kolkata is equal parts chaos and charming! From its busy corners to its ever-evolving markets, the City of Joy has plenty on offer to tourists who are ready to explore. Whether you are a literature student or a person who likes to dive deep into different cultures, there is something for everyone.
If you are planning to visit the city anytime soon, here is a list of all the best places to visit in Kolkata. While some are iconic, there are some places that are hidden from the touristy crowd of the city and still demand a visit.
Tourist Places in Kolkata:
1. Victoria Memorial, Kolkata
An imposing white monument, Victoria Memorial is one of the most visited places in Kolkata, and for all good reasons. Named after Queen Victoria, it now serves as a museum and is perfect for history buffs. If you ever feel like taking a walk down our past and reflect on how long India has come from its colonization days, visit this place. There are light and sound shows held in the evening. The era of India's freedom struggle is shown not only through the light and sound show but through a series of paintings, artifacts, sculptures and books. We would recommend spending at least 3-4 hours to gain knowledge about our country's past.
Timing:
Museum – 10:00 am to 05:00 pm; closed on Mondays and National Holidays
Gardens – 05:30 am to 06:15 pm; every day
Entry Fee:
Museum – ₹20 for Indians; ₹500 for foreign nationals
Gardens – ₹10 per person
2. Howrah Bridge, Kolkata
To say that Howrah Bridge is one of the top places to visit in Kolkata would be an understatement. An unofficial emblem of the city, Howrah Bridge merits a visit if you want to spend some time alone with just the ocean in front of you. Sit here in silence or simply observe the fishermen go about their work at dawn and dusk.
Trivia: Did you know that the bridge has been renamed after Rabindranath Tagore and is now called Rabindra Setu.
Explore recommended places to stay in Kolkata at best price
3. Park Street, Kolkata
If posting photos of brunches with your bffs is your favorite thing to do, head to Park Street. Because this place has the most instagrammable cafes and restaurants! Park Street has become a hub for people who want to chill out in the evening. From high-end restaurants to iconic clubs and pubs, this place has them all.
Trivia: Park Street is also home to India's first independent nightclub. 
4. New Market, Kolkata
Built by the British in 1874, New Market is the place where all the shopaholics go to get the best of clothes, jewelry, and other items. One of the places to visit in Kolkata for youngsters, the market is a maze of stalls and has around 2000 of these. If you can bargain and have a good eye for items, this market is perfect for you.
Pro Tip: If you cannot shop in crowded spaces, avoid the place during the weekends. Check Malls in Kolkata
5. Dakshineswar Kali Temple, Kolkata
The temple is dedicated to Bhavatarani, an aspect of Goddess Kali and 'the savior of the universe'. One of the oldest and most important temples to have ever been built, it receives pilgrims from all over the world.
The temple was founded by Rani Rashmoni, who lost her husband and was left with a vast amount of wealth. The idea of building this temple came to her in a dream and this was the last thing she did before going on a pilgrimage to Varanasi.
6. Kumortuli, Kolkata
Durga Pujo is perhaps one of the most vibrant and extravagant festivals to be celebrated in Kolkata. Spanning over 10 days, everything from the pandals to the delicious food served on the final day, this festival happens on a grand scale. While witnessing the splendor of this festival in the city should be on everyone's bucket list, if you are more of a creative person, we recommend go and watch how the Durga idols are made in Kumortuli.
A potter's community which is around 300 years old, the place buzzes with life in the weeks preceding the festival. Over 150 families reside in the area and toil away diligently to complete all the idols for the festival. You can take a walk through the place and talk to the potters and get a better idea of how these beautiful idols are made.
7. Babu Ghat, Kolkata
While Princep Ghat is one of the most famous places to visit in Kolkata, if you want to visit a place which is not much crowd and offers scenic views, visit Babu Ghat. Offering a stunning view of the iconic Howrah Bridge, it is perfect for photography enthusiasts and merits a visit before it gets too crowded.
Location: Strand Road, BBD Bagh
8. College Street, Kolkata
If you want to shop for books in Kolkata, there is no better place than College Street. One of the top places to visit in Kolkata for youngsters, College Street is akin to Daryaganj of Delhi, the only difference being that this street is open throughout the week.
Everything from course books to second-hand novels can be found at College Street. Don't forget to haggle and wear comfortable clothes and shoes.
9. South Park Cemetery, Kolkata
Fan of everything spooky and haunted, visit South Park Cemetery. One of the most haunted places in India, this place is equal parts beautiful and equal parts eerie. Established in 1767, the cemetery was founded by the British and is a remnant of their architectural style. Take a walk through the cemetery during the day and you will find plenty of spots that are worth admiring.
However, by night the place is shut down and entry is prohibited because of the strange incidents that have happened in the past.
10. Old Chinatown, Kolkata
The only Chinatown in all of India, this place is a haven for people who want to taste the delicacies of this Asian country. The place evolved after Chinese traders who came to work on the ports settled here. While the place may have lost its authenticity, there are some stalls that still serve authentic Chinese appetizers like pork sausage, prawn crackers, momos and fish ball soup.
11. Indian Museum, Kolkata
With its foundation laid down in 1814, the Indian Museum is one of the oldest in the world. Its 35 galleries are filled with historically significant items like stunning Mughal paintings, skeletons, fossils, Egyptian mummies, and other sacred items. This is the largest multi-purpose museum in the whole of the Asia-Pacific region.
Location: Park Street, Kolkata
Timings: Tuesday-Sunday 10:00 AM to 5:00 PM
Entry Fee: ₹10 for Indians, ₹150 for foreigners
12. M.P. Birla Planetarium, Kolkata
In the list of places to visit in Kolkata, one cannot ignore the majestic Birla Planetarium. Inaugurated in 1963 by Pandit Jawaharlal Nehru, the planetarium has exhibition corners, several galleries, a library, and a very impressive theatre room with high-end projector screens. It is a great place to introduce astronomy to children.
 

Location: Jawaharlal Nehru Road, Kolkata
Timings: 12:30 PM to 6:30 PM
Entry Fee: ₹100 per head
13. Alipore Zoo, Kolkata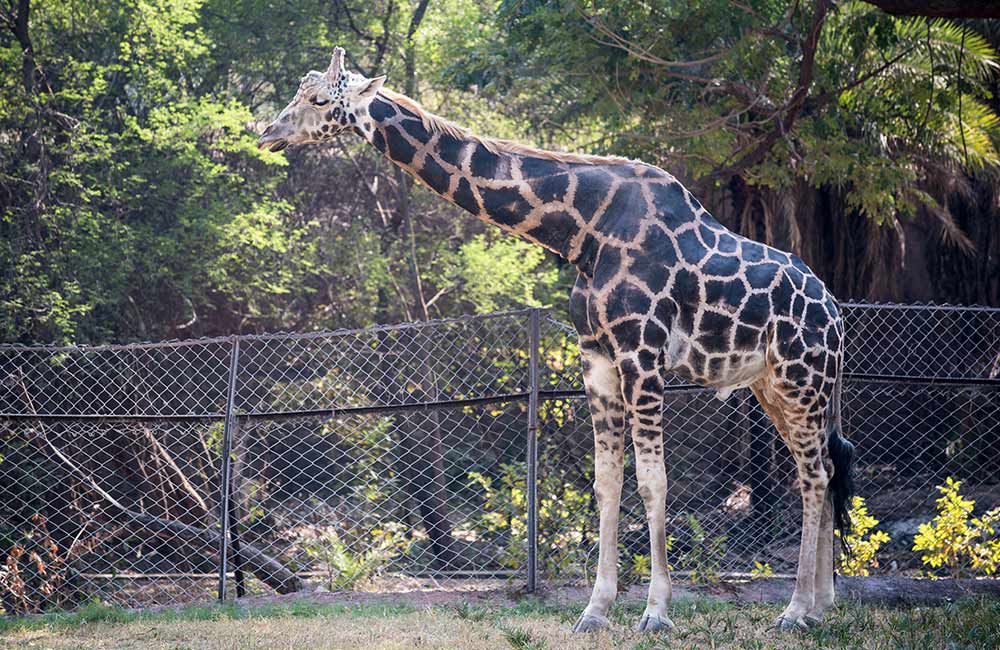 The Alipore Zoo is one of the major tourist attractions in Kolkata, especially if you are travelling with children. The zoo is the oldest in the country and houses amazing species of animals, birds, and reptiles. You can spot the one-horned rhinoceros, white tigers, zebras, the Swinhoe's Pheasant, and many migratory birds here.  
Location: Alipore Road, Kolkata
Timings: 9:00 AM to 4:30 PM
Entry Fee: <5 years old – ₹10, >5 years old – ₹30 
14. Town Hall, Kolkata
This architectural brilliance is a beautiful example of the Roman Doric construction in the country. You can spend your time looking at the statues of kings, queens, and important British officials in this well maintained historical gem. Fun fact- The ceilings of the building are 30-feet high!
Location: B.B.D Bagh, Kolkata
Timings: 9:00 AM to 5:00 PM
Entry Fee: ₹10 per head
15. Eden Gardens, Kolkata
If you are a cricket fan, there is no way you can miss the Eden Gardens. This is one of the popular visiting places in Kolkata. Cricket fans get really fond memories of matches played and won here when they step into the building. This is the second-largest cricket stadium in the world and can house an impressive 66,349 spectators at a time. 
Location: B.B.D Bagh, Kolkata
Timings:  5:30 AM to 11:30 PM
16. Jawaharlal Nehru Road, Kolkata
If you want to experience Kolkata at its best, pay a visit to the Chowringhee road. Located in Central Kolkata, this is a favourite hangout spot for locals and tourists. The street is lined with small and big shopping complexes and stores. Strolling in the street in the evenings is a great way to enjoy the local culture and people.
Pro Tip: Do not hesitate to bargain here! 
17. Jorasanko Thakur Bari, Kolkata
Do you have an affinity for poetry and Rabindranath Tagore? Then you must check this place out. This is the ancestral home of late Tagore and the house has three separate galleries filled with paintings, personal items of the Tagore family, including his books and manuscripts. The house is surrounded by a lush garden and is a peaceful spot in the middle of the city.
Location: Rabindra Bharati University campus, Jorasanko, Kolkata
Timings: Tuesdays to Sundays from 10:30 AM to 4:30 PM
18. Marble Palace Mansion, Kolkata
Located in North Kolkata, the Marble Palace Mansion was built in the year 1835. This property houses very rare paintings and also has a zoo that is filled with rare and exotic species of birds and animals. You can visit the property for its beautiful architecture and paintings.
19. Princep Ghat, Kolkata
Located along the river Hooghly, Princep Ghat is a perfect place to spend your evenings. The surroundings are fully lit up post-sunset and you can pack some food and spend a relaxed time enjoying the grounds. The Princep Ghat is a Greek-style building located in a strategic place right under the 2nd Hooghly Bridge.
Best time to visit: After 6:00 PM
20. Birla Mandir, Kolkata
Another of the famous places in Kolkata you should not miss is the Birla Mandir. Named after the Birla family who commissioned it, this abode of Lord Krishna, made completely of white marble stone, took 26 years to be built. 
Location: Chowdhury Avenue, Ballygunge, Kolkata
Timings: 5:30 AM to 11:00 AM and 4:30 PM to 9:00 PM
21. Science City, Kolkata
The Science City is one of the top tourist places in Kolkata in the recent past. Inaugurated in 1997, this government-run centre is the largest in the country. Students love visiting the centre and exploring its popular exhibits like The Aquatic World, the Jurassic World, and the Time Machine.
Location: East Topsia, Kolkata
Timings: 9:00 AM to 8:00 PM
Entry Fee: ₹60
22. Fort William, Kolkata
Fort William was constructed in the year 1696 and has served a variety of purposes in the past. Right now, the fort is the property of the Indian Army. You can visit the grounds and enjoy the majestic architecture of the fort.
23. Kalighat Kali Temple, Kolkata
The original name of the city Calcutta originated from the term 'Kalighat'. Kalighat is one of the oldest neighbourhoods of Kolkata and houses the famous Kali Temple that devotees flock to. Surrounded by shopping streets, the temple is located in a busy and crowded part of this city.
24. St. Paul's Cathedral, Kolkata
This is one of the first cathedrals built by the Britishers in India. Located in the heart of the city, St. Paul's Cathedral is built in an indo-gothic style and is an impressive structure you should not miss visiting. The cathedral complex is serene and calm and the building leaves you feeling relaxed.
Entry timings: 9:00 AM to 12:00 PM, 3:00 PM to 6:00 PM
25. Belur Math, Kolkata
Belur Math is located on the banks of the river Hooghly and is the headquarters of the Ramakrishna Math. You can see Swami Vivekananda's room here and the old shrine. This is a perfect place to get away from the everyday hustle and bustle and calm your mind.
Location: Howrah District, West Bengal
26. Mother House, Kolkata
Mother House is a small building that houses Mother Theresa's Tomb. There are also many photos, personal belongings, and articles displayed here. If you are around Rippon Street, definitely visit this beautiful building.
Timings: 8:00 AM to 12:00 PM, 3:00 PM to 6:00 PM
27. Rabindra Sarovar, Kolkata
This is an artificial lake located in South Kolkata. This is a common recreational spot for most locals. The perfect time to visit the lake is early mornings or after 5:00 PM. You can spot migratory birds here during the season. The pathway is filled with a park, beautiful gardens, and even an auditorium. 
Pro tip:

Take a long stroll around the lake and gorge on lip-smacking street food outside the lake complex.
28. New Town Eco Park, Kolkata
This is the largest park in the country. Spread over 480 acres, the park is complete with a water body and an island in the middle. The park is split into three regions – a themed garden and open spaces, recreational spots, and ecological zones. This is definitely one of the best tourist attractions in Kolkata. 
29. Nicco Park, Kolkata
Are you an adventure lover? The Nicco Amusement park is the place for you then! Located in Bidhannagar, Kolkata, the park is complete with hundreds of rides and games for adults and children of all ages. You can easily spend the whole day here.
Timings: 10:00 AM to 5:00 AM
Entry Fees: ₹300 per head
30. Nakhoda Masjid, Kolkata
The tall minarets and artistic dome of the Nakhoda Masjid, which was built in 1926 by Abdar Rahim Osman, attracts tourists to this busy place of worship. The prayer hall of Nakhoda has the capacity to hold 10000 worshipers at one time and it is considered the Kolkata's largest masjid. 
Location

: Rabindra Sarani, Chowringhee North, Bow Barracks
31. Birla Industrial and Technological Museum, Kolkata
Established in 1959, Birla Industrial & Technological Museum (BITM) is the first science museum in the country. The museum via various interactive programmes and exhibitions is actively engaged in promoting science among the masses especially the youth and children. Its popular shows include Sky Observation, Fun Science, 3D Film, Surprising Chemistry and Mathematics Demonstration.
Timings: 10 am to 6:00 pm
Entry Fee: INR 30
32. Pareshnath Jain Temple, Kolkata
Parshwanath Temple or Calcutta Jain Temple is a major tourist attraction of Kolkata. Built by Rai Badridas Bahadoor Mookim in 1867, this beautiful temple complex attracts visitors from across the country for its divine aura, intricately carved marbles and gorgeous glasswork. Visitors are advised to meditate here while the quietude and calm of the place immerse you in it.
Timings: 6 am to 10 am & 5 pm to 8 pm
33. Millennium Park, Kolkata
Located along the Hooghly River, on Strand Road, Millennium Park is a gift from the Kolkata Metropolitan Development Authority (KMDA). Besides being known for a variety of flora and pretty lights, the park has loads of things to do for people of all age groups. While the tiny tots can have fun at the kid's zone which has multiple rides, adults can enjoy boat rides and long walks. The park also has a food court that offers a range of cuisines.   
Timings: 10 am to 6:30 pm
Entry Fee: INR 10
34. ISKCON Temple, Kolkata
ISKCON Kolkata is the first ISKCON centre in the country, established in 1972 by A.C. Bhaktivedanta Swami Prabhupada. Also referred as Sri Sri Radha Govind Mandir, the organisation popularises the teachings of Lord Krishna based on the sacred Bhagwad Geeta and Vedas. When here, do savour the 100% Satvik meal prepared by volunteer devotees.
Timings: 4:30 am to 1:00 pm and 4:00 pm – 8:30 pm
Apart from these places, there is Mother Teresa's House which also merits a visit. Of course, Kolkata has plenty of attractions worth seeing and if you have enough time on hand, explore the city in its tram (or on foot), you will be surprised and in awe. Which is your favorite place in the City of Joy? Book hotels in Kolkata
Places to Visit in Kolkata Video:
Frequently Asked Questions About Kolkata:
Q: What are the most loved shopping places in Kolkata?
A: New Market, Chandni Chowk, Burrabazar, Gariahat Market and Hatibagan Market are the most popular places to visit in Kolkata for shoppers. Malls like South City, City Centre I and II, Quest, Acropolis and more are great for finding branded everything. Park Street is also quite popular, especially for designer stuff.


Q: What are local markets in Kolkata famous for?
A: Kolkata's markets are known for a variety of sarees including Laal Paad, Tant, Kantha and Baluchari or Swarnachari. Moreover, you can find Solapith handicrafts, Kalighat paintings, conch shell bangles, terracotta artefacts, Putul dolls, Dhokra crafts and jute items in the oldest shopping districts in Kolkata.


Q: Suggest some street food delicacies that are a must-try in Kolkata.
A: A food trail through the streets of Kolkata should always start with the delicious puchkas, followed by churmur, ghugni chaat, aloo chop, peyaji, shingara, jhalmuri and the famous kathi rolls. To end it on a sweet note, try rasgullas or chanar jilipi.


Q: I'm looking for fine dining places in Kolkata. Any recommendations?
A: Aaheli, Alfresco, Bohemian, La Cucina and Asia Kitchen are some of the best restaurants in Kolkata. But we'd also recommend you to try streetside eateries like Sree Hari Mistanna Bhandar, Vien and Mitra Cafe to enjoy authentic flavours of Kolkata.


Q: Where can I go for partying in Park Street, Kolkata?
A: There are many good pubs in Kolkata's Park Street including Someplace Else, The Myx, Hard Rock Cafe, Olypub, Roxy, M Bar Kitchen, Aqua, Tantra, Barf Soda Paani and The Lords and Barons.


Q: What are the main transit hubs in Kolkata?
A: Netaji Subhash Chandra Bose International Airport is the main air gateway to the city, connecting it to cities across India, Southeast Asia and some in Europe. There are two main railway stations in Kolkata -- Howrah and Sealdah. For inter-city and inter-state buses, Esplanade Bus Station is the main gateway.


Q: How to travel within Kolkata?
A: To get around Kolkata, you can use public transport like CSTC, CTC and WBSTC buses, suburban trains, the very famous yellow ambassador taxis, age-old tram network, auto rickshaws and the latest addition, Kolkata metro.


Q: What is the best time to visit Kolkata?
A: October to February are the ideal months to visit Kolkata, especially if you are interested in sightseeing and outdoor activities. However, you can plan a trip to the city at any time of the year as it has something or the other to offer in every season.


Q: What are the Kolkata experiences that must not be missed?
A: Do not miss to see the majestic Royal Bengal Tiger at Sunderbans, stop by the famous Victoria Palace, try the local delicacies, explore the largest science museum in the subcontinent, take a ride on the tram, spend a day learning about the local culture in Kumortuli precinct and shop your heart out at the city's age-old street markets.


Q: Are there any good places near Kolkata for a weekend trip?
A: Sunderbans (109 km), Bakhali (132 km), Bishnupur (141 km), Shantiniketan (157 km), Tajpur (174 km) and Digha (180 km) are a few of the most popular weekend getaways from Kolkata.