Coupon STAYFAB applied on all FabHotels. Discount up to 45% OFF! Best price guaranteed!
Search
Destinations, property name
Why Us?
Best reviewed hotel chain.

Most centrally located.
Most value for money
Stay Fab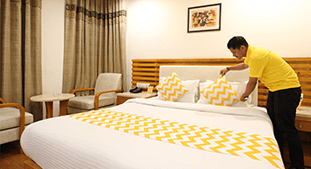 Our staff gets trained by the best in hospitality business.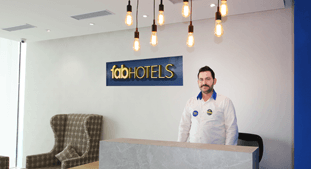 We are always available to serve you, 24x7, for a fab stay.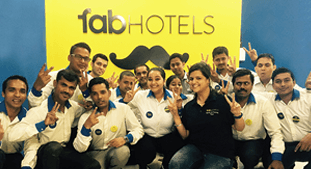 Our Quality team inspects and ensures consistent standards in every room.
Hotels in Pune: 26 FabHotels
Budget Hotels in Pune

Once the center of power of the Chhatrapati Shivaji Maharaj led Maratha Empire, Pune has emerged as a major cultural hub of the country. The city is widely popular for its historical, spiritual as well as artistic activities like theatre, classical music, literature, and sports. The presence of several reputed educational and research institutions such as Fergusson College, ILS Law College, Armed Forces Medical College (AFMC) and Centre for Performing Arts or Lalit Kala Kendra has aptly earned Pune the sobriquet of 'Oxford of the East'. This metropolis in Maharashtra is also known to offer employment opportunities to people from diverse fields like IT, manufacturing and commerce that symbolize the spirit of 'New India'. Being situated 560 meters above sea level on the margins of the Deccan Plateau further makes Pune a worthwhile destination to explore. Hence, it attracts tourists as well as business persons throughout the year.

Fabhotels hosts a variety of hotels in Pune suiting different tastes and requirements of a visitor. A good number of budget and 3 star hotels are located in and around Hinjewadi as a lot of corporates tend to stay near their offices. FabHotel Satish Executive Hinjewadi and FabHotel Sadanand Hinjewadi Baner are to name a few most preferred hotels in Pune. Apart from Hinjewadi, there are loads of hotels near Pune Airport as well. To make the stay of transit travellers convenient, all these offer easy connectivity to the air transit hub, well-equipped rooms and complimentary Wi-Fi and breakfast.

Tourist Attractions in Pune
The Queen of Deccan - Pune is home to several charming man-made marvels that give a striking peek into the stately past of the region. The galore of the erstwhile royalty in Pune can be seen at the following top 5 attractions in Pune: Aga Khan Palace
Shaniwar Wada
Raja Dinkar Kelkar Museum
Pataleshwar Cave Temple
Peshwa Museum

There are many budget hotels in Pune near these places of interests including FabHotel Gandharva Shivajinagar.

Parvati Hill, Sinhagad Fort, Mahatma Phule Museum, Lal Mahal, Parimal Udyan, Rajiv Gandhi Zoological Park, Torna Fort, Sarasbaug Ganpati Temple, OSHO International Meditation Resort and Saras Baug are the other major points of interest in Pune. While in the city, travelers can also plan a road trip to nearby locations like Mulshi Dam (50.6 km), Lonavala (65.2 km) and Khandala (68.1 km) to rejuvenate their mind and soul.

Shopping and Dining in Pune
If you have some free time in hand and wondering about things to do in Pune then think no more, simply head to Fergusson College Road and indulge in some sinful shopping and eating. A favorite among youngsters and party lovers, this long strip has a plethora food, fashion, entertainment and accommodation options. Those who want to feel the pulse of this vibrant city can stay at FabHotel Lakme Executive FC Road. Fashion Street and Mahatma Gandhi Road are other sought-after shopping places in Pune. Here, shopaholics can splurge on trendy clothes, classic bags, high-end footwear and exquisite jewelry. Tourists can further explore the famous Hong Kong Lane, Laxmi Road and Juna Bazaar while vacationing in Pune.

These marketplaces are great stops to also satiate the foodie in you. From age-old bakeries and regional eateries to contemporary fine dining restaurants and fusion food cafes, these places to eat in Pune offer a gamut of local and international fare. Kayani Bakery,Bedekar, Chitale Bandhu Mithaiwale, Shabree, Sujata Mastani, Sukanta and Kalyan Bhel are some of the best dine out options in this beautiful city.

How to Reach Pune
Pune is one of the most developed cities of India and thus has a good connectivity via roadways, railways, and airways. Its very own Pune Airport is around 12 km from the city center. The airport runs frequent flights from Pune to Mumbai, Delhi, Bangalore, Chennai, Ahmedabad, Hyderabad, and Kolkata. Transit travelers can stay at FabHotel Blossoms Pune Airport and FabHotel Brooks Elan in Viman Nagar (a locality close to the airport) for convenient connectivity. In addition to Pune, FabHotels has several budget and 3 star hotels in Mumbai and Goa for visitors to have a hassle-free vacation.

Those who prefer coming by train, Pune Junction is just 10 minutes drive away from the city center. There are many economy hotels near Pune railway station that offer comfortable stay at affordable price. Visitors can opt for prepaid taxis to reach their destination conveniently. The well-knit network of highways makes Pune reachable by road as well from neighboring destinations like Goa, Mumbai, Nashik, Aurangabad, and Nagpur.
Frequently Asked Questions
Which are the must see places to visit in Pune?

Pune is renowned for its Peshwa heritage, museums and religious centers. The must-see places in Pune include Shaniwar Wada, Aga Khan Palace, Dagadusheth Halwai Ganapati Temple, Raja Dinkar Kelkar Museum, Parvati Hill, Shinde Chhatri, Mahatma Phule Museum, Saras Baug, Joshi's Museum Of Miniature Railways and Pataleshwar.

How can I avail best discounted prices on hotels in Pune?

To avail the best discounted prices on hotels in Pune, you can make an online hotel booking with FabHotels. Click https://www.fabhotels.com/deals/fab-grab-flat-20-percent-off for attractive deals.

Can unmarried couples stay in hotels in Pune?

Different hotels may have different policies on check-in to unmarried couples. For details, you can go to https://www.fabhotels.com/terms-conditions.

Which are the top nightclubs in Pune?

Pune is quickly emerging as a popular nightlife destination among college goers and professionals. High Spirits, Atmosphere 6, Mi A Mi, Swig, Mix@36, Stone Water Grill, Fish Bowl, The Ship, Euriska, Area 51, Evviva Sky Lounge, The Flying Saucer Sky Bar, Kue Bar, Paasha, Penthouze Nightlife, Bluefrog, Hard Rock Café, 1 Lounge and Restaurant, Soho Restaurant, Cuba Libre and F Beach House are the top nightclubs in Pune.

Which are the short trips that can be done from Pune?

An advantage of visiting Pune is that people can take short trips to numerous destinations, including Lonavala, Khandala, Matheran, Mahabaleshwar, Sandhan Valley, Koyna Wildlife Sanctuary, Panchgani and Kolad.

Which are the hotels in Pune with a budget of 1500 or less for double occupancy?

With FabHotels, you can stay in Pune within your desired budget. If you want to see the room prices for double occupancy, just go to our homepage - https://www.fabhotels.com/ - and type the destination, check-in and check-out dates and number of guests in the Let's Get Started section.

Which are the things to do in Pune?

Visitors will not be bored as there are a lot of things to do in Pune, including visiting museums, monuments and religious places, attending cultural performances, shopping, trying local dishes and trekking in the nearby hills.

How long does it take to reach the city business hub from the Pune Domestic Airport?

Pimpri-Chinchwad is the city business hub of Pune, and it is about 20 km from Pune Domestic Airport. It takes 45 minutes to cover the distance.

How can I get best deals on online hotel booking for Pune?

The best deals on online hotel booking for Pune are available with FabHotels. For exciting discounts, simply go to https://www.fabhotels.com/deals/fab-grab-rs-400-off

Do hotels in Pune provide complimentary breakfast?

Yes, all hotels in Pune provide complimentary breakfast for a good start to the day of guests.