Coupon STAYFAB applied on all FabHotels. Discount up to 45% OFF! Best price guaranteed!
Search
Destinations, property name
Why Us?
Best reviewed hotel chain.

Most centrally located.
Most value for money
Stay Fab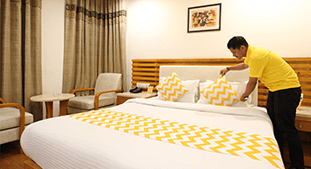 Our staff gets trained by the best in hospitality business.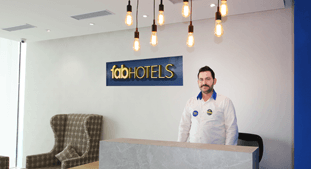 We are always available to serve you, 24x7, for a fab stay.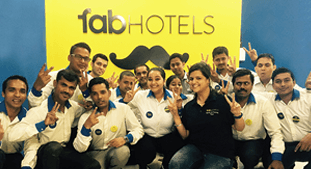 Our Quality team inspects and ensures consistent standards in every room.
Hotels in New Delhi: 28 FabHotels
Budget Hotels in New Delhi

The name Delhi is synonymous with multicultural ethos, politics, endless business opportunities and scrumptious street food. The green landscape of the city is dotted with several strikingly magnificent edifices that have withstood the ravages of many centuries and earned a name in the UNESCO World Heritage Site List. Belonging mainly to the Mughal and British times, these structures are also a testament to the intriguing past of the city. In contrast to the bygone-era marvels, Delhi is also known for modern skyscrapers that are home to top multinational corporations (MNCs). Most of these business giants are based in the National Capital Region (NCR), which also includes Gurgaon, Noida and Faridabad besides New Delhi. Owing to this, Delhi attracts a lot of corporate travelers and entrepreneurs as well.

There's a lot to cover here as a tourist, and thus the city offers several accommodation options, ranging from budget hotels in Paharganj like FabHotel Hindustan Deluxe to the luxurious star categories in Connaught Place. A lot of star category and budget hotels in Delhi can be found near the Delhi Airport for frequent travelers, including FabHotel Star and FabHotel Transit. Good options in prominent residential localities are also available, with FabHotels making its presence felt in Karol Bagh, East of Kailash, Greater Kailash and Nehru Place. Fabhotels also has economy hotels near New Delhi Railway Station. All FabHotels in Delhi occupy prime locations near central business districts and most frequented tourist attractions. However, what sets FabHotels apart from other hotels in the same segment are its photo-matched rooms and prompt hospitality.

Travelers can easily make online hotel bookings or try our user-friendly Android app for a more informed decision. Alternatively, FabHotels in Delhi can also be booked by calling the 24*7 customer care center at +91-7042424242.

Tourist Attractions in Delhi
Delhi is home to many heritage attractions that can suffice the soul of even the most discerning traveler. The most popular points of interest in Delhi include:

- Qutub Minar
- Red Fort
- Humayun's Tomb
- Purana Qila
- India Gate

Delhi is also home to insightful museums like Shankar's International Dolls Museum, Nehru Planetarium, National Museum and Indian Air Force Museum. While in the city, travelers must also pay a visit to Jama Masjid, Gurudwara Bangla Sahib, Lotus Temple, Agrasen ki Baoli, Hauz Khas and Akshardham. For tourists to easily access these iconic landmarks, FabHotels has several hotels in Delhi, including FabHotel Check'In By Oran CP and FabHotel Exotica Green Park that are strategically located near these places of interest.

Those on an exploration spree can also head out to the historic city of Jaipur, which is around 5 hour's drive away. There are many budget hotels in Jaipur that offer a comfortable stay at economical price. FabHotel Royal CM Bani Park is one such hotel that tourists can book a room at.

Shopping and Dining in Delhi
A shopper's paradise in the truest sense of the word, Delhi is home to several expansive malls and traditional markets that offer something for everyone. From exclusive clothing, accessories and bags to designer decorative, handicrafts and precious gem stones, the city has retail and wholesale hubs for all. The go-to places for brand conscious buyers are Ambience Mall, Select Citywalk, DLF Promenade, GK-1 M Block Market, South Ex and Pacific Mall. Dilli Haat, Hauz Khas Village and Shahpur Jat beckon connoisseurs of art and young designer labels. Shopping in Delhi is fun at old marketplaces including Chandni Chowk, Rajouri Garden, Karol Bagh and Connaught Place. Further, markets like Sarojini Nagar, Kamla Nagar and Lajpat Nagar are good places for buying stuff at dirt cheap prices.

As shopping and eating go hand in hand, you can also try out the city's much-talked about street food delicacies like aloo chaat, chole bhature, golgappe, kebabs and dahi bhalle at these markets. The best places to eat in Delhi include Paranthe Wali Gali, Giani's di Hatti and Lala Babu Chat Bhandar in Chandni Chowk, Sitaram Diwan Chand in Paharganj, Roshan di Kulfi in Karol Bagh and Salim's Kebabs in Khan Market.

Upcoming Festivals and Events in Delhi
The 2018 Season of the Indian Premier League (IPL) will be the biggest event in the city through April. Delhi Daredevils, featuring players like Mohammad Shami, Glenn Maxwell, Gautam Gambhir and Kagiso Rabada, will play their home matches at the Feroz Shah Kotla Ground on Jawaharlal Nehru Marg. The other major event in the Indian capital will be the Grub Fest 2018. To be hosted at Jawaharlal Nehru Stadium from 6-8 April, it will have a large number of food stalls, performances stage and cookery demonstrations for a fun-filled time.

How to Reach Delhi
Being one of the four metropolitan cities in the country, Delhi is easily accessible by road, rail and air. The city's Indira Gandhi International Airport (DEL) hosts over 800 non-stop, direct and connecting flights per day. Further, Delhi's vast network of highways makes it accessible by a few hours' drive from the neighboring states as well. New Delhi Railway Station, Old Delhi Railway Station (Delhi Junction), Hazrat Nizamuddin Railway Station and Anand Vihar Terminal are the primary railheads, serving the Indian capital. Among the most preferred means of transport to get around Delhi is Delhi Metro. To make it convenient for travelers, it also connects the city to the business hubs in NCR.
Frequently Asked Questions
Which are the must see places to visit in Delhi?

Delhi is known for its monuments, museums and religious centers. The must-see places in Delhi are India Gate, Jama Masjid, Red Fort, Qutub Minar, Humayun's Tomb, Akshardham Temple, National Museum, Delhi Zoo, National Science Center, Dolls Museum, Rail Museum, Lotus Temple and Purana Qila.

How can I avail best discounted prices on hotels in Delhi?

FabHotels offers rooms in Delhi at the best market price. To avail the best discounted prices on hotels in Delhi, simply click https://www.fabhotels.com/deals/fab-grab-rs-400-off.

Can unmarried couples stay in hotels in Delhi?

Different hotels have different policies on check-in to unmarried couples. You can read the details by going to https://www.fabhotels.com/terms-conditions.

List me some 3-Star and 4-Star hotels near New Delhi Domestic Airport!

All modern amenities are available at the 3-Star and 4-Star hotels near Delhi Domestic Airport. FabHotel Star and FabHotel Transit are the most popular choices in this regard.

Which are the top night clubs in Delhi?

Being the national capital and major metropolis, Delhi has loads of nightclubs for party goers. Ruin Pub By Imperfecto, Kitty Su, House A, The Electric Room, RSVP, Playboy Night Club, BED, Privee', Grappa, Keya, Lithiyum, The Blue Bar, Tamasha, Tourist, Bombay Bar, Junkyard Café, Summer House Café, PCO, Lord of the Drinks and Social are the top nightclubs in Delhi.

Which are the short trips that can be done from Delhi?

While in Delhi, visitors can go on short trips to numerous destinations. These include Alwar, Neemrana, Keoladeo National Park, Mathura, Vrindavan and Agra.

Which are the hotels in Delhi with a budget of 1500 or less for double occupancy?

You can get rooms with FabHotels in your desired budget easily. To see the hotel prices for double occupancy, you can go to our homepage - https://www.fabhotels.com/ - and select 2 in the Number of Guests tab in the Let's Get Started section.

Which are the good budget hotels in Delhi with facilities of heater and air conditioner?

Keeping in mind the hot summers and cold winters of the region, all hotels in Delhi come with facilities of air conditioner and heater. The best hotels with these facilities include FabHotel Emblem and FabHotel Nagpal Palace.

Which are the things to do in Delhi?

There are lots of things to do in Delhi to make the most of a trip here. Travelers can visit its monuments, museums and religious places, attend cultural shows and sports events, go on a shopping spree, relax at lush urban parks, try local dishes and experience the nightlife.

How long does it take to reach the city business hub from the Delhi Domestic Airport?

Connaught Place, the city business hub of Delhi, is 13 km from Delhi airport, and it takes 50 minutes to cover the distance.