Delhi, often known as a food lover's paradise, is also one of the only places in India to offer a wide variety of street food options. Anyone that has been to the city can tell you that it's a healthy and muddled mix of cultures that's led to a warm bonhomie amongst its residents and visitors. From the old-world lanes of Chandni Chowk to the more imperial set up in Connaught Place, Delhi, or Dilli, has something for everyone. Moreover, when it comes to food, you're going to be left astounded by the sheer variety of options available. Any street that you walk into, or corner you turn, will have a hawker with some appealing delicacy whose aroma is going to beckon you to come and have a taste. Like the Lotus Eater's from Grecian Mythology, once you taste the lotus flower, you'll never want to leave again.
Being India's capital, local delicacies of every state can be found here. One could say that the street food in Delhi is a definite treat for your taste buds, and they wouldn't be wrong. Here are some of the more popular options for street food in Delhi loved by both residents and tourists alike.
1. Chaat
Indian cuisine is synonymous with spice, and rich taste, and chaat is an excellent example of it. chaats or the way chaats are made, vary from region to region. Simple, yet delicious, chaat is an umbrella term that encapsulates several favorite snacks like Aloo Tikki, Aloo Chaat, Dahi Papri Chaat, Dahi Bhalla, Papri Chaat, Samosas and Samosa Chaat. Notice the common ingredient? That's right, its potatoes. Potatoes are such a versatile item that their ability to be cooked and presented in a hundred different ways is almost magical, especially when it comes to Delhi street food. From a hot cutlet or tikki served with spicy sauces to a filling for samosas, potatoes are a staple street food ingredient. Want some mouth-watering chaat to round off a day of shopping?  Then check out the place below!
Head to: Prabhu Chaat Bhandar, UPSC Lane, ManSingh Road 
2. Gol Gappas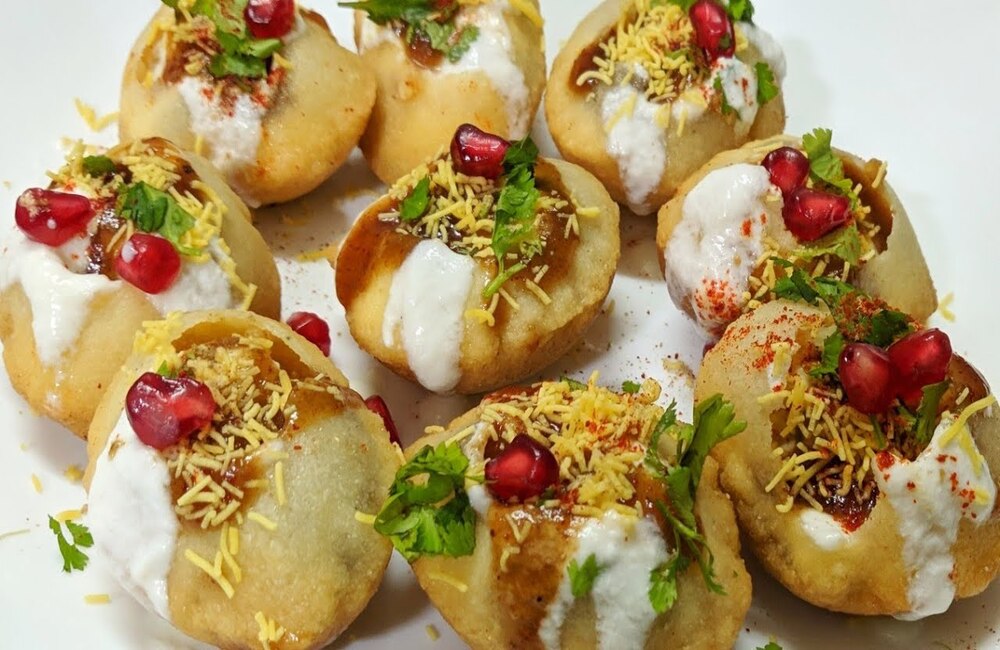 A favorite amongst most Indians, Gol Gappas go by different names in different states, like Panipuri in Maharashtra and Phuchka in West Bengal. Moreover, they are prepared differently in each of these states too. These crunchy balls are made with semolina or wheat flour. The Delhi Gol Gappas are stuffed with a spiced mix of boiled potato cubes, chickpeas and coriander and some sweet chutney after which they are dipped in chilled tangy flavored water and served. Each Gol Gappa is made on demand and handed to you by the guy making it as you eat, even the way the Gol Gappa is placed in your bowl is timed perfectly to you finishing the crunchy flavorful ball in your mouth. The best part? You don't even realize how many you've had until the Gol Gappa waala stops and tells you! Tiny and flavor-packed, Gol Gappas are something that you won't be able to have just one of.
Head to: Prabhu Chaat Bhandar, UPSC Lane, ManSingh Road
3. Ram Laddoos
These soft, deep-fried balls are made out of split green gram flour and loaded with spicy green mint and shredded radish. This dish is available at almost every street corner and is considered to be one of the best street foods in every Delhi district from West to South.  You're not likely going to miss out on spotting a vendor frying fresh Ram Laddoos for their customers. These softballs of heaven melt in your mouth, with a spicy, tangy aftertaste, leaving you wanting more.
Head to: Lajpat Nagar Market
4. Paranthas
Walk through the streets of Chandni Chowk, and you can't resist the whiff of fresh dough being rolled and fried. The aroma will draw you in like a moth to a flame. Whether you are a resident or a visitor, the moment you ask for recommendations on where to savor the best street food in Delhi, Chandni Chowk will be one of the most popular suggestions. Known for its old-world charm, Chandni Chowk is home to the famous paranthe wali gali where each shop serves up to 30 different kinds of paranthas.
Head to: Paranthe Wali Gali, Chandni Chowk 
5. Kebabs
A visit to old Delhi is incomplete without kebabs. Popularly known as the kebab town, the streets are full of shops and vendors selling all types of non-vegetarian delicacies. From Reshmi Kebab, made with minced meat and coriander to Kalmi Kebab – chicken legs marinated in yogurt and cream, there are tons of options when it comes to non-vegetarian street food options in Delhi. We indeed suggest the Kalmi Kebab if you're not a fan of spicy dishes. Another dish that is incredibly famous in Delhi is the Galouti Kebab, a melt-in-your-mouth meat kebab mixed with spices and shallow fried on a wide pan.
Head to: Al Jawahar or Qureshi Kebab Corner, Jama Masjid, Chandni Chowk
6. Chole Bhature
If you haven't tried the famous Chole Bhature, then you've missed out on one of the most vital experiences when it comes to the best street food in South Delhi. Bhature or fluffy bread made out of self-rising and wheat flour is a crowd-pleasing item from Punjab. Combine this with a thick, tangy and spicy red gravy loaded with chickpeas, garnished with onion and coriander; and you've got a dish fit for the Gods.  Served with a yummy tamarind sauce on the side, Chole Bhature is a heavy dish, so make sure you eat this on an empty stomach. It's a go-to dish for Sunday brunches with the residents and a great way to round off a day of shopping.
Head to: Nagpal Chole Bhature, Amar Colony Market, South Delhi
7. Daulat ki Chaat
Although it's called a chaat, Daulat ki Chaat is actually a sweet dish. Made up of a rich, creamy foam collected by churning milk, it is mixed with sugar and saffron, then garnished with pistachios and almonds before serving. Heavenly to eat, this popular plate of goodness is as unique as it sounds.
Head to: Babu Ram, Dariba Kalan, Chandni Chowk
8. Matar Kulcha
One of the most common and sought-after items when it comes to famous food items in Delhi, this dish is quite the favorite amongst many. Matar Kulcha is a healthier alternative for Chole Bhature. The recipe comprises of a flatbread made out of fermented dough and a white pea curry topped with chopped onions, tomatoes and coriander, and a generous splash of lime. This quick snack curbs hunger pangs and each new mouthful is more delicious than the previous.
Head to: Barshabulla Chowk, Chawri Bazaar, New Delhi 
9. Shakarkandi
Popularly known as Shakarkandi chaat, this dish is made up of steamed or roasted sweet potatoes, cubed and served hot with a generous sprinkle of chaat masala, a dash of lime and a bit of star fruit for that extra tang. Shakarkandi serves as a high energy booster, and due to its high nutritional content it is also one of the go-to-snack for your everyday street food snackers as well as weight watchers.
Head to: Bishan Swaroop Fruit Chaat Corner, Chandni Chowk
10. Kulfi Falooda
A desi take on the ever-popular ice-cream, this sweet-tasting milky white frozen dessert on a stick is the perfect treat to stave off the hot and sultry weather of Delhi. Filled with nuts and saffron, and topped with falooda (vermicelli), this sweet dish is the perfect way to end a meal. Looks like ice-cream, tastes even better! This dish is one of the oldest and most popular items on the menu of Delhi street food.
Head to: Roshan Di Kulfi, Karol Bagh
11. Soya Chaap
In the recent years, Delhi has seen a sudden increase in hawkers and vendors selling grilled and tandoori soya chaaps. Often known as a vegetarian alternative for mutton, Chaap is so exquisite, that it has become popular among the non-vegetarians as well. The variety is endless, from Afghani Soya Chaap, Tandoori Soya Chaap to even Malai Soya Chaap, this is one dish that you must not miss.
Head to: Sardarji Malai Chaap Wale, Subhash Nagar
12. Rabri Jalebi
Ask anyone with a sweet tooth about the best desserts in town, and you will hear Rabri Jalebis. This sweet, sugary dish is a favorite among many residents and is go-to dessert for dinner parties and Sunday brunches. Hot Jalebis topped with creamy Rabri will bring a smile to a sad face, any time of the day. This is one item on the "famous food items in Delhi menu" that you must not miss when you visit Chandni Chowk. Moreover, no one does Rabri Jalebi better than the generations of sweet shop vendors that sit there.
Head to: Old Famous Jalebi Wala, Chandni Chowk
13. Honey Chilli Potatoes
Our never-ending love for potatoes has made us cross borders and invent a dish that is both flavorsome and satisfying. Honey Chilli Potatoes are a form of authentic fusion street food in Delhi.  A mix of Indian and Chinese cuisines, these deep fried potato fingers are tossed in a delicious concoction of honey, chili sauce, and sesame seeds. Topped with spring onions, they make for a lip-smacking evening snack and have fast become one of the most popular options for vegetarian snacks in Delhi.
Head to: The Hudson Café, GTB Nagar
15. Kachori Sabji
Street food in Delhi is one of the strongest contenders for what makes Delhi – Dilli. The pièce de résistance is the Kachori Sabji, coming second only to the Rajasthani Dal Kachori. This quick signature dish of broken Kachori, topped with Aloo Sabji (curry), and Mint Chutney is a favorite snack to munch on for local shop vendors, shoppers, and many others on the streets of Delhi.
Head to: Anil Kachori Wale, Hanuman Mandir, C.P
16. Desi Burgers
No, we're not talking about McDonald's, but the local burgers sold at every Delhi corner. Before popular food chains came up with their version of Aloo Tikkis and Veggie patties, Delhi bakers and vendors had already come up with Burgers that were as Indian as they could get. The would-be Vada Pavs of Delhi, this dish is in a different league altogether. In the vast plethora of famous food items in Delhi, Gupta Burger Center has carved a very dedicated niche for themselves. With the right mix of crunchy Aloo Tikki stuffed in a crispy deep fried bun, topped with coleslaw and other condiments, this scrumptious snack should be relished by everyone, resident or tourist, at least once.
Head to: Gupta Burger Centre, Krishna Nagar
17. Momos
When it comes to street food in Delhi, how could we miss out on such an essential dish? Momos are almost synonymous with the capital. From students to shoppers, to corporate workers, this is a local favorite. So believe us, when we say, you won't find a better hot steamed dumpling of goodness in all of India unless you go to the Far East. As street food in Delhi goes, Momos too have been given different versions from time to time, from fried to tandoori and chicken to paneer, you've got all kinds to satiate your craving for a hot plate of Momos.
Head to: Dolma Aunty's Stall, Lajpat Nagar Market or QDs Satyaniketan
Feeling hungry yet?
When it comes to food, Delhi is the place to satiate your taste buds. From midnight cravings to end of the day hunger pangs, street food in Delhi offers a wide variety of choices for every need. The reason why Delhi is such a popular food hub is that though you've got a dozen new-age options, you can't entirely miss out on the old world charm and the generations-old recipes that have trickled down in time to be what they are today.
Whether you are looking for something sweet or savory, Delhi has something to offer to everyone. So go out and pamper your culinary cravings, because Delhi is not just the capital of India, it is also the food capital of this immensely vibrant and diverse nation.