All historical cities in India have seen the rise and fall of empires; some cities, however, retain deep traces of them, in the form of monuments. Delhi, officially called the National Capital Territory of Delhi, is a fine case in point. A heritage walk through the city will give you a chronicled account of the kings and queens of the bygone era. It has a rich historical and cultural background owing to the numerous invasions that took place in this region. From the mythical era of the Mahabharata when the site was called Indraprastha, to the glorious times of the Mauryas, Mughals, and Marathas and finally, the British who reigned over the region for two centuries, Delhi has seen it all.
These incessant invasions have resulted in a multitude of breathtakingly beautiful architecture in the form of forts, tombs, and judicial/ governmental edifices sprawling the perimeter of this place. The reputation of some of these historical places in Delhi is such that these are recognized by the United Nations Educational, Scientific and Cultural Organization (UNESCO) as Heritage Sites. In this blog, we'll take a closer look at these heritage sites in Delhi.
What exactly is a UNESCO World Heritage Site?
First things first! So, what exactly is a UNESCO World Heritage Site, and how is it different from other historically significant places? According to UNESCO, an area is a world heritage site if it is scientifically, historically, or culturally significant and is protected by international treaties. In other words, the site should be a landmark that is unique, either historically or geographically, with physical or cultural importance. Sites that represent the creative genius of humans, rich cultural traditions, and interchange of human values or those associated with historical events are also recognized as Heritage Sites. Thus, the list has a diverse range of sites, from something as natural as the Great Barrier Reef to manmade Fatehpur Sikri.
As of today, India has about 37 such sites including the Taj Mahal, Ajanta and Ellora caves, and the Sun Temple of Konark, and several other sites are waiting for UNESCO's approval. Of these, the capital city of the country has three sites to its credit, namely the Humayun's Tomb, Qutub Minar, and the Red Fort.
1. Humayun's Tomb aka Maqbaera e Humayun: A Tomb that Transcends Time
As the name suggests, this tomb was built for the Mughal emperor Humayun in the year 1570.  It was commissioned by Bega Begum or Haji Begum, the chief consort cum first wife of the emperor and designed by Persian architects Mirak Mirza Ghiyas and his son, Sayyid Muhammad. It is a fact that this tomb was the first garden-tomb ever built on the Indian soil and this architectural marvel later inspired many other monuments, notable among them being the pristine Taj Mahal which was brought to life 80 years later. From historical significance to architectural beauty, everything about the tomb is wow, making it one of the most visited heritage sites in Delhi.
The design of the tomb depicts charbagh (four quadrant gardens with four rivers, which is a representation of Quranic paradise) where the pools are joined by channels. The gigantic tomb rests on a tall and wide terraced platform and is surmounted by a marble-clad double dome. Overall, this "dormitory of the Mughals" as it is called, is a beautiful ensemble of red sandstone with black and white inlaid marble.
This garden-tomb was chosen as a World Heritage site by UNESCO in 1993 for its grandeur design and monumental scale that had no predecessor in the history of Islamic mausoleums. Another reason for selecting Humayun's Tomb is that it is the first significant structure symbolizing the Mughal dynasty.
Location: Mathura Road, Nizamuddin East
Timings: 06.00 am to 06.00 pm; every day
Entry Fees:
Indian Citizens – ₹ 30 per person
Foreign Nationals – ₹ 500 per person
Video Filming – ₹ 25
Nearest Metro Station: Jorbagh / JLN Stadium
2. Qutub Minar and Its Monuments: Displaying Heritage at Its Best
The Qutub Minar is a monument straight from your upper primary history books and you might even have written boring essays on its history and importance. Yet, this towering brick minaret never gets old. It pops up in our old family albums and our friends' latest Instagram feeds alike; it never ceases to amaze people, both young and old. And did you know that Qutub Minar has earned a place in UNESCO's Heritage Sites list and for the right reasons?
The Minar, which is touted to be the world's tallest minaret made up of bricks, is 73 meters or 293.5 feet tall, consisting of five stories. The monument is a relic of the Delhi Sultanate and its construction was completed by many kings over the years. Founder of the Delhi Sultanate, Qutb-Ud-din-Aibak (the Sufi saint after whom the structure was named), began building this gigantic structure in 1192 and went up to constructing the first story while the remaining stories were completed Iltutmish and Firoz Shah Tughlaq. The three lower stories are made up of sandstone, the fourth of marble, and the final tower of marble and sandstone. The minaret consists of Parso-Arabic and Nagari inscriptions in various sections that reveal the history of its making.
Apart from this sky-soaring minaret, the Alai-Darwaza is a great tourist attraction. This gate symbolizes the magnificence of the Indo-Muslim art as it is a masterpiece in itself, contributed by the great Ala-ud-din Khilji. Another notable structure housed inside the Qutub complex is the Quwwat-ul-Islam Mosque, identified as one of the earliest to be built in India. The Minar and its monuments were designated as a World Heritage Site by the UNESCO in 1993.
Location: Mehrauli
Timings: 7.00 am to 5.00 pm; every day
Entry Fee:
Indian citizens – ₹30 per person
Foreign Nationals – ₹500 per person
Nearest Metro Station: Qutub Minar Metro Station
3. The Red Fort or Lal Qila: As Iconic As It Gets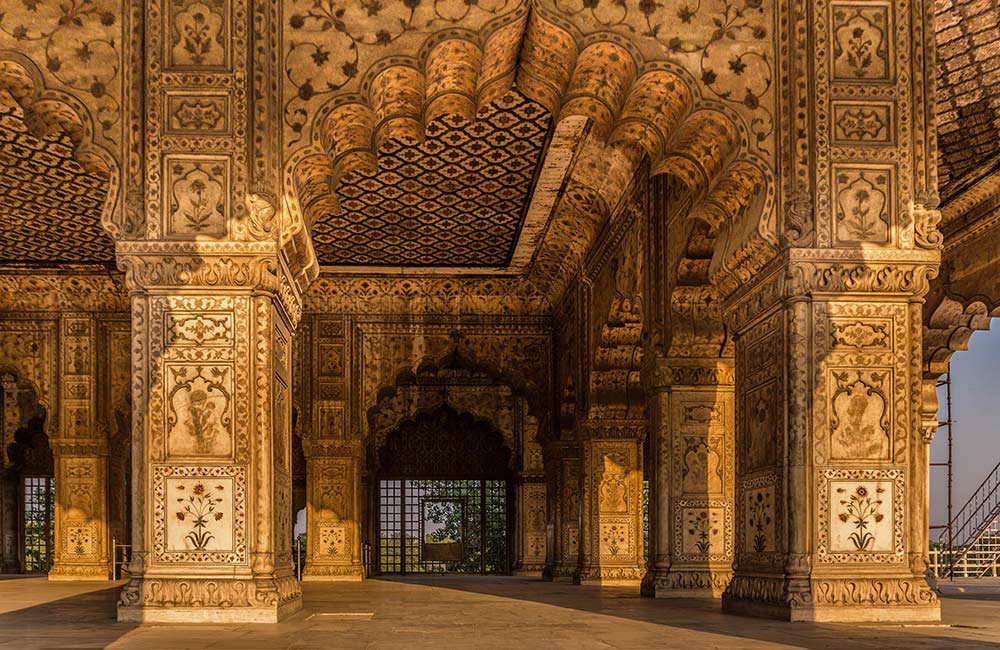 The Red Fort, built in 1639, served as the palace fort of Shahjahanabad, the new capital of the great Shah Jahan, the fifth Mughal emperor who ruled India. Indeed, it was a royal abode for the emperors of the Mughal dynasty who lived here close to 200 years. The fort consists of massive enclosing walls made up of red sandstone, and the pavilions inside this majestic structure depict a subtle blend of Persian, Hindu, and Timurid traditions. This architectural beauty is also based on the garden design, and incorporates water channels called Nahr-i-Behisht (or Stream of Paradise) connecting the pavilions that are present in the private apartments.  Adjacent to this monumental fort stands the Salimgarh fort which, together with the Red Fort forms the Red Fort Complex.
History has it that the Red Fort was ransacked of its jewels and artwork during the invasion of Nadir Shah, and later was further damaged by the British. The significant surviving structures of this beautiful fort include the Lahori Gate, Delhi Gate, Chatta Chowk, Mumtaz Mahal, Rang Mahal, Diwan-i-Khas, Hira Mahal, and Princes' quarters, among others. Diwan-i-Khas was the area which housed the famous peacock throne which was later plundered by Nadir Shah.
Red Fort was named one among the UNESCO World Heritage Sites in Delhi in the year 2007 for its beautiful blend of culturally different architectural designs and also for standing valiantly as the symbol of power since the reign of Shah Jahan, even though it was attacked and damaged by numerous dynasties, including the British. The outstanding planning incorporated in the fort, and its garden design which inspired gardens in Rajasthan, Agra, etc. also helped it earn this status.
Location: Netaji Subhash Chandra Marg, Chandni Chowk
Timings: 09:30 am to 04:30 pm; every day
Entry Fees:
Adults – ₹ 60 per person (weekdays) and ₹80 per person (weekends)
Children – ₹ 20 per person (weekdays) and ₹30 per person (weekends)
Nearest metro station: Lal Qila, Jama Masjid, Chandni Chowk
Each of these sites is awe-inspiring and never fails to enthrall anyone who visits it. These monuments don't just have stories to tell but also give you enough reasons to feel proud of being born in the Indian subcontinent. Next time you plan a visit to the capital city, don't miss visiting these historic places.  
But remember, Delhi is not a one-day-tour city. You need to book your room in any of the good hotels in Delhi, take a map, and set out to explore, either walking the busy, narrow lanes or cruising in the metro to beat the heat! You cannot get enough of Delhi and what it has to offer.
Recommended Hotels in New Delhi:
Use Coupon Code "FABSTAR", Get 30% Discount!