Pushkar, the very name evokes images of a vibrant desert carnival that is a cultural congregation of sights and sounds, and of course, camels! Did we say carnival and camels? Yes, you read that right! The humpy king of the desert is one of the biggest attractions of the Pushkar Mela that draws crowds from around the globe to this part of the world. But Pushkar is so much more than this enthralling annual phenomenon! If you are planning a trip to this amazing destination, here is a quick and comprehensive travel guide.  
PUSHKAR TRAVEL GUIDE – THE BASICS
The mystifying beauty of Pushkar is something you need to experience first-hand. For that, you should first know a few fundamental details about the place. Here you go. 
An Overview of the Town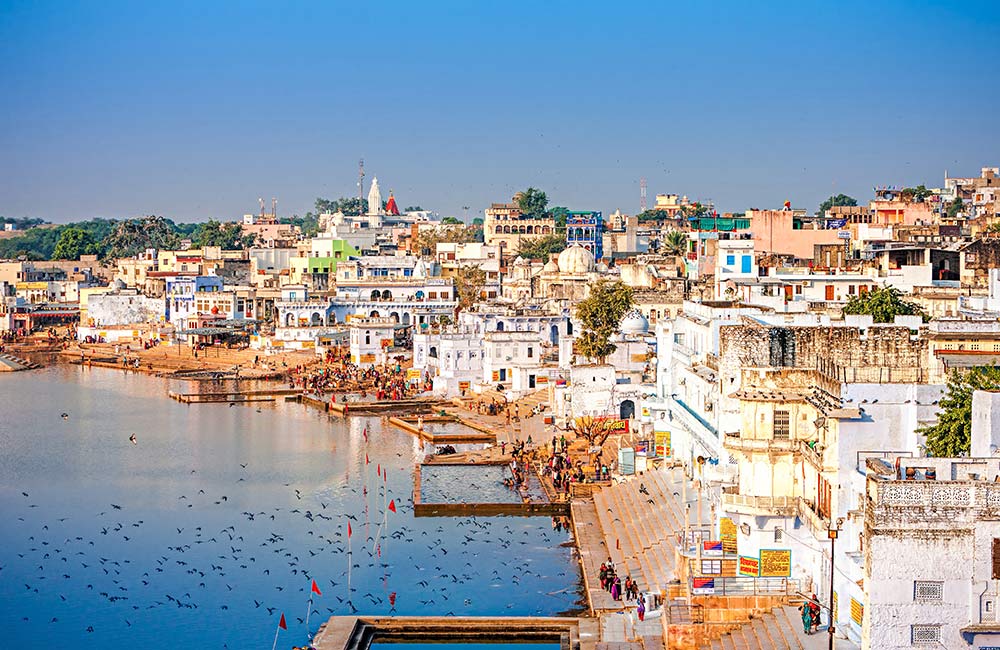 Pushkar in Rajasthan is cupped between hills on three sides and sand dunes on the remaining side. An ancient town that hums its own rhythm, the place is about religion, heritage, culture, and warmth rolled into one panoramic landscape. Standing by the magnificent Pushkar Lake, the town is unlike any other tourist destination you may come across in India and yet it hits the right notes as a traveler's paradise. On one hand, the serene town makes for a sacred pilgrimage for Hindus, thanks to its age-old temples and religious sites. On the other hand, it fascinates avid travelers with its quirky cafes, stunning architecture, colorful shopping spots, and culinary culture. 
When to Visit
While the weather of the town is typically dry, the place vibrates with an aura of festivity all year long. You can explore the different faces of the city at different times of the year. But summers are sweltering hot and dry. Since the place gets scanty rainfall, monsoons offer no great respite from the heat as well. The best time to explore the place is between the months of November and February when winter comes knocking to this town. It is the time when the temperature takes a dip and becomes pleasant. 
How to Reach 
The easiest way to reach Pushkar is to take a train to Ajmer Railway junction, which is about 14 km away from the town. Ajmer station has superfast trains as well as express trains connecting it to various cities like Delhi, Pune, Kolkata, Jaipur, Allahabad, Lucknow, etc. The rest of the journey can be covered by bus (30 minutes) or a hired car. Bus services to Pushkar are available from Delhi (10 hours), Jaipur (3 hours), Udaipur (6 hours), and several cities of Rajasthan. The International Airport at Jaipur is the closest one to the town and is connected to Kuala Lumpur, Bangkok, Muscat, Sharjah, and almost all major cities in India.
PUSHKAR TRAVEL GUIDE – SIGHTSEEING AND ACTIVITIES
With its varied sightseeing options and a wide range of activities, this amazing town is likely to confuse you. But worry not! Here's everything you should know about its key attractions and activities.
What to See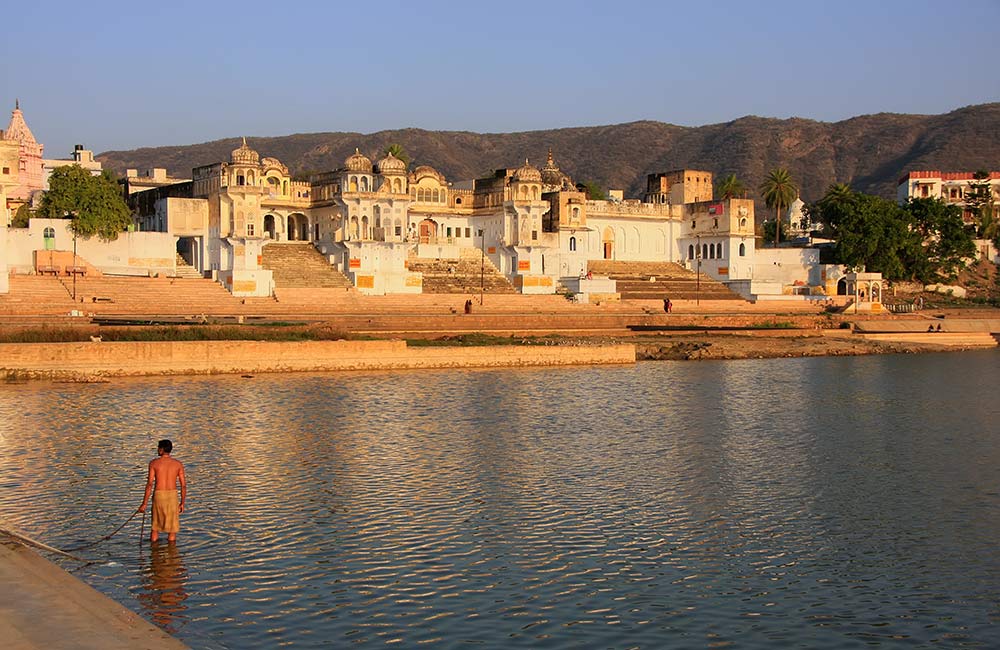 Picturesque Pushkar is speckled with temples, ghats, rose gardens, and palaces that lend the town a unique look. The architectural heritage and encompassing serenity of the place will make you fall in love with it immediately. Among the main places to visit in Pushkar are the following:
With more than 52 bathing ghats dotting its perimeter, Pushkar Lake stands as the most prominent and magnificent landmark of this town. Legend has it that the lake was created when Brahma (the creator of the universe as per the Hindu scriptures) dropped a lotus at this spot. As such, it is a sacred water body for Hindus, who come from afar to take a dip in it and get purged of their sins and cured of skin diseases. You can find mention of this lake in coins belonging to the 4th-century BC. The lake is home to various species of fish and other aquatic life. Over 500 big and small milky-blue temples surround the lake and present a sight to behold. If you are interested in photography, the captivating lake offers a wonderful background to capture some incredible shots.
Located close to the Pushkar Lake is the Brahma Temple, one of the most visited shrines of the town. It is one of the few temples in the world that are dedicated to Lord Brahma. The 14th-century temple features a distinct pinnacle in red and a lovely motif of a hamsa bird. An idol of a four-headed Brahma resides inside the temple, accompanied by his consort Gayatri. The impressive architecture of this worship place makes it worth your time.
One of the oldest shrines in Pushkar, the Varah Temple was built in the 12th century. After Mughal Emperor Aurangzeb destroyed the temple, it was rebuilt by Raja Sawai Man Singh II in the 18th century. The shrine is dedicated to Varaha, Lord Vishnu's incarnation as a wild boar. Today the temple stands as a fine testament to the architectural magnificence of the bygone era. The flawless structural beauty makes it a one-of-a-kind attraction that is rarely missed by tourists and pilgrims alike.   
Considered to be the largest and the most luxurious royal residence built in the town, the Man Mahal is one of Pushkar's major tourist attractions. It was constructed by Raja Man Singh-I as a guest house. Situated adjacent to the Pushkar Lake, the palace offers a breath-taking view of the lake and the temples surrounding it. Today, the palace functions as a heritage hotel. If you can't afford a stay in this royal residence, you can always take a walk up to it and take a look at its exemplary architecture.
A unique feature of the Ranji Temple is that it exhibits South Indian architectural style, which is not common in Pushkar. But the grandeur of the temple is unmistakable. This popular place of worship is dedicated to Lord Rangii, an incarnation of Lord Vishnu. The temple dates back to 1823 and is considered to be among the new temples of Pushkar.
Standing atop the Ratnagiri Hill, Savitri Temple has an interesting legend that draws pilgrims to it. It is said that the temple is built at the spot where Goddess Savitri had once come and rested after being upset over her husband for marrying another woman. If you make the effort of trekking to the temple, you will be rewarded with magnificent sights of the surrounding areas, including the Pushkar Lake and the vast Thar Desert.  
The temple town of Pushkar was visited by Guru Nanak Sahib and Guru Gobind Singh in 1509 and 1706, respectively. Gurudwara Singh Sabha commemorates the place of Guru Nanak Sahib's visit. Gobind Ghat, now renamed as Gandhi Ghat, marks the spot where the last Sikh Guru had stayed during his visit.
If you are looking for places to visit in Pushkar and Ajmer, you must not miss out on Naga Pahar, a hill that stands as the divider between Pushkar and Ajmer. If local legends are to be believed, the hill was once of a colossal height. But with time, its height began to diminish. The prevalent belief is that one day, the hill will completely disappear. Whether you believe in this or not, you won't regret making a trip to the top of this mound. The fascinating view from the top will leave you mesmerized for sure! No wonder, photographers often make it a point to capture stunning views of the town below from this hill.        
Pushkar is often referred to as the Rose Garden of Rajasthan due to the rose farming done there. You can take some time off and pay a visit to one of the rose farms and watch the lovely flowers in bloom. It will be a delight to take a look at the various varieties of rose plants filling up acres of farmland and spreading their fragrance. Roses from Pushkar are exported all over the world and they are enticing enough to make you want to spend some time in their company.
What to do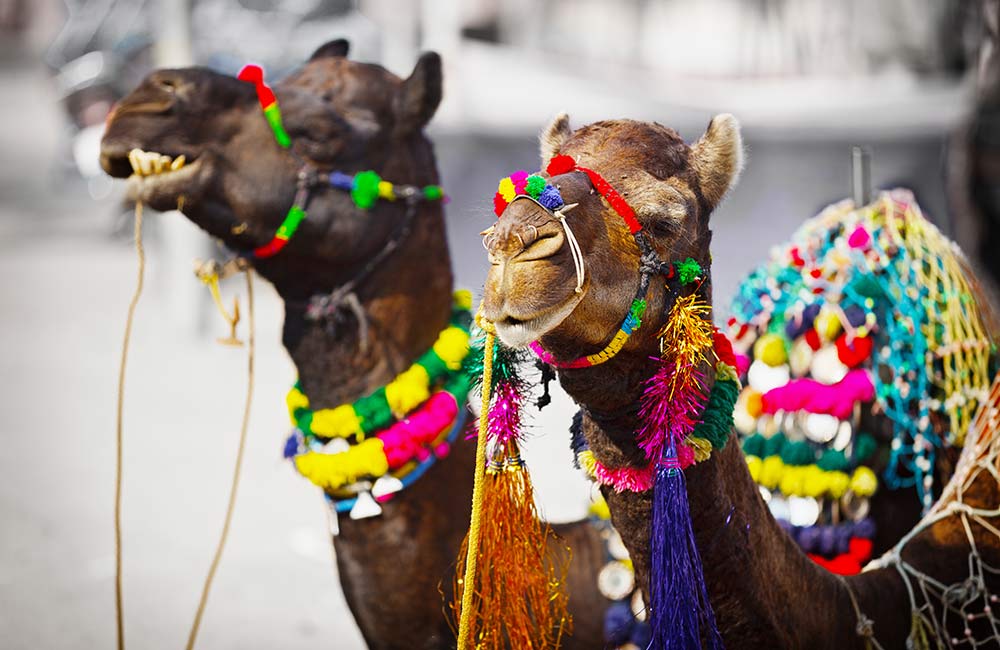 Though lakes and temples are the essences of Pushkar's beauty, there are lots of other interesting things to indulge in during your stay in this town. Here's a list of must-do activities in Pushkar:
A trip to this desert town can't be deemed complete if you do not experience Pushkar camel safari. Riding on a camel as you navigate the town with the Thar Desert in the background is definitely an experience to enjoy and remember. You can have a glimpse of the nomadic tribes who have made Pushkar their home. 
You can take to exploring the city on foot as the place is not too big. There are also curated tours that will enable you to get a better understanding of the city's heritage with a guide explaining you various fascinating aspects of the town.
If you happen to visit Pushkar in late October or early November, do not miss out on one of the biggest cultural spectacles of Rajasthan, the Pushkar Mela. It is a famous cattle and camel trading fair that takes place between different villages. Several other attractions such as the moustache competition, the bridal competition, the matka (clay pot) breaking competition, etc., make the fair a treat to visit.
A tented stay in the desert is not something that you get to do every other day. While you are in Pushkar, you can experience this and take home a lasting memory. With the Aravali Hills on one side and the desert spreading in front of you, it will be a thrilling experience to spend the night in a tent under the starry sky!
When we say nightlife in Pushkar, we are not talking about the usual nightclubs and bars. Remember, Pushkar is a religious center, so it offers little nocturnal activities in terms of hard-core boozing. But that doesn't mean you can't enjoy the night in this town. Take a stroll through the city at night and walk down to the Main Market Square. You will be drawn into a land of tempting street foods laid out on carts. Once you have your fill, you can simply sit at one of the ghats of Pushkar Lake and enjoy the cool breeze there. Trust us, the experience is as intoxicating as boozing!   
PUSHKAR TRAVEL GUIDE – FOOD, SHOPPING, AND ACCOMMODATION
What's the point of visiting a place if you don't try its local cuisine, shop at its local market and more importantly, stay at one of the amazing hotels in town? Read on to know more about the shopping, gastronomic, and accommodation options in Pushkar.
What to Eat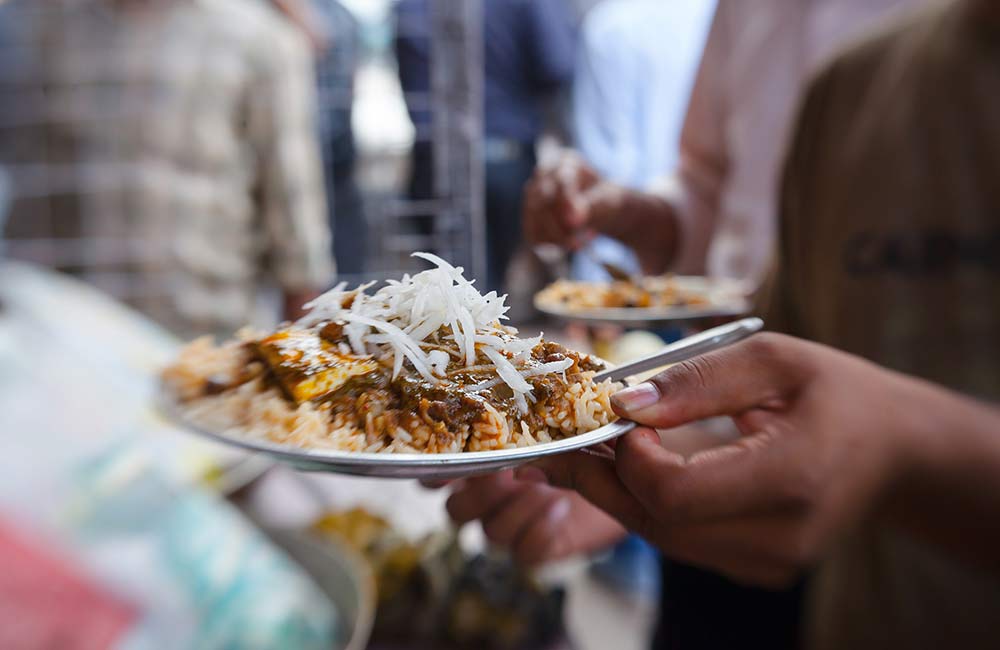 Since Pushkar is a holy town, alcoholic beverages and non-vegetarian food are off-limits here. But the incredible variety and taste of the local delicacies of Pushkar will leave you more than satiated. Like most cities and towns in India, Pushkar too entices with its assortment of flavorsome dishes like kachori, samosa, poha, dal bati churma, jalebi, malpua, parathas, and lassi. Dig into a traditional thali (a complete meal) to get a taste of the local cuisine. Do not forget to end your gastronomic explorations with a bit of Churan, a digestive that will relieve you of heaviness after any meal.
Where to Shop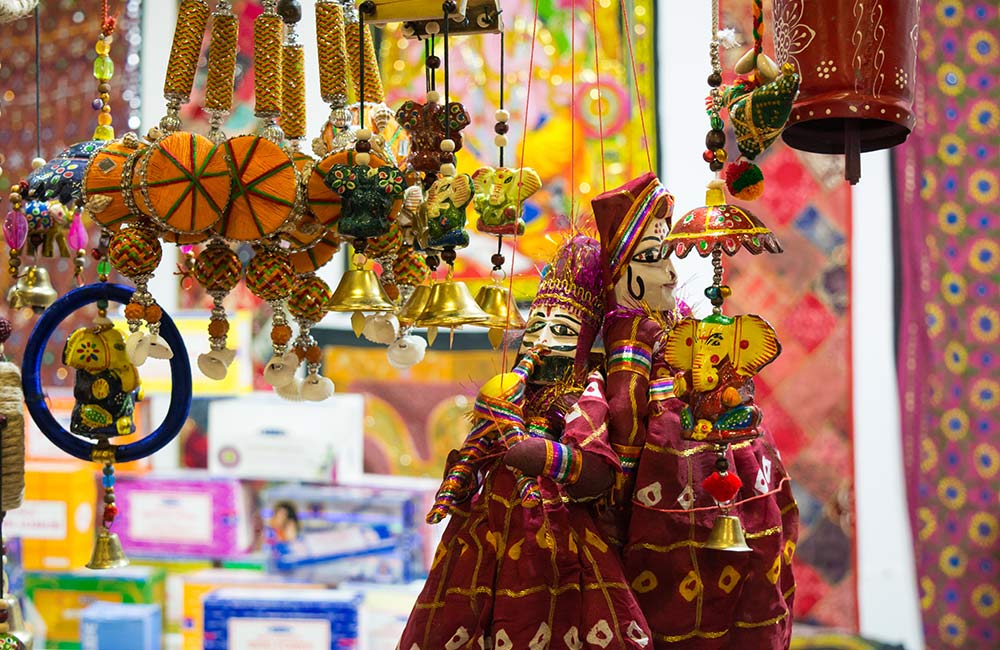 When it comes to shopping in Pushkar you are spoilt for choice. The place is known for its embroidered clothes, desirable silver jewelry, high-quality leather items, colorful puppets and pottery, handicrafts, brass items, miniature paintings, and rose products. Sadar Bazar is the main shopping destination in Pushkar. You can also explore Sarafa Bazaar, Kedalganj Bazaar, and Baza Bazaar to make your pick from the traditional items and unique decorative pieces on offer there.
Where to Stay    
Pushkar appeals to pilgrims and tourists in equal measures. As such, the place has hotels and lodges of all categories to cater to travelers with different pockets. Keep in mind that the tourist rush shoots up during the onset of winter in October-November due to the carnival. Make sure to book your hotel in Pushkar in advance to enjoy a comfortable stay during your visit to the town.
With its magical aura and compelling sights, the majestic city of Pushkar is sure to stay in your heart and mind as an unforgettable destination. So, start planning a trip to this desert town right away!